Nifty breaks critical support level of 19,200: Here's Your Action Plan!
Tackle market corrections with Liquide's strategic action plan and expert analysis.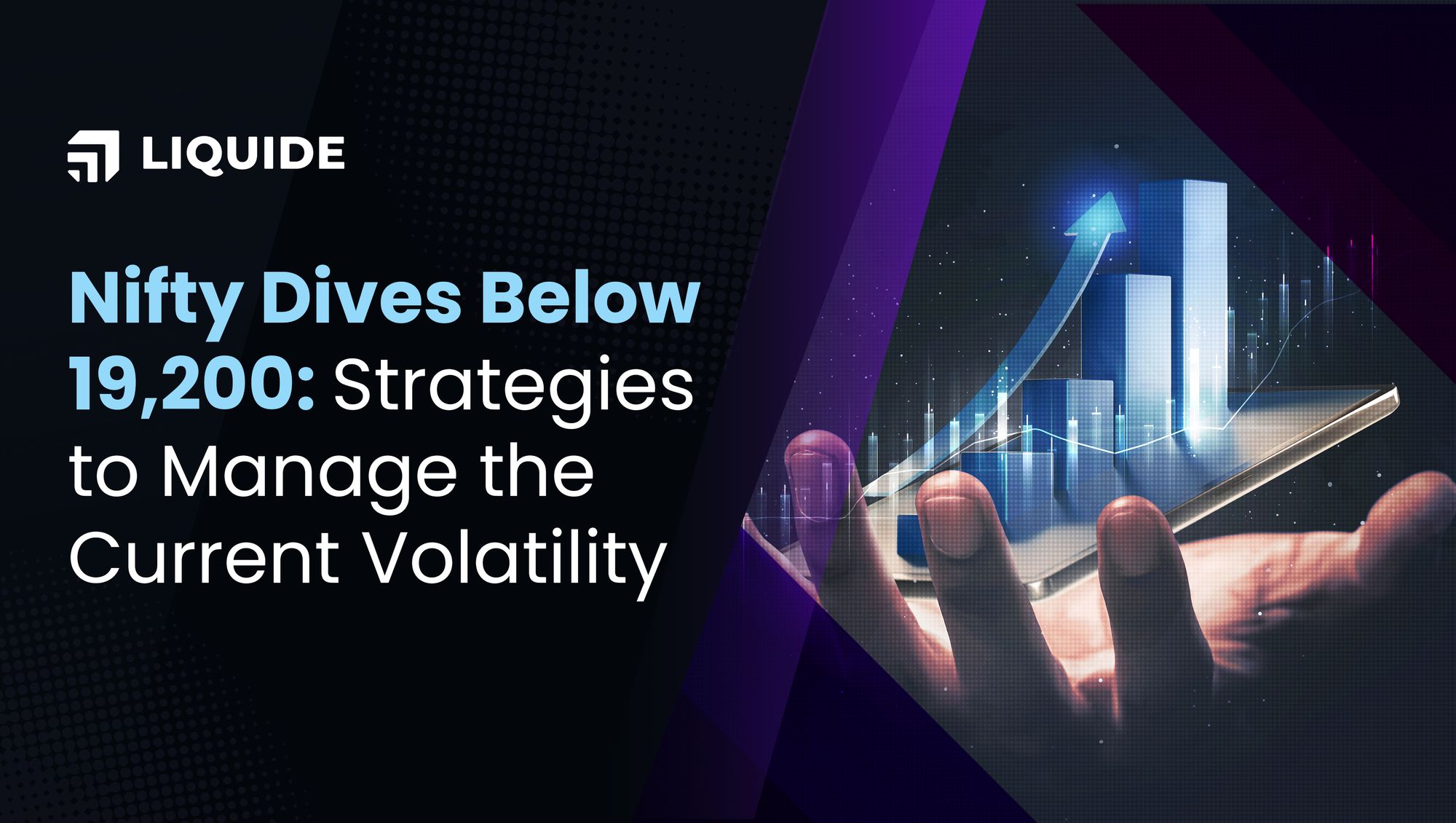 A Week of Market Dips and Dives!
Over the week, the Indian stock market has been on a roller coaster ride, taking investors with it. With a steep decline in investor wealth by Rs 15 lakh crore in just five days, it's clear that the market isn't in its best mood. So, what's causing this turbulence?
Rising Middle East Tensions: A Ticking Time Bomb?
One of the primary concerns for investors is the ongoing Middle East conflict, given its potential to influence a larger demographic and geography. As most involved nations are oil producers, the escalating conflict could push crude oil prices even higher, which currently hover at $88 a barrel. This surge impacts various industries, causing a ripple effect on the cost of living and intensifying the economic challenges already presented by inflation.
US Bonds: The Safe Haven?
US bonds, typically viewed as a haven for investors, have seen their 10-year yields surpass 5%. Consequently, there might be a potential outflow from emerging markets, including India, as foreign investors are likely to gravitate towards the security of US bonds. Already, we've seen a net withdrawal of a massive Rs 10,345 crore so far this month from Indian equities after a net withdrawal of Rs 14,768 crore in September.
India Inc Earnings: A Mixed Bag!
The earnings season was awaited with bated breath. While there were some sweet surprises, there were quite a few shortfalls, further souring the market mood. For instance, banks are grappling with shrinking margins, and many leading IT firms are facing a slowdown.
Riding the Storm with Liquide: Your Safety Net in Choppy Waters!
While the current market may appear daunting, history shows that resilience and strategic recalibration of portfolios can often yield positive results. You must survive the losing streak to be able to enjoy the winning streak in the future.
So, how should a retail investor navigate these rough waters? This is where Liquide can be a game-changer.
Why Liquide's 'Portfolio Health Check' is Your Best Bet
Identify the Underperformers: Effective stock selection isn't only about choosing the best performers. It's equally important to identify and eliminate stocks that aren't performing well. Seek guidance to pinpoint these low-performers and receive comprehensive insights that could be dragging down your portfolio's overall performance.
Get Expert Recommendations: Benefit from expert-recommended trade setups tailored for current market conditions. Don't be left second-guessing; let data-driven insights guide your next move.
Ask LiMo: India's first AI bot is at your service, offering spot-on buy-hold-sell advice. Navigate volatility with an unbiased expert by your side.
Get Access to Stock Baskets: Starting at just Rs 4,700, you get access to a diversified portfolio mix, from Equity to International Markets, Gold, Bonds, and Commodities. (Read: Liquide's Stock Baskets | Invest Smartly)
Stay Informed with Comprehensive Analysis: Armed with a holistic market analysis, investors can make well-informed decisions even when the market seems most unpredictable.
As global markets navigate the turbulent waters stirred by the Israel-Palestine conflict, having the right tools and insights becomes crucial for investors. So, rather than being swayed by unverified information or fleeting market speculations, place your trust in Liquide's proven expertise. Download the Liquide app today from the Google Play Store and Apple Appstore, and take control of your investment destiny, even amidst the storms.