SGX Nifty Rebranded: New Timings, Tax Benefits & Other Important Things You Need to Know About GIFT Nifty
Explore the exciting transition from SGX Nifty to GIFT Nifty, the new hub for Indian derivates market, and discover how to effectively navigate this major market change.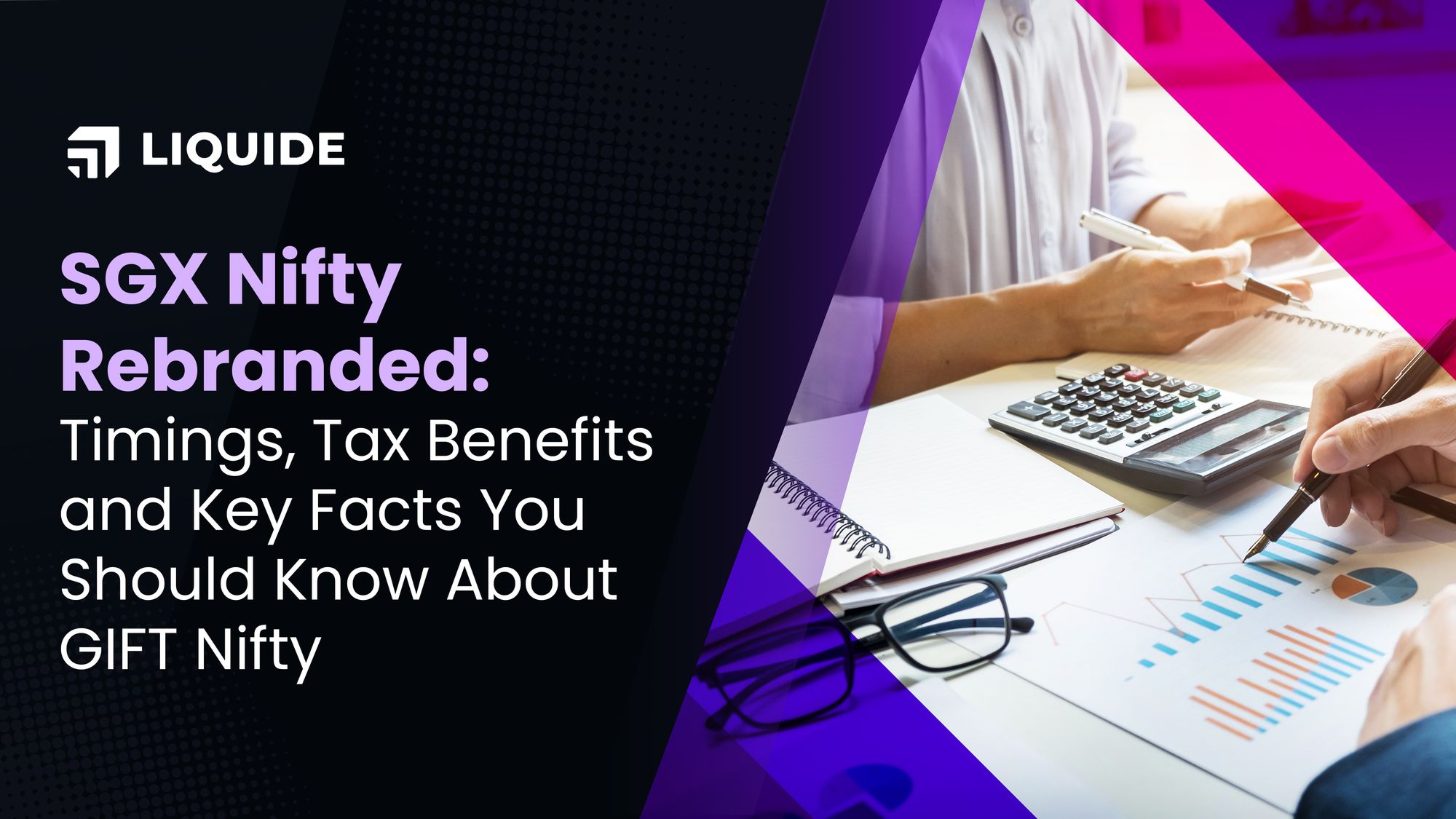 In a revolutionary move in the field of global trading in India, the popular SGX Nifty has been re-branded as GIFT NIFTY, effective from July 3. Consequently, all derivative contracts valued at $7.5 billion, previously traded in Singapore, will now be transferred to India, precisely to the Gujarat International Finance Tec-City (GIFT City) in Gandhinagar, Gujarat.
The Path to GIFT Nifty
Originally, the Singapore Exchange had a license to trade Nifty Futures and Options via an agreement with the National Stock Exchange (NSE). This arrangement enabled SGX Nifty to serve as an early indicator of Nifty's performance. However, things took a turn in 2018 when the NSE decided to terminate this licensing agreement. Subsequently, the Singapore Exchange rolled out derivative products that were allegedly infringing on the NSE's intellectual property rights. Following a legal battle, both sides finally reached a consensus in September 2020, deciding to collaborate again.
This latest change, marking the conclusion of a half-decade-long dispute between the NSE, carries immense importance for India's trading market and, more specifically, for Gujarat's GIFT City.
What is SGX Nifty / GIFT Nifty?
SGX Nifty, which is now relabelled as GIFT Nifty, is a derivative contract based on the NSE's Nifty index. It is a popular derivative product used by foreign investors to gain exposure to India's Nifty 50 index without having to trade directly on the NSE.
With the rebranding, all open positions have been shifted to NSE International Exchange ISFC Limited (NSE IX), a subsidiary of NSE in GIFT City, from today. Now, US dollar-denominated contracts of Nifty Futures will trade in NSE IX instead of the Singapore Exchange.
While SGX Nifty traded for 16 hours from 6:30 am IST till 10:30 pm IST, GIFT Nifty will operate for 21 hours. The trading window at GIFT Nifty will be divided into two sessions- the first session from 6.30 am to 3.40 pm and the second session from 4.35 pm to 2.45 am the following morning.
GIFT Nifty comprises four products: GIFT Nifty 50, GIFT Nifty Bank, GIFT Nifty Financial Services, and GIFT Nifty IT derivative contracts. NSE plans to launch other indices gradually.
Gift Nifty figures can be checked on the NSE IX website here: https://www.nseix.com/
Nifty Contracts on NSE vs GIFT Nifty
Denomination: Nifty contracts traded on the NSE are denominated in rupees, while those on the GIFT Nifty are denominated in US dollars.
Timings: Indian contracts are traded from 9 am to 3:30 pm. GIFT Nifty offers almost round-the-clock access. You can trade from 6.30 am to 3.40 pm and again from 4.35 pm to 2.45 am.
Who can participate at GIFT Nifty?
Regardless of nationality, any trading member can join the GIFT Nifty trading community by becoming an NSE IX member. However, the Liberalised Remittance Scheme (LRS) regulations prohibit Indian retail investors from participating in GIFT Nifty.
Currently, there are more than 50 brokers that have set up units in the GIFT city. These trading members are permitted to execute a trade on their accounts and the account of their clients.
Benefits of GIFT Nifty Trading
Trading in GIFT City, a Special Economic Zone (SEZ), offers distinct tax advantages. All trades are exempt from securities transaction tax (STT), commodities transaction tax (CTT), and dividend distribution tax. Additionally, traders enjoy waivers on capital gains tax and income tax.
What happens to SGX Nifty?
SGX Nifty's trading is currently suspended and will eventually be delisted from the Singapore Exchange, marking the end of an era but the beginning of exciting opportunities in GIFT Nifty.
Implications for India
The return of the Nifty traded offshore in Singapore for over twenty years, is a significant achievement for India. This development ushers in improved price discovery, with India now assuming the role of the primary price determiner.
Foreign investment opportunity: The implementation of GIFT Nifty derivatives is now open to foreign investors, along with 62 Indian brokers who have inaugurated units to participate in four index-based derivatives: GIFT Nifty, GIFT Nifty Bank, GIFT IT, and GIFT Nifty Financial Services, with GIFT Nifty being the most actively traded.
Liquidity boost: The book transferred to GIFT brings along outstanding trader positions of $7.5 billion in Nifty Futures, far surpassing the domestic Nifty futures outstanding positions worth over $2 billion. This open interest indicates the influx of money into a market - the higher the open interest, the better the liquidity.
Are you looking to seize the exciting opportunities presented by the newly rebranded GIFT Nifty? Look no further than Liquide - your ultimate gateway to explore the world of stocks and market insights. With features like LiMo, our AI-powered bot, you can access expert-recommended trade setups and automated research reports at your fingertips. Install the Liquide app from Google Play Store or Apple Appstore now and embark on your investment journey with real-time tracking, full user control, and expert hotline support for your portfolio. Join us and revolutionize the way you invest!