POST-MARKET SUMMARY 7 June 2023
Following a flat ending in the previous session, the markets regained momentum on June 7, with the Nifty surpassing the 18,700 mark for the first time in 2023, just a day ahead of the RBI policy meeting outcome. Despite mixed signals from international markets, the Indian market started on a positive note and continued to gain momentum throughout the day amid broad-based buying across sectors.
NIFTY: The index opened 66 points higher at 18,665 and made a high of 18,738 before closing at 18,726. Nifty has formed a bullish candlestick pattern on the daily chart, making higher high and higher low formation, with higher volumes. Its immediate resistance level is now placed at 18,800 while support is at 18,650.
BANK NIFTY: The index opened 154 points higher at 44,318 and closed at 44,275. Bank Nifty has formed a small bodied bearish candle with a long lower shadow and small upper shadow, indicating buying at lower levels - a day ahead of the RBI interest rate decision. Its immediate resistance level is now placed at 44,450 while support is at 44,000.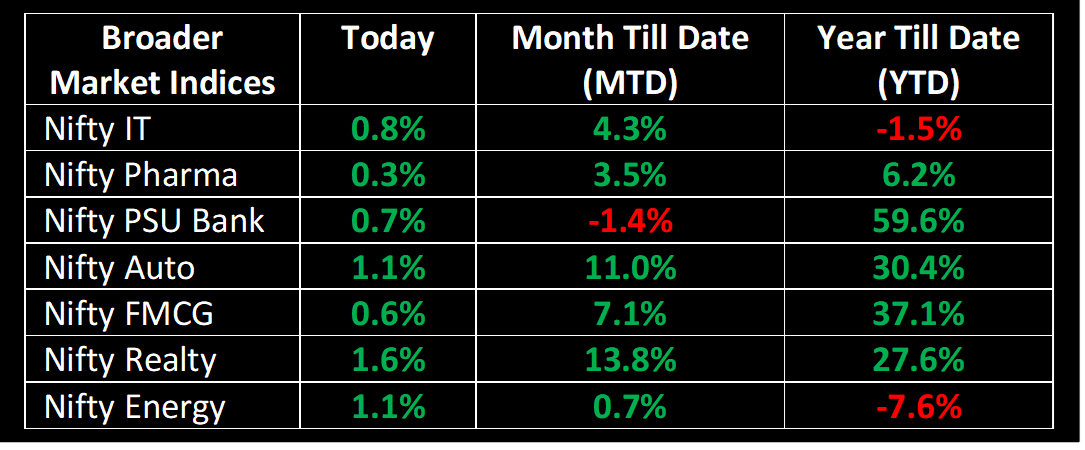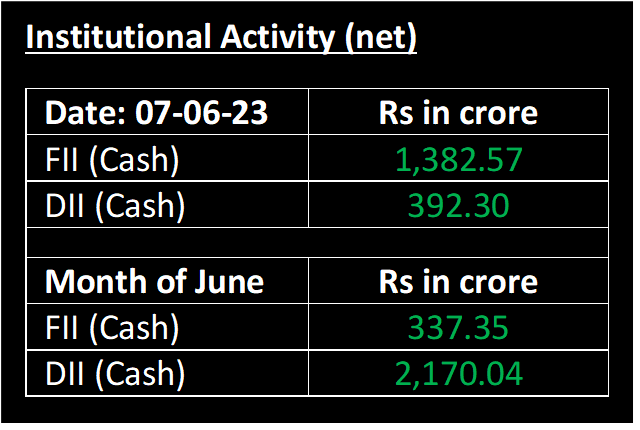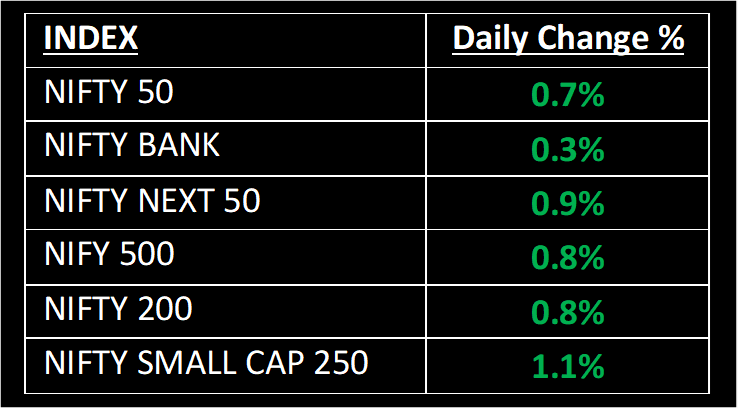 Stocks in Spotlight
▪ Tata Consumer: Stock gains 4% as the company eyes acquisitions in the F&B space.
▪ Hindustan Aeronautics Ltd: Stock gains over 2%, as USA's General Electric gets set to ink pact with HAL to co-produce jet engines in India.
▪ Man Infra: Stock hits 52-week high as subsidiary announces residential project in Mumbai.
Global News
▪  India's market cap back at $3.50 trillion - the highest level since December 1, 2022.
▪  US April trade deficit at $74.6 bn Vs $60.6 bn MoM Vs $78.2 bn Est.
▪  China's exports dip 7.5% YoY in May; Imports down 4.5% YoY.
With Liquide, you can explore stocks, trade securely in your own broker account, and receive expert-recommended trade setups. Stay updated with real-time tracking, market commentary, and AI-powered insights from LiMo, our intelligent bot. Whether you're a seasoned investor or a newbie, Liquide provides the tools you need to discover your next big investment opportunity. Download the app now from Google Play Store and Apple App Store to revolutionize your investment journey. Don't miss out on the chance to level up your investing game with Liquide.