POST-MARKET SUMMARY 31 October 2023
On October 31, the Indian benchmark indices snapped their two-day gaining streak as they closed lower in a volatile trading session. The Nifty fell below 19,100 points due to selling across various sectors amid weak Asian markets. Top Gainer: SBI Life | Top Loser: Sun Pharma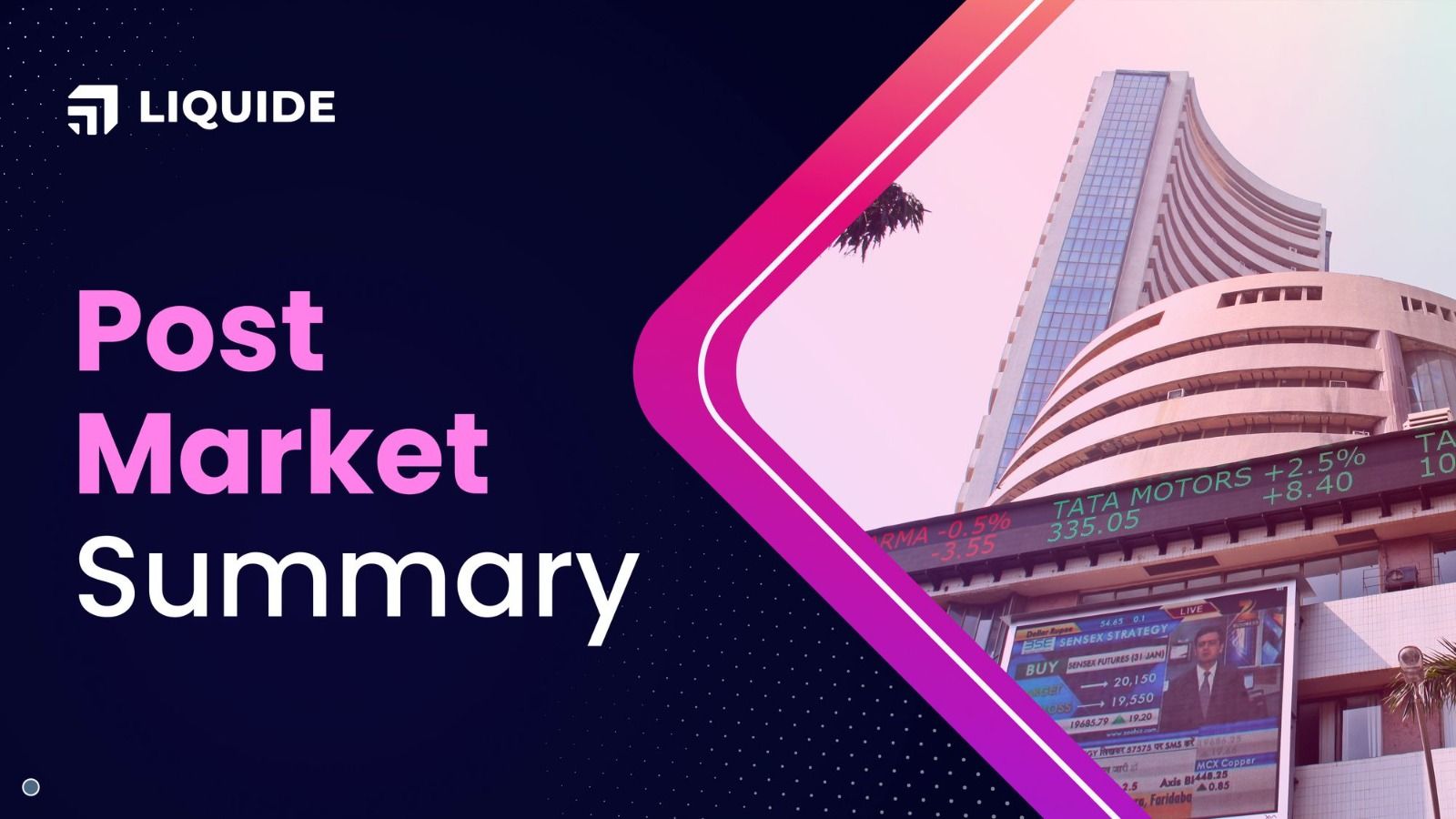 On October 31, the Indian benchmark indices snapped their two-day gaining streak as they closed lower in a volatile trading session. The Nifty fell below 19,100 points due to selling across various sectors amid weak Asian markets. The downturn was primarily driven by selling in banking, auto, and IT stocks. Despite India's ability to maintain strong economic growth in the face of global challenges, persistent FII selling has led to a decline in local markets over the past month.
NIFTY: The index opened 92 points higher at 19,232 and made a high of 19,233 before closing at 19,079. Nifty has formed a Bearish Belt Hold pattern at the pullback levels, indicating the possibility of a further downside. Its immediate resistance level is now placed at 19,150 while immediate support is at 19,000.
BANK NIFTY: The index opened 317 points higher at 43,356 and closed at 42,845. Bank Nifty has formed a long Bearish Belt Hold candlestick pattern on the daily scale. Its immediate resistance level is now placed at 43,100 while support is at 42,600.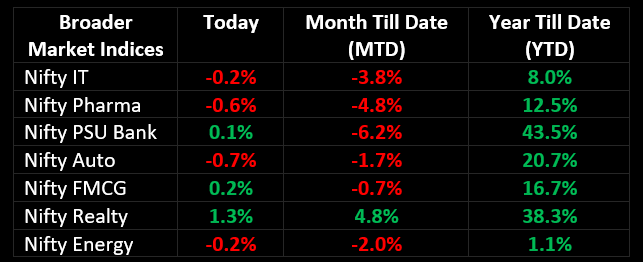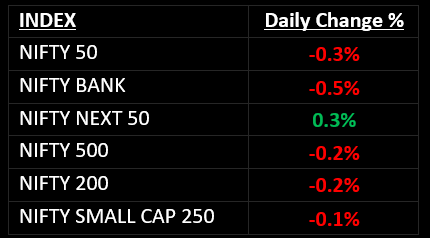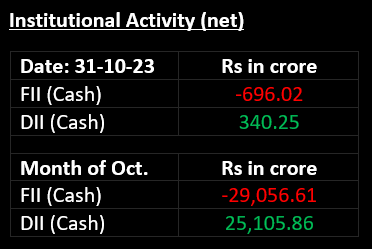 Stocks in Spotlight
▪ Jagran Prakashan: Stock tumbled 5% after the company's profit declined 17% on-year to Rs 41 crore in the July-September quarter of FY24.
▪ DLF Ltd: Stock gained over 1.5%, a day after the company's fiscal second-quarter earnings beat the Street estimates.
▪ P&G Hygiene and Health Care: Stock jumped 5% as the FMCG company reported a 36% jump in profit to Rs 211 crore for the September quarter.
Global News
▪ European markets continued to move upwards on Tuesday despite heading for the worst monthly performance of the year, as investors assess a flurry of economic data and earnings.
▪ Oil prices edged up after a 3% fall in the previous session but were pinned below $90 a barrel after weak Chinese economic data offset concern about an escalation of the conflict in the Middle East.
▪ The Yen hovered near a 2-week high, boosted by a report that the Bank of Japan could further tweak a key bond yield policy tool when it announces its monetary decision later in the day.
---
This document has been issued by Liquide Solutions Private Limited for information purposes only and should not be construed as
i) an offer or recommendation to buy or sell securities, commodities, currencies or other investments referred to herein; or
ii) an offer to sell or a solicitation or an offer for the purchase of any of the baskets of Liquide Solutions; or
iii) investment research or investment advice. It does not have regard to specific investment objectives, financial situation and the particular needs of any specific person who may receive this document. Investors should seek personal and independent advice regarding the appropriateness of investing in any of the funds, securities, other investment, or investment strategies that may have been discussed or referred to herein and should understand that the views regarding future prospects may or may not be realized. In no event shall Liquide Life Private Limited and/or its affiliates or any of their directors, trustees, officers and employees be liable for any direct, indirect, special, incidental or consequential damages arising out of the use of information/opinion herein.
With Liquide, you can explore stocks, trade securely in your own broker account, and receive expert-recommended trade setups. Stay updated with real-time tracking, market commentary, and AI-powered insights from LiMo, our intelligent bot. Whether you're a seasoned investor or a newbie, Liquide provides the tools you need to discover your next big investment opportunity. Download the app now from Google Play Store and Apple App Store to revolutionize your investment journey. Don't miss out on the chance to level up your investing game with Liquide.