POST-MARKET SUMMARY 31 May 2023
Post-market data and news around listed stocks.
In light of weak market cues from Asia and Europe, investors chose to unload their holdings in metals, real estate and energy stocks, marking a long-awaited period of profit booking. Further, investors pivoted towards a cautious approach pending the upcoming verdict on the US debt deal, which is likely to provide clarity on the market's near-term trajectory.
NIFTY: The index opened 39 points lower at 18,606 and made a high of 18,594 before closing at 18,534. Nifty has formed a bearish candle and selling pressure can be seen on the daily chart. Its immediate resistance level is placed at 18,600 while support is at 18,400.
BANK NIFTY: The index opened 118 points lower at 44,318 and closed at 44,128. Its immediate resistance level is now placed at 44,400 while support is at 44,000. RSI is at 68 on the daily chart, which indicates strength.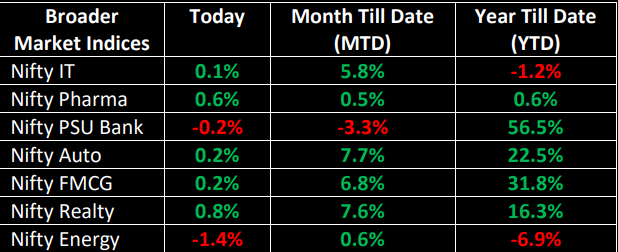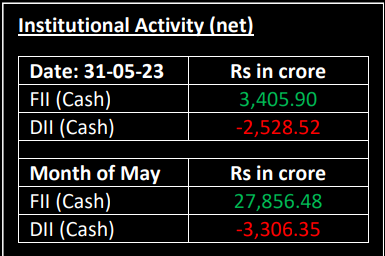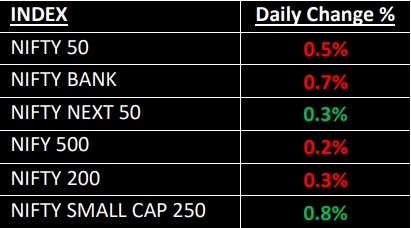 Stocks in Spotlight
Global News
India surges to 5th place in global stock market rankings, valued at over $3.31 trillion.
Dollar hits a two-month high as European inflation cools.
Hong Kong's Hang Seng index slips nearly 2% to a new low for 2023.
With Liquide, you can explore stocks, trade securely in your own broker account, and receive expert-recommended trade setups. Stay updated with real-time tracking, market commentary, and AI-powered insights from LiMo, our intelligent bot. Whether you're a seasoned investor or a newbie, Liquide provides the tools you need to discover your next big investment opportunity. Download the app now from Google Play Store and Apple App Store to revolutionize your investment journey. Don't miss out on the chance to level up your investing game with Liquide.