POST-MARKET SUMMARY 29 August 2023
Post-market report and news around trending stocks.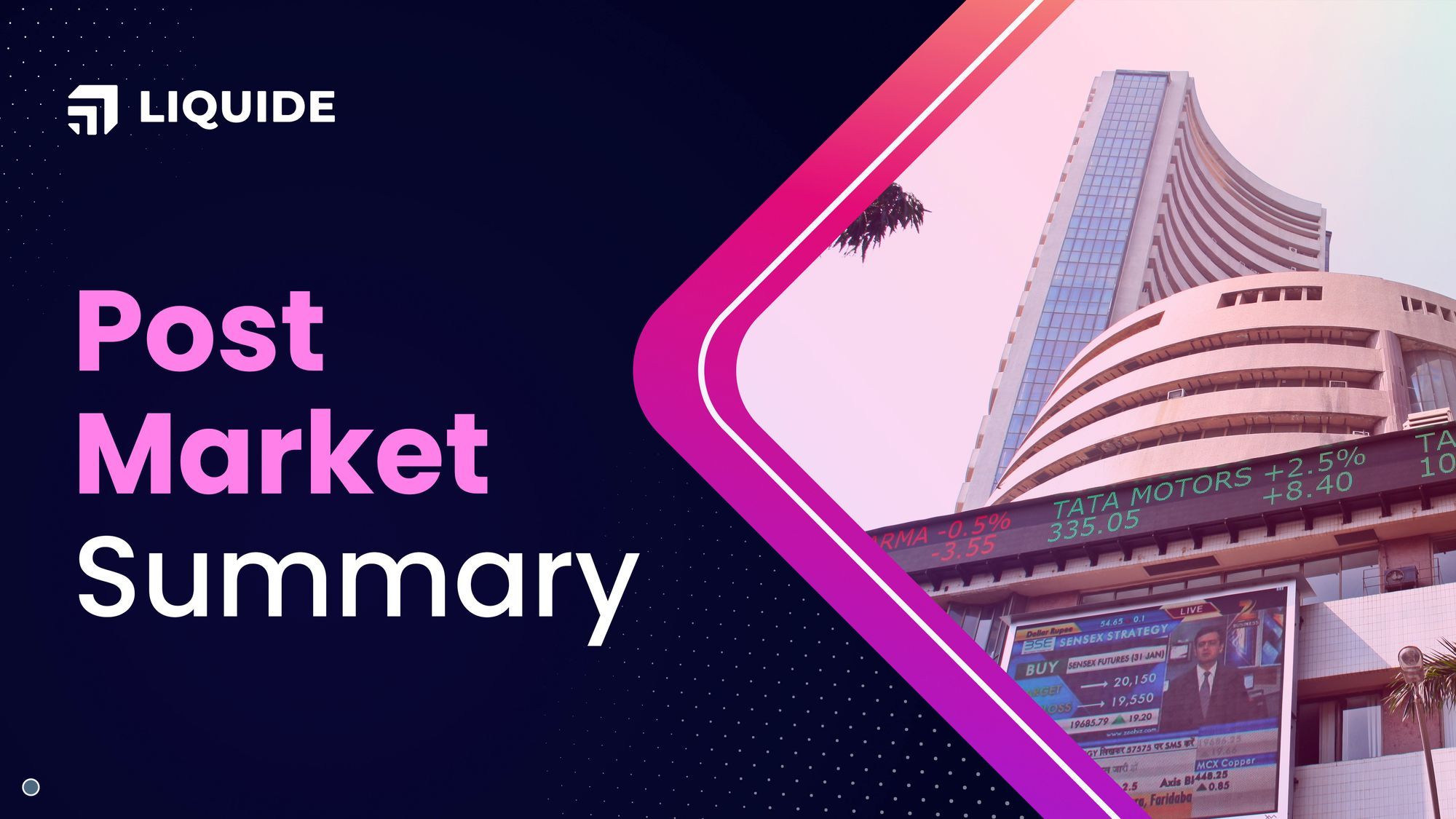 On August 29, the benchmark indices ended higher for the second successive session, with the Nifty hovering around the 19,350 mark. The market movement remained quite limited as there was a lack of active investor engagement, influenced by the slow performance of Asian markets and lack of positive triggers. Furthermore, consistent FII outflows have led traders to adopt a vigilant stance.
NIFTY: The index opened 68 points higher at 19,374 and made a high of 19,377 before closing at 19,342. Nifty has formed a small negative candle on the daily chart, with a minor lower shadow. Its immediate resistance level is now placed at 19,500 while immediate support is at 19,200.
BANK NIFTY:  The index opened 161 points higher at 44,655 and closed at 44,495. Bank Nifty has formed a bearish candlestick pattern on the daily time frame. Its immediate resistance level is now placed at 44,700 while support is at 44,000.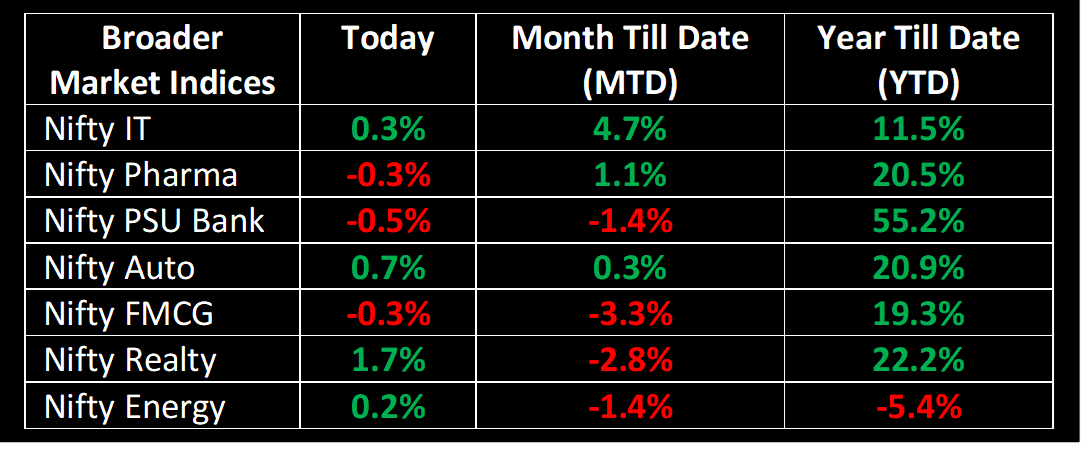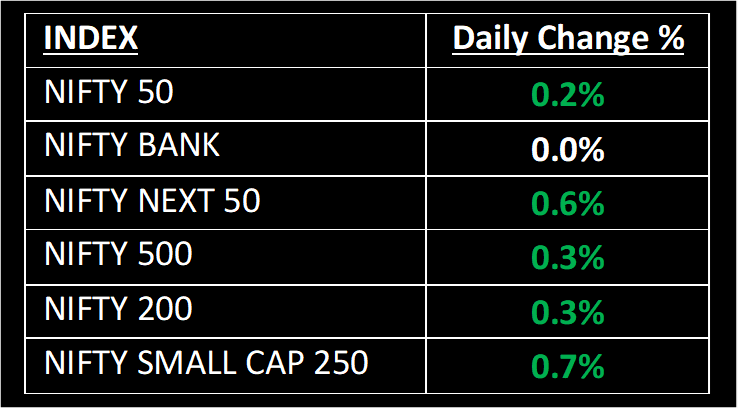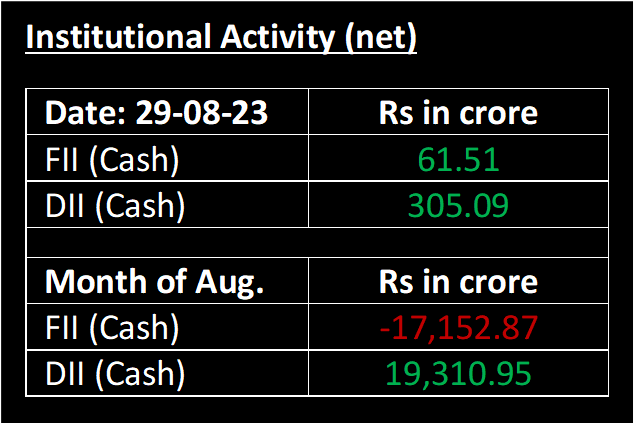 Stocks in Spotlight
▪ Gokaldas Exports Ltd:  Stock was locked in at 20% upper circuit after it entered into a deal to acquire Dubai-based Atraco Group. The equity value of the deal being done through its subsidiaries is $55 million and will be funded by a mix of debt and internal accruals.
▪ Gensol Engineering Ltd:  Stock was locked in at 5% upper circuit after the company bagged Solar EPC projects in Dubai.
▪ Gulf Oil Lubricants:  Stock surged 4% following the company's 51% controlling stake in Tirex Transmission, a manufacturer of DC fast chargers for EVs.
Global News
▪  European Stoxx 600 index was up 0.6% by early afternoon, touching highs last seen on August 14. Mining stocks added 1.6% to lead gains as all sectors and major bourses traded in the positive territory.
▪  Gold prices gained on Tuesday as a recent rally in the US dollar and Treasury yields showed signs of fatigue ahead of crucial inflation and jobs data this week that could define the outlook for interest rates.
---
This document has been issued by Liquide Solutions Private Limited for information purposes only and should not be construed as
i) an offer or recommendation to buy or sell securities, commodities, currencies or other investments referred to herein; or
ii) an offer to sell or a solicitation or an offer for the purchase of any of the baskets of Liquide Solutions; or
iii) investment research or investment advice. It does not have regard to specific investment objectives, financial situation and the particular needs of any specific person who may receive this document. Investors should seek personal and independent advice regarding the appropriateness of investing in any of the funds, securities, other investment, or investment strategies that may have been discussed or referred to herein and should understand that the views regarding future prospects may or may not be realized. In no event shall Liquide Life Private Limited and / or its affiliates or any of their directors, trustees, officers and employees be liable for any direct, indirect, special, incidental or consequential damages arising out of the use of information/opinion herein.
With Liquide, you can explore stocks, trade securely in your own broker account, and receive expert-recommended trade setups. Stay updated with real-time tracking, market commentary, and AI-powered insights from LiMo, our intelligent bot. Whether you're a seasoned investor or a newbie, Liquide provides the tools you need to discover your next big investment opportunity. Download the app now from Google Play Store and Apple App Store to revolutionize your investment journey. Don't miss out on the chance to level up your investing game with Liquide.