POST-MARKET SUMMARY 28 September 2023
The Indian equity markets concluded the day with nearly a 1% decline on the monthly F&O expiry date, influenced by global market weakness and a significant increase in crude oil prices, which hit an annual peak. Top Gainer : LT | Top Loser : TechM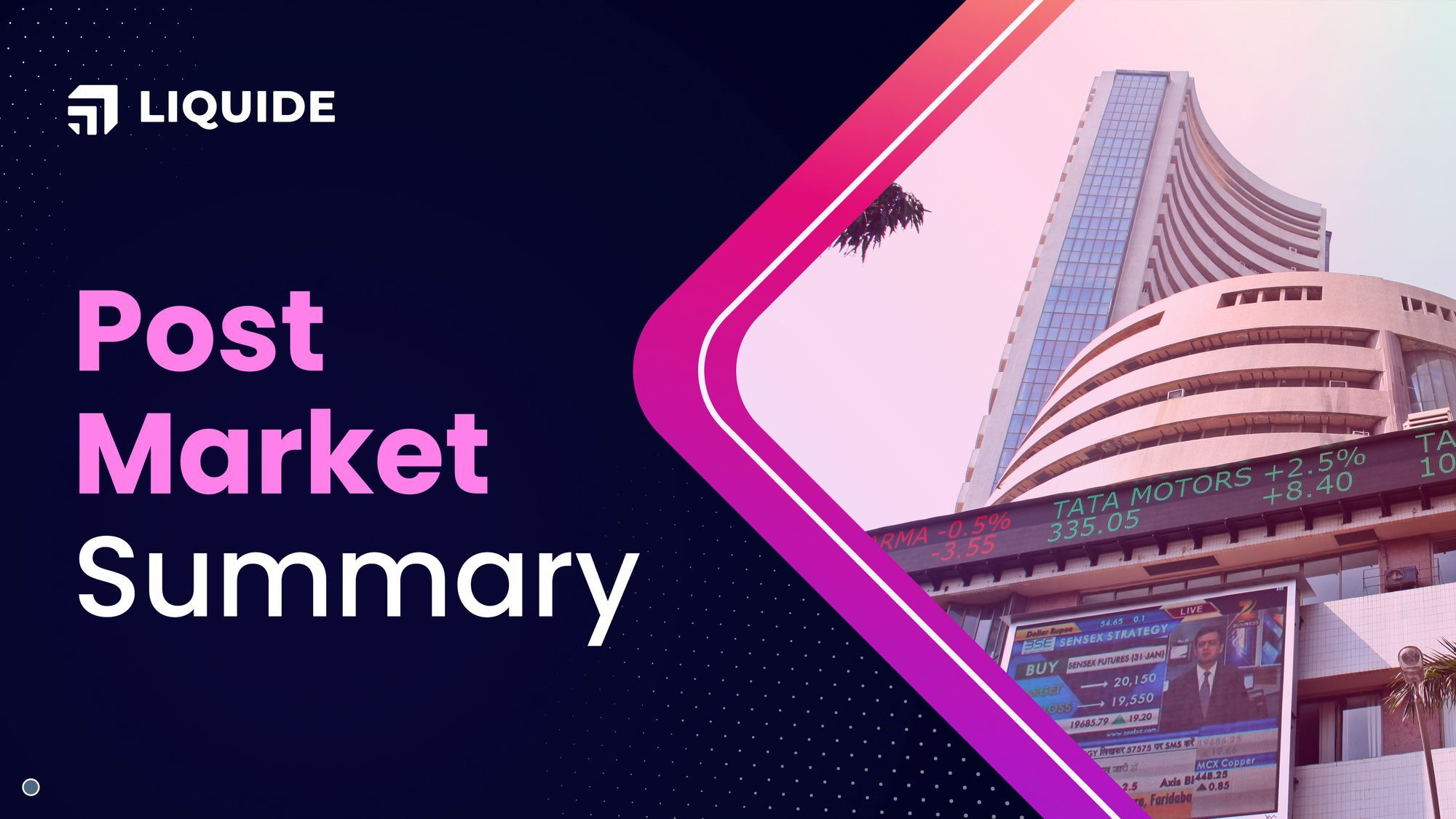 The Indian equity markets concluded the day with nearly a 1% decline on the monthly F&O expiry date, influenced by global market weakness and a significant increase in crude oil prices, which hit an annual peak. The market had been experiencing downward pressure over the past few days, a trend largely propelled by persistent foreign institutional investors (FIIs) selling. Additionally, India VIX, the indicator measuring market volatility and apprehension, experienced a notable and abrupt increase.
NIFTY: The index opened 45 points lower at 19,761 and made a high of 19,766 before closing at 19,523. Nifty has formed a Bearish Engulfing pattern on the daily chart with above average volumes, indicating the negative sentiment may prevail in coming days. Its immediate resistance level is now placed at 19,700 while immediate support is at 19,450.
BANK NIFTY: The index opened 112 points higher at 44,700 and closed at 44,300. Bank Nifty has formed a long bearish candle on the daily scale. Its immediate resistance level is now placed at 44,700 while support is at 44,200.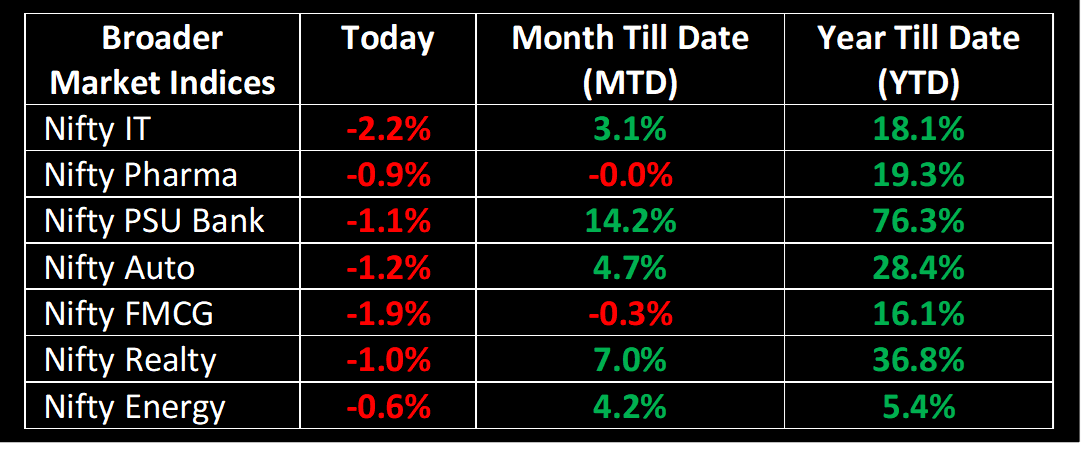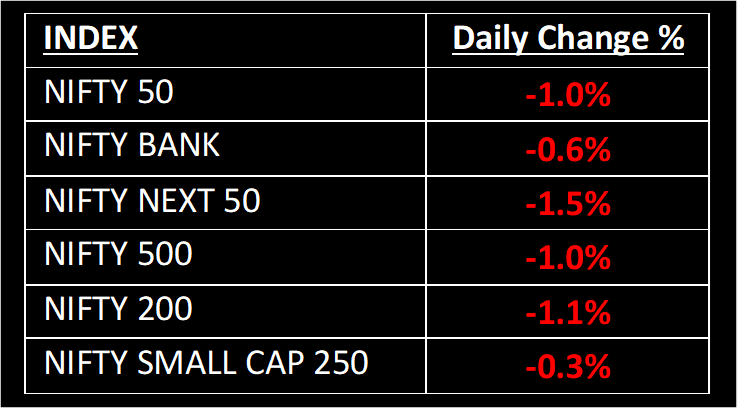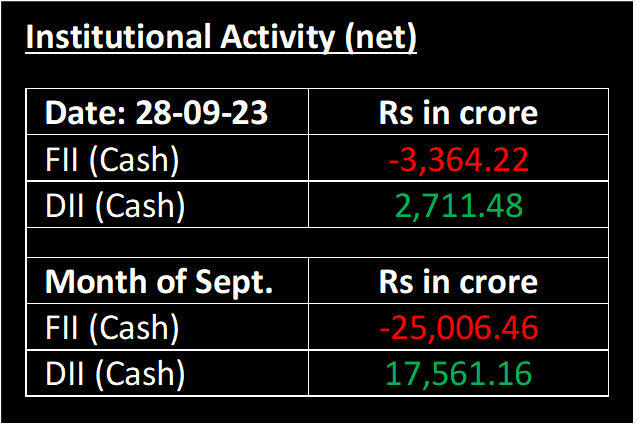 Stocks in Spotlight
▪ Larsen & Toubro:  Stock of the construction major was the top gainer on Nifty 50 ahead of the company's share buyback bid settlement.
▪  Axis Bank:  Stock gained 0.56% after the bank said it would extend its branch network in Gujarat by adding 28 more branches and 69 new ATM's the end of the financial year in a bid to enhance accessibility.
▪  Asian Paint:  Stock traded 3.98% lower after Brent crude prices continued to surge and hit the $97 a barrel mark, rising 3% overnight and significantly by 30% throughout the third quarter of the year.
Global News
▪  Pan-European Stoxx 600 index was down by 0.1%, with sectors mostly in negative territory. Travel and leisure stocks were down 1.1%, followed by tech, which was dragged lower by a 29% drop in the share price of Austrian chipmaker Ams-Osram.
▪  Asia-Pacific markets largely fell after notching some gains on Wednesday as an uptick in Treasury yields and oil prices dented investor sentiment on Wall Street.
---
This document has been issued by Liquide Solutions Private Limited for information purposes only and should not be construed as
i) an offer or recommendation to buy or sell securities, commodities, currencies or other investments referred to herein; or
ii) an offer to sell or a solicitation or an offer for the purchase of any of the baskets of Liquide Solutions; or
iii) investment research or investment advice. It does not have regard to specific investment objectives, financial situation and the particular needs of any specific person who may receive this document. Investors should seek personal and independent advice regarding the appropriateness of investing in any of the funds, securities, other investment, or investment strategies that may have been discussed or referred to herein and should understand that the views regarding future prospects may or may not be realized. In no event shall Liquide Life Private Limited and / or its affiliates or any of their directors, trustees, officers and employees be liable for any direct, indirect, special, incidental or consequential damages arising out of the use of information/opinion herein.
With Liquide, you can explore stocks, trade securely in your own broker account, and receive expert-recommended trade setups. Stay updated with real-time tracking, market commentary, and AI-powered insights from LiMo, our intelligent bot. Whether you're a seasoned investor or a newbie, Liquide provides the tools you need to discover your next big investment opportunity. Download the app now from Google Play Store and Apple App Store to revolutionize your investment journey. Don't miss out on the chance to level up your investing game with Liquide.