POST-MARKET SUMMARY 26 October 2023
On October 26, the bears continued to dominate Dalal Street for the sixth consecutive session, driven by increasing US bond yields and escalating tensions between Hamas and Israel. Top Gainer: Axis Bank | Top Loser: M&M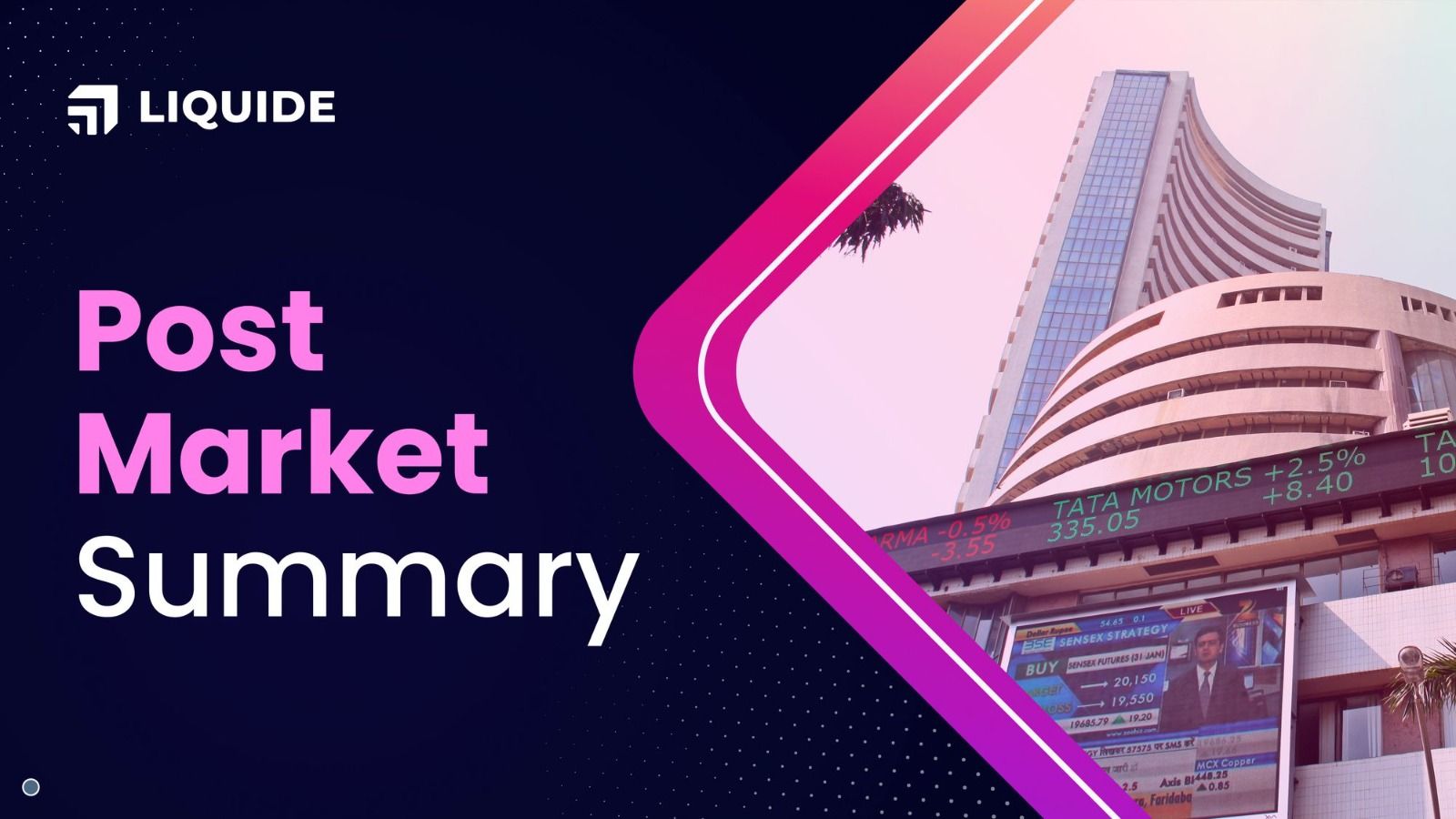 On October 26, the bears continued to dominate Dalal Street for the sixth consecutive session, driven by increasing US bond yields and escalating tensions between Hamas and Israel. Most stock indices experienced declines of more than 1%, with the small-cap index showing a strong recovery but still ending in negative territory.
NIFTY: The index opened 95 points lower at 19,027 and made a high of 19,041 before closing at 18,857. Nifty has formed a bearish candle on the daily chart and the weak intraday formation indicates further weakness. Its immediate resistance level is now placed at 18,950 while immediate support is at 18,800.
BANK NIFTY: The index opened 124 points lower at 42,708 and closed at 42,280. Bank Nifty experienced continued heavy selling, resulting in a 1.29% decline. It is currently trading below its 200-day Exponential Moving Average. Its immediate resistance level is now placed at 42,700 while support is at 42,050.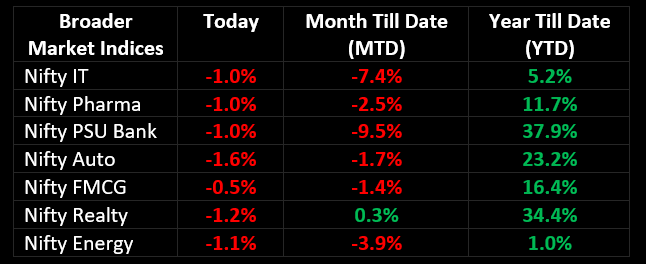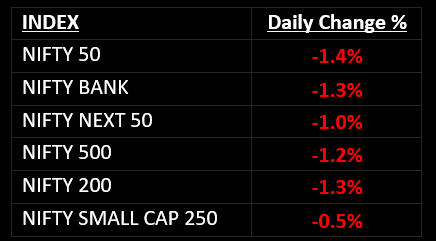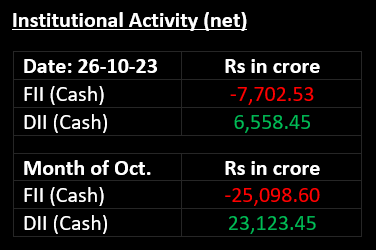 Stocks in Spotlight
▪ Antony Waste Handling Cell: Stock surged over 5% after the company's subsidiary bagged an order from Panvel Municipal Corporation.
▪ Sonata Software: Stock rallied 8% after the company reported a consolidated profit of Rs 124.2 crore for the July-September period, a 3.4% gain over the previous quarter. The company also announced a 1:1 bonus issue.
▪ Sona Blw Precision Forgings: Stock gained 6.5% after the auto-component maker reported its highest-ever quarterly revenue and net profit for the July-September quarter.
Global News
▪ Asia-Pacific markets saw a broad sell-off, with Australia shares closing at a low not seen in over a year, while mainland China stocks bucked the broader trend to end Thursday higher.
▪ European stock markets were sharply lower as attention remains on third-quarter earnings and government bond yields.
▪ Shares of Siemens Energy plunged nearly 40% on Thursday, wiping 3 billion euros ($3.16 billion) off its market value, after the company said it was in talks with the German government about state guarantees after major setbacks at its wind division.
---
This document has been issued by Liquide Solutions Private Limited for information purposes only and should not be construed as
i) an offer or recommendation to buy or sell securities, commodities, currencies or other investments referred to herein; or
ii) an offer to sell or a solicitation or an offer for the purchase of any of the baskets of Liquide Solutions; or
iii) investment research or investment advice. It does not have regard to specific investment objectives, financial situation and the particular needs of any specific person who may receive this document. Investors should seek personal and independent advice regarding the appropriateness of investing in any of the funds, securities, other investment, or investment strategies that may have been discussed or referred to herein and should understand that the views regarding future prospects may or may not be realized. In no event shall Liquide Life Private Limited and / or its affiliates or any of their directors, trustees, officers and employees be liable for any direct, indirect, special, incidental or consequential damages arising out of the use of information/opinion herein.
With Liquide, you can explore stocks, trade securely in your own broker account, and receive expert-recommended trade setups. Stay updated with real-time tracking, market commentary, and AI-powered insights from LiMo, our intelligent bot. Whether you're a seasoned investor or a newbie, Liquide provides the tools you need to discover your next big investment opportunity. Download the app now from Google Play Store and Apple App Store to revolutionize your investment journey. Don't miss out on the chance to level up your investing game with Liquide.