POST-MARKET SUMMARY 26 July 2023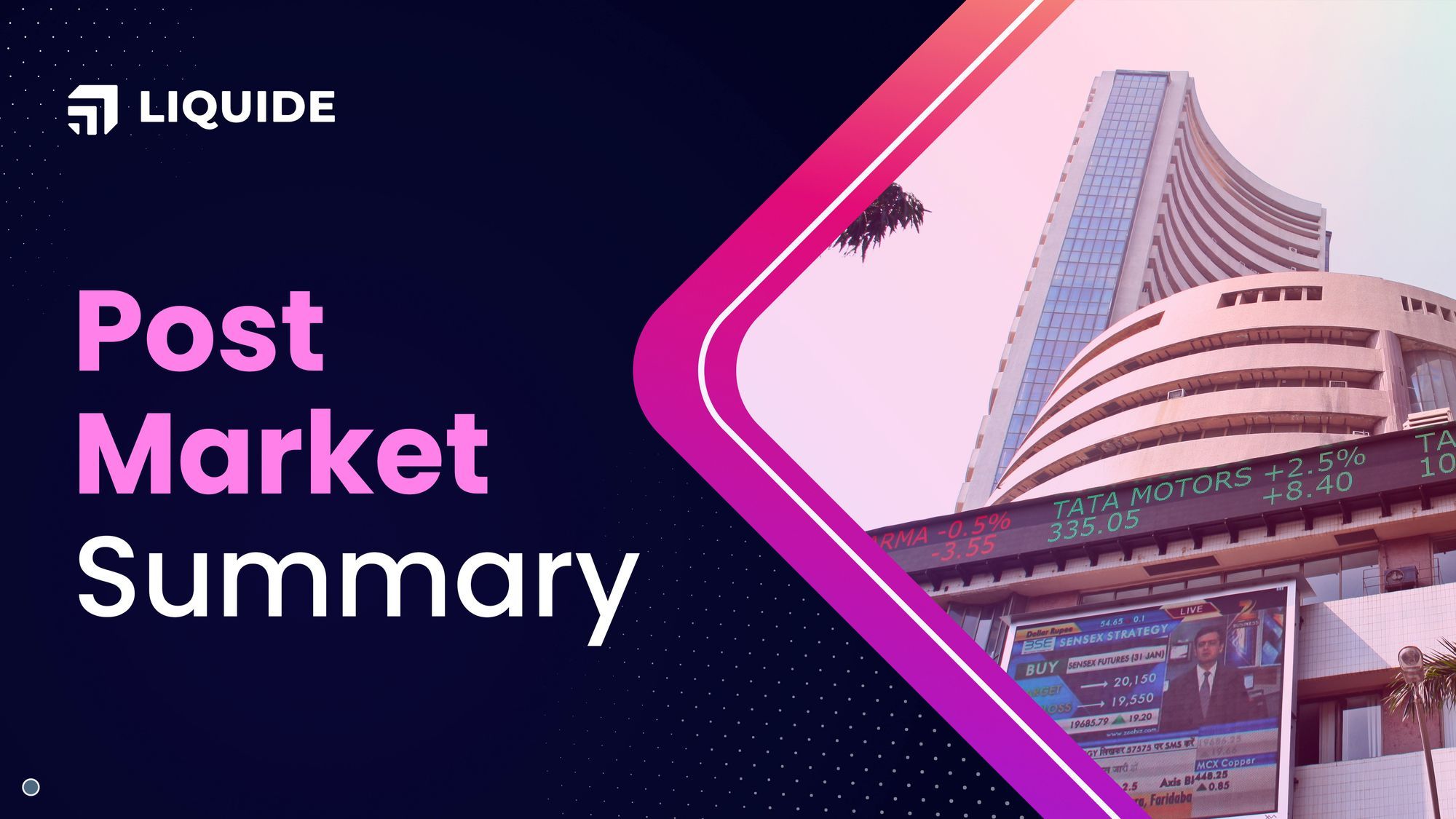 Following a lackluster movement in the previous session, the Indian equity markets advanced by half a percent on July 26, supported by broad-based buying across various sectors. The Nifty opened positively and continued to build on its gains, maintaining near the day's peak. However, investors are cautious as they await the outcome of the US Fed's meeting later tonight, which is expected to mark the final rate hike for this calendar year.
NIFTY: The index opened 53 points higher at 19,733 and made a high of 19,825 before closing at 19,778. Nifty has formed a bullish candlestick with a small upper shadow on the daily chart. Its immediate resistance level is now placed at 20,000 while immediate support is at 19,600.
BANK NIFTY:  The index opened 90 points higher at 45,935 and closed at 46,062. Bank Nifty formed an Inside Bar kind of candlestick pattern on the daily chart, though it is a bullish candlestick pattern with a small lower shadow. Its immediate resistance level is now placed at 46,200 while support is at 45,700.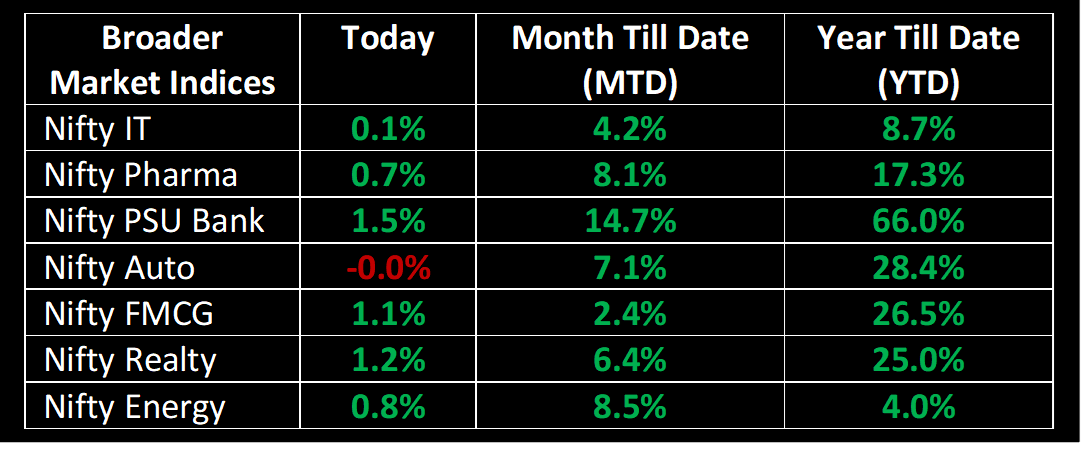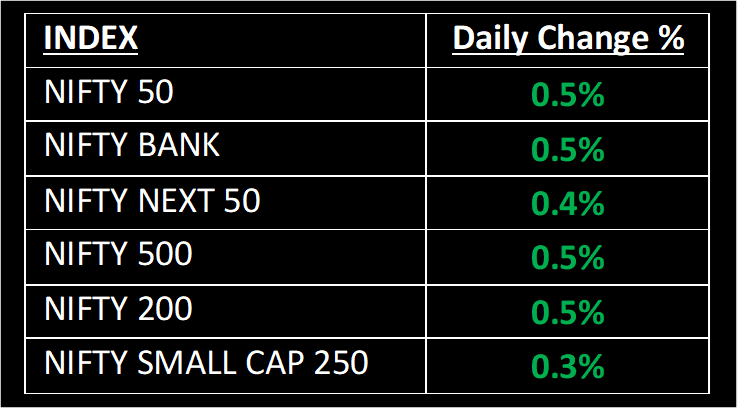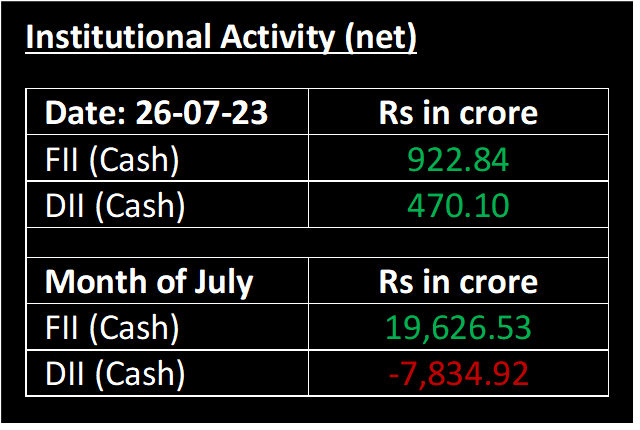 Stocks in Spotlight
▪   Motilal Oswal Financial Services Ltd:   Stock surged nearly 7% after the company said its board on July 27 will consider internal restructuring within group entities, including transferring the broking and distribution business, demerger of wealth business from Motilal Oswal Wealth and other related matters.
▪   Delta Corp Ltd:  Stock inched up 3% after the casino and gaming player posted a 19% jump in net profit at Rs 67.91 crore for the quarter ended June 2023.
▪   Piramal Enterprises Ltd:   Stock surged 8% after the company announced its proposal to buyback equity shares, which will be discussed in the Board meeting on July 28.
Global News
▪   Asia-Pacific markets traded mixed on Wednesday, as investors are cautious as they await the US Federal Reserve's rate decision later tonight. It is anticipated that the Fed will mark its 11th interest rate hike since March 2022, leading to a predominantly negative sentiment in the region.
▪   Oil prices hovered close to their highest levels in three months. However, investors remained cautious due to the anticipated Federal Reserve rate hike and concerns about a surge in US crude supplies.
---
This document has been issued by Liquide Solutions Private Limited for information purposes only and should not be construed as
i) an offer or recommendation to buy or sell securities, commodities, currencies or other investments referred to herein; or
ii) an offer to sell or a solicitation or an offer for the purchase of any of the baskets of Liquide Solutions; or
iii) investment research or investment advice. It does not have regard to specific investment objectives, financial situation and the particular needs of any specific person who may receive this document. Investors should seek personal and independent advice regarding the appropriateness of investing in any of the funds, securities, other investment, or investment strategies that may have been discussed or referred to herein and should understand that the views regarding future prospects may or may not be realized. In no event shall Liquide Life Private Limited and / or its affiliates or any of their directors, trustees, officers and employees be liable for any direct, indirect, special, incidental or consequential damages arising out of the use of information/opinion herein.
With Liquide, you can explore stocks, trade securely in your own broker account, and receive expert-recommended trade setups. Stay updated with real-time tracking, market commentary, and AI-powered insights from LiMo, our intelligent bot. Whether you're a seasoned investor or a newbie, Liquide provides the tools you need to discover your next big investment opportunity. Download the app now from Google Play Store and Apple App Store to revolutionize your investment journey. Don't miss out on the chance to level up your investing game with Liquide.