POST-MARKET SUMMARY 25 September 2023
The Indian benchmark indices put an end to their four-day losing streak, concluding the day with marginal gains in a volatile session on September 25. Due to a combination of mixed global signals, the market kicked off on a flat note. Top Gainer : Bajaj Finance | Top Loser : Hindalco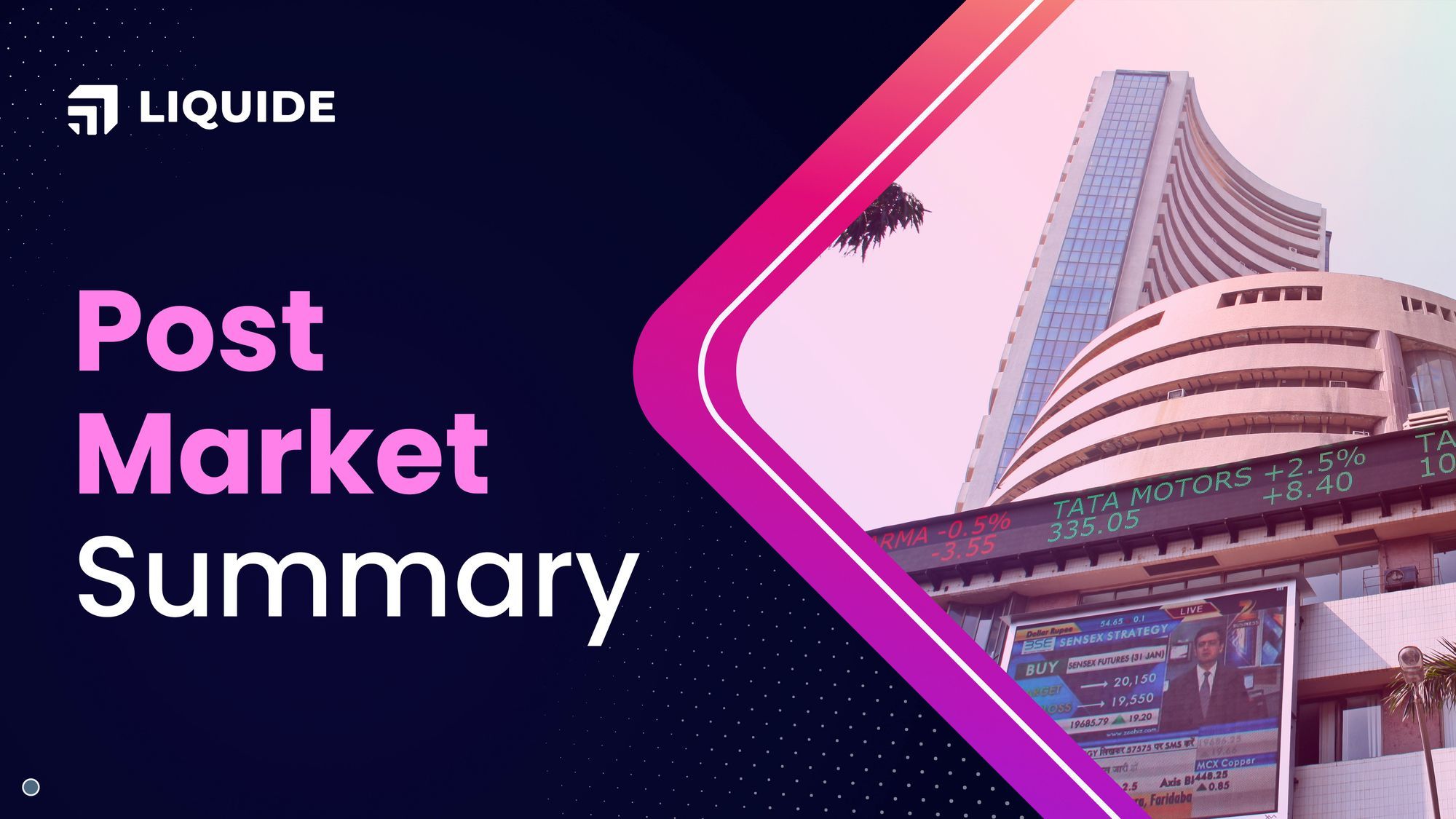 The Indian benchmark indices put an end to their four-day losing streak, concluding the day with marginal gains in a volatile session on September 25. Due to a combination of mixed global signals, the market kicked off on a flat note. Although early trading witnessed considerable volatility, subdued performance in European and various Asian indices ultimately led to a relatively unchanged close for the Indian market. Investors have turned cautious due to the recent rise in US treasury yields, and persistent selling by foreign institutional investors (FIIs) in Indian equities.
NIFTY: The index opened flat at 19,678 and made a high of 19,734 before closing at 19,674. Nifty has formed a Doji candlestick pattern on the daily chart, indicating indecisiveness among bulls and bears about future market trend. Its immediate resistance level is now placed at 19,800 while immediate support is at 19,600.
BANK NIFTY: The index opened flat at 44,615 and closed at 44,766. Bank Nifty has formed a bullish candlestick pattern with upper and lower shadows, which resembles a High Wave kind of candlestick pattern (not exactly one) on the daily chart, indicating an indecisiveness among buyers and sellers about further trend. Its immediate resistance level is now placed at 45,000 while support is at 44,500.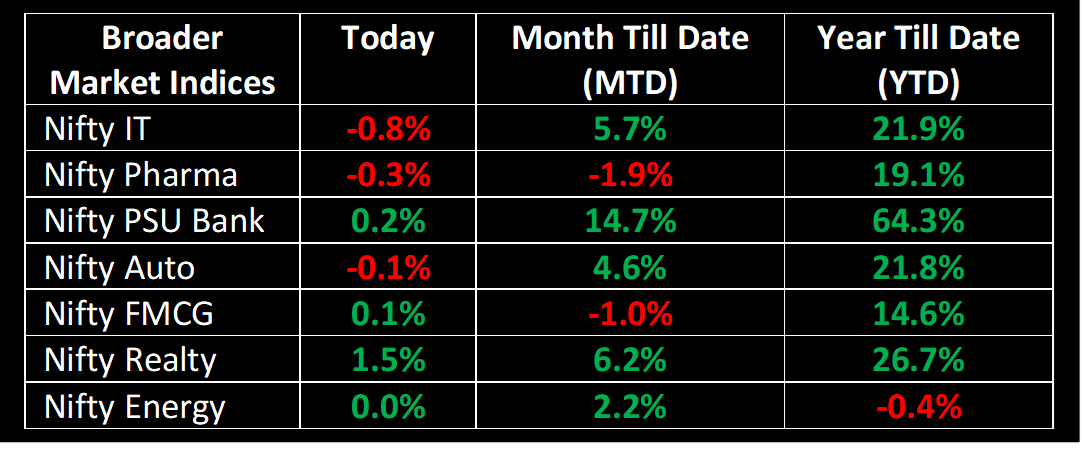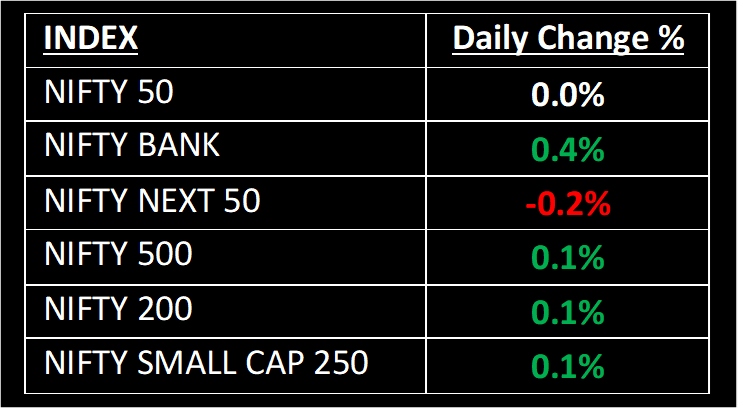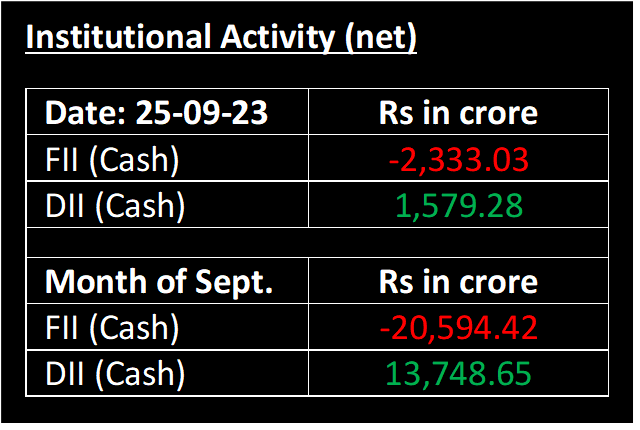 Stocks in Spotlight
▪  Delta Corp Ltd: Stock plunged 19% as investors dumped the stock after the casino operator received a massive tax notice of Rs 16,822 crore.
▪  The Ramco Cements Ltd:  Stock surged over 5%, buoyed by high-volume trade and positive brokerage outlook on the company's business in the near term.
▪  Bajaj Finance Ltd:  Stock gained over 4.5% after it was reported that the company was planning a mega fund raise to the tune of $800 million- $1 billion.
Global News
▪  Pan-European Stoxx 600 index was down 0.6%, with most sectors in negative territory. Travel and leisure stocks led losses, with a 2.3% decline, followed by mining stocks, which dropped 1.9%.
▪  Asia-Pacific markets were mixed as investors look toward inflation data from across the region this week.
▪  Oil prices held steady on Monday after Russia relaxed its fuel ban, taking the edge off earlier gains on a tighter supply outlook and wariness over interest rates that could curb demand.
---
This document has been issued by Liquide Solutions Private Limited for information purposes only and should not be construed as
i) an offer or recommendation to buy or sell securities, commodities, currencies or other investments referred to herein; or
ii) an offer to sell or a solicitation or an offer for the purchase of any of the baskets of Liquide Solutions; or
iii) investment research or investment advice. It does not have regard to specific investment objectives, financial situation and the particular needs of any specific person who may receive this document. Investors should seek personal and independent advice regarding the appropriateness of investing in any of the funds, securities, other investment, or investment strategies that may have been discussed or referred to herein and should understand that the views regarding future prospects may or may not be realized. In no event shall Liquide Life Private Limited and / or its affiliates or any of their directors, trustees, officers and employees be liable for any direct, indirect, special, incidental or consequential damages arising out of the use of information/opinion herein.
With Liquide, you can explore stocks, trade securely in your own broker account, and receive expert-recommended trade setups. Stay updated with real-time tracking, market commentary, and AI-powered insights from LiMo, our intelligent bot. Whether you're a seasoned investor or a newbie, Liquide provides the tools you need to discover your next big investment opportunity. Download the app now from Google Play Store and Apple App Store to revolutionize your investment journey. Don't miss out on the chance to level up your investing game with Liquide.