POST-MARKET SUMMARY 24 May 2023
Post-market data and news around listed stocks.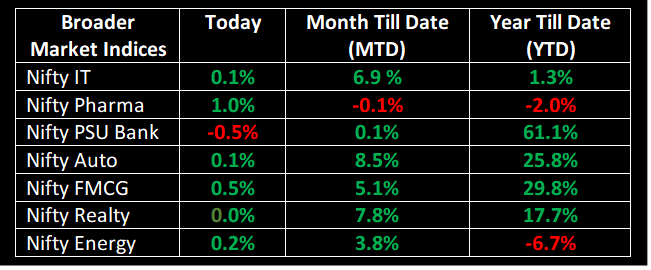 The Nifty index is currently influenced by the bears, which is evident in the market trend. At present, the index is encountering substantial resistance at 18450, which has consistently posed a challenging barrier to breach. The lack of strength in global markets has had a negative impact on domestic indices, further exacerbated by the US's ongoing discussions regarding its debt ceiling, which has contributed to an overall bearish sentiment.
NIFTY: The index opened 54 points lower at 18,294, made a high of 18,392 and slipped 107 points before closing at 18,285. The Nifty has formed a bearish candlestick on closing. Its immediate resistance is placed at 18,450 while support is at 18,200.
BANK NIFTY: The index opened 203 points lower at 43,751 and closed at 43,677. Bank Nifty can be seen trading in a narrow range. Its immediate resistance level is placed at 44,000 while support is at 43,500.
FII / DII  data: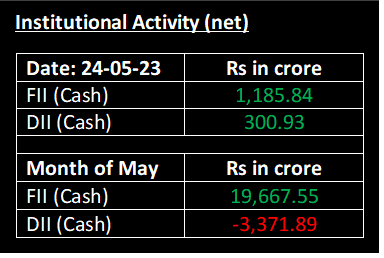 Major Indices: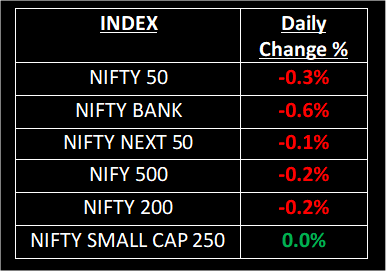 Nifty Gainers & Losers:

Stocks in Spotlight
§ Nykaa: Net profit tanks 72% YoY to Rs 2 crore. Revenue from operations rises 34% to Rs 1,301.72 crore as against Rs 973.32 crore.
§ IndusInd Bank: Standalone net profit jumps 50% to Rs 2,040.51 crore as against Rs 1,361.37 crore in the year-ago quarter. Banks declares a dividend of Rs 14/share.
§ Dixon Technologies:  Stock gains 9% on strong Q4 performance. Net profit soars 84% while EBITDA jumps 61% compared to year-ago quarter.
Global News
§   Markets in Europe and Asia slump on Wednesday as negotiations over raising the US debt ceiling stall, sapping risk sentiment.
§   UK inflation sinks below 10% to 8.7% for the first time since August