POST-MARKET SUMMARY 21 June 2023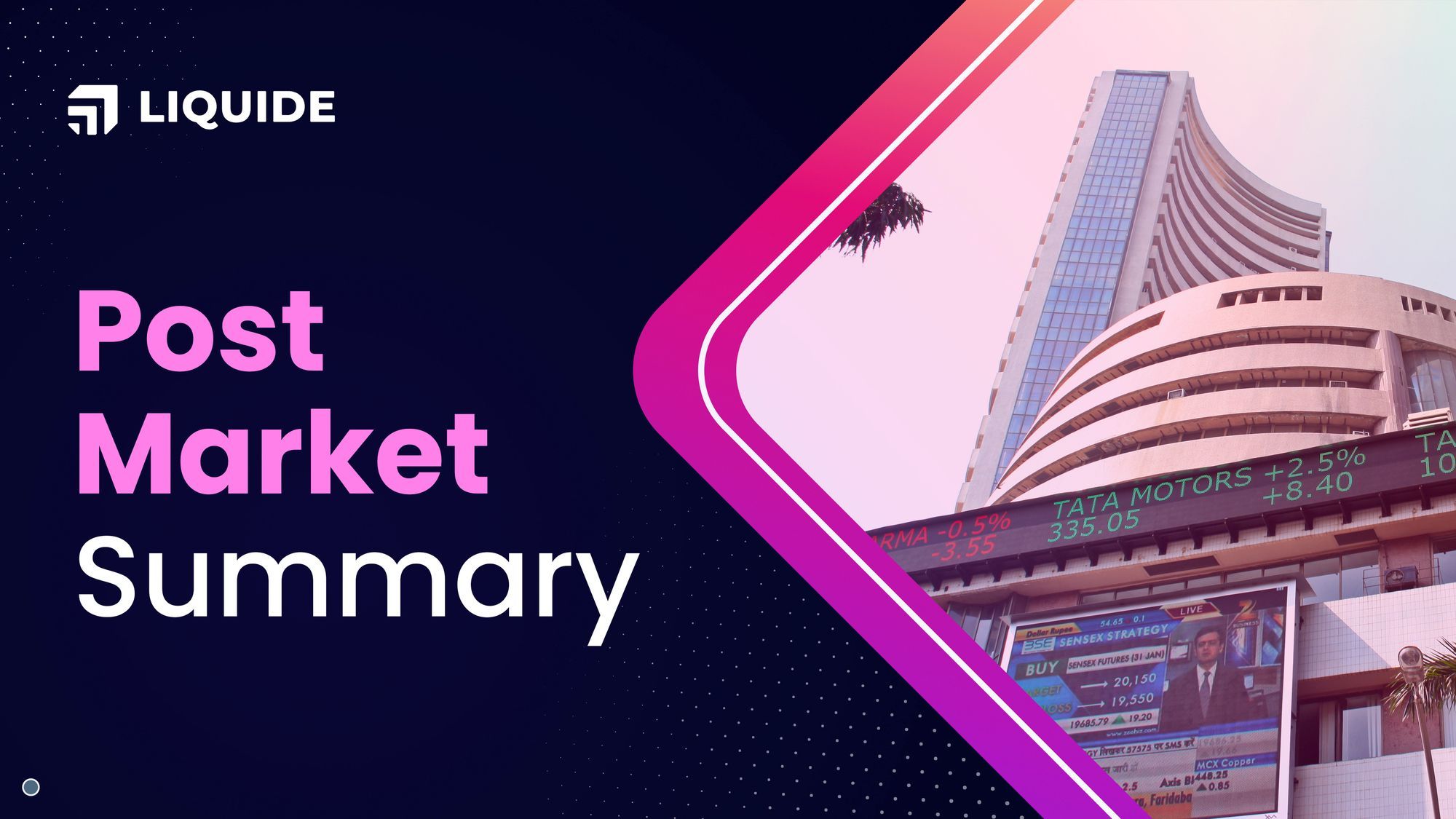 On June 21, the Nifty made a predictable move to reach its previous intraday all-time high, following a strong rebound in the previous session. Although it fell short of achieving that milestone, it concluded the day at a new record closing high. Today's positive momentum was mainly led by power, oil & gas, and IT stocks.
NIFTY:  The index opened 33 points higher at 18,849 and made a high of 18,875 before closing at 18,856. Nifty has formed a Doji sort of candlestick pattern on the daily chart, indicating a tug-of-war between the bulls and bears. But it also registered a higher high, higher low formation. Its immediate resistance level is now placed at 18,900 while support is at 18,690.
BANK NIFTY:  The index opened 128 points higher at 43,894 and closed at 43,859. Bank Nifty has formed a Doji kind of candlestick on the daily chart which indicates battle between the bulls and the bears. Its immediate resistance level is now placed at 44,000 while support is at 43,500.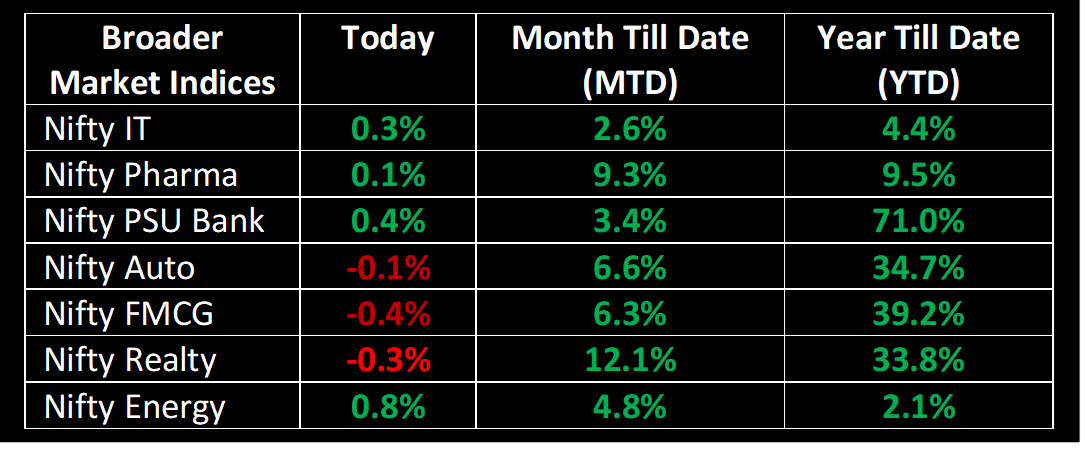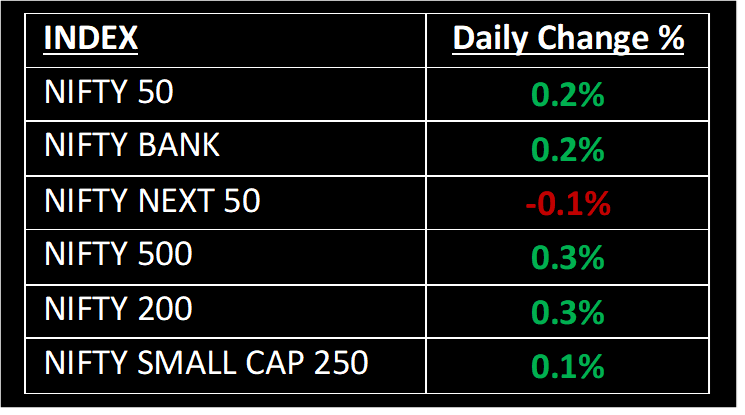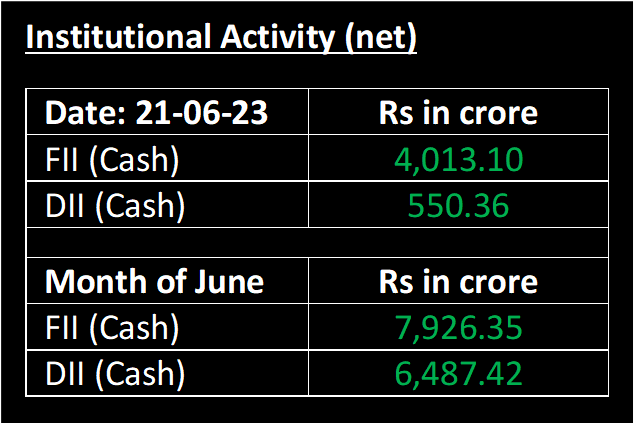 Stocks in Spotlight
▪  Rail Vikas Nigam Ltd: Stock gained 4% in early trade today after the company received 3 Letters of Acceptance from Chennai Metro Rail for various underground stations.
▪  Shree Cements: Stock slipped over 1% after CNBC-TV18 reported that Income Tax Department was conducting surveys at five company locations.
▪ HDFC: Stock ended 1.6% higher on CCI approval for acquisition of stake in HDFC Life, HDFC Ergo
Global News
▪ Nvidia's stunning stock rally has hit a new milestone as the AI frenzy fuels interest in the Santa Clara based chipmaker.
▪ UK inflation came in hotter than expected in May, as consumer prices rose by an annual 8.7%, unchanged from the previous month. Economists polled by Reuters had projected an annual rise in the headline CPI of 8.4%.
▪  Russia's economy is likely to shrink again this year as Putin's war on Ukraine worsens inflation and labor shortages.
This document has been issued by Liquide Solutions Private Limited for information purposes only and should not be construed as
i) an offer or recommendation to buy or sell securities, commodities, currencies or other investments referred to herein; or
ii) an offer to sell or a solicitation or an offer for the purchase of any of the baskets of Liquide Solutions; or
iii) investment research or investment advice. It does not have regard to specific investment objectives, financial situation and the particular needs of any specific person who may receive this document. Investors should seek personal and independent advice regarding the appropriateness of investing in any of the funds, securities, other investment, or investment strategies that may have been discussed or referred to herein and should understand that the views regarding future prospects may or may not be realized. In no event shall Liquide Life Private Limited and / or its affiliates or any of their directors, trustees, officers and employees be liable for any direct, indirect, special, incidental or consequential damages arising out of the use of information/opinion herein.
With Liquide, you can explore stocks, trade securely in your own broker account, and receive expert-recommended trade setups. Stay updated with real-time tracking, market commentary, and AI-powered insights from LiMo, our intelligent bot. Whether you're a seasoned investor or a newbie, Liquide provides the tools you need to discover your next big investment opportunity. Download the app now from Google Play Store and Apple App Store to revolutionize your investment journey. Don't miss out on the chance to level up your investing game with Liquide.