POST-MARKET SUMMARY 2 June 2023
Post-market data and news around listed stocks.
On June 2, the Nifty ended marginally higher by 0.25% amid volatility and slightly higher trading volumes than the average. Notably, broader market indices outperformed the benchmarks, with an Advance: Decline ratio of 1.8:1. Bullish momentum was seen in global markets as well, led by the approval of US debt ceiling legislation and in anticipation of a pause in rate hikes by the US Federal Reserve.
NIFTY:: The index opened 65 points higher at 18,550 and made a high of 18,573 before closing at 18,534. Nifty ended in the green on Friday despite selling pressure in select large caps. Its immediate resistance level is now at 18,600 while support is at 18,400.
BANK NIFTY: The index opened 207 points higher at 43,997 and closed at 43,937, gaining 0.34%. Bank Nifty can be seen consolidating in a range on the daily chart. Its immediate resistance level is now at 44,130 while support is at 43,600.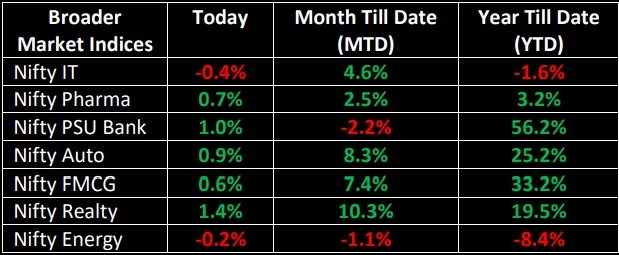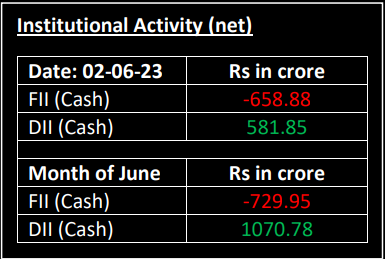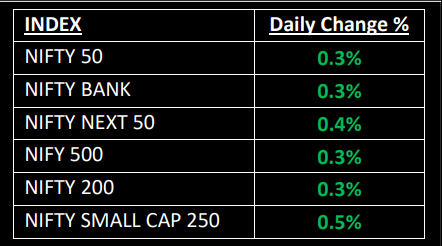 Stocks in Spotlight
AstraZeneca Pharma: Stock hits a 52-week high on Friday on robust Q4 earnings. Quarterly net profit jumps 24% YoY to Rs 136 crore
Coal India: Company's offer for sale oversubscribed; Govt to get more than Rs 4,000 crore.
Paras Defence & Space Technologies: Stock surged around 7% following the company's announcement of a joint venture agreement with an Israel-based company.

Global News
Oil prices rise after approval of US debt ceiling deal; All eyes on OPEC meeting.
Hong Kong's Hang Seng jumps 4%, led by gains in property and consumer stocks.
Japan Vows to end deflation with bold monetary, flexible fiscal policy.
With Liquide, you can explore stocks, trade securely in your own broker account, and receive expert-recommended trade setups. Stay updated with real-time tracking, market commentary, and AI-powered insights from LiMo, our intelligent bot. Whether you're a seasoned investor or a newbie, Liquide provides the tools you need to discover your next big investment opportunity. Download the app now from Google Play Store and Apple App Store to revolutionize your investment journey. Don't miss out on the chance to level up your investing game with Liquide.