POST-MARKET SUMMARY 17 October 2023
On October 17, the Nifty reversed a three-day decline and ended the day in positive territory thanks to widespread buying, notable increases in banking sector stocks, and a decrease in oil prices. Top Gainer: BPCL | Top Loser: Tata Motors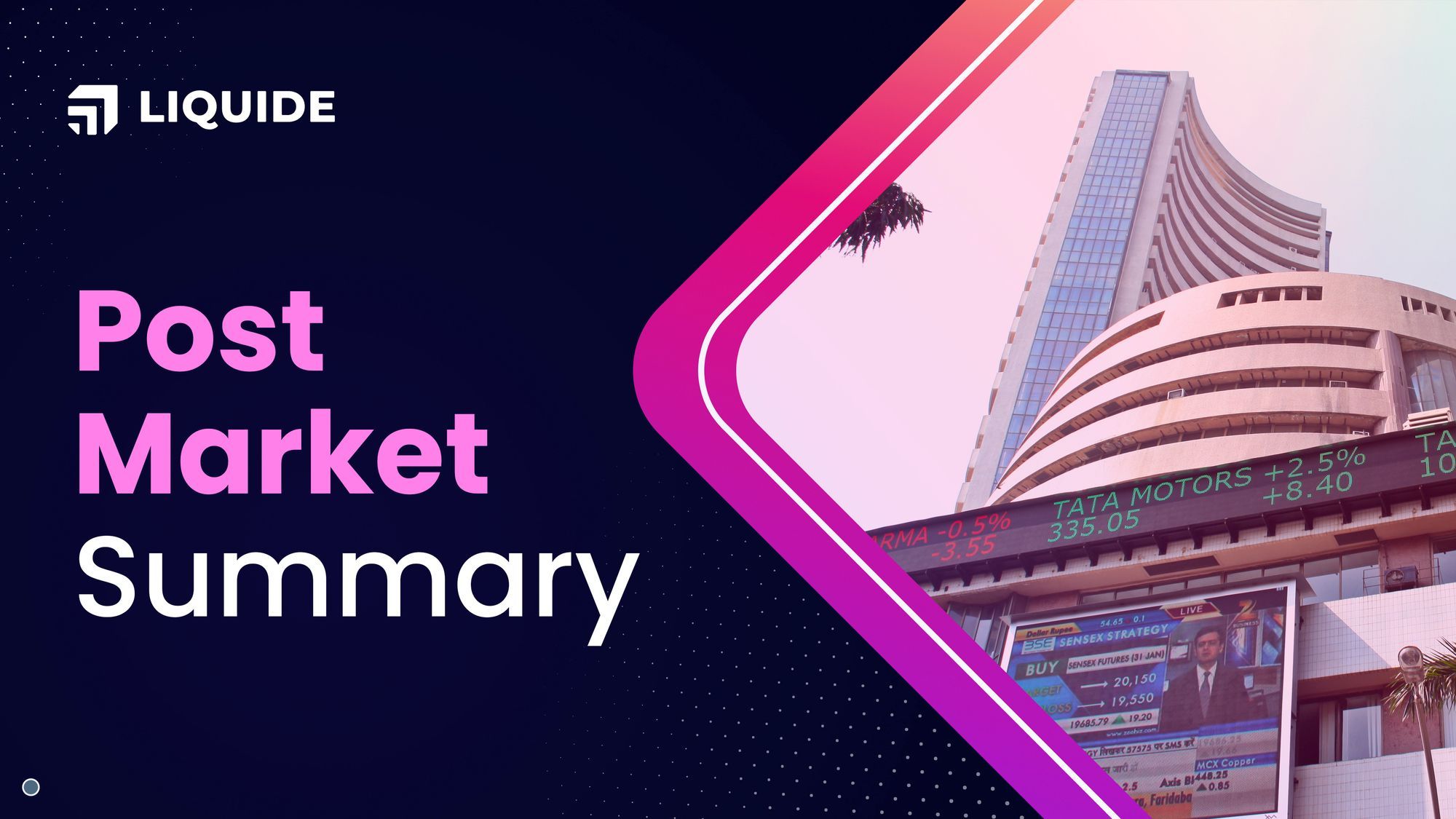 On October 17, the Nifty reversed a three-day decline and ended the day in positive territory thanks to widespread buying, notable increases in banking sector stocks, and a decrease in oil prices. Fuelled by favorable international indicators, the market started the day with a strong opening and maintained its position near the daily peak, primarily driven by investments across various sectors.
NIFTY: The index opened 112 points higher at 19,843 and made a high of 19,849 before closing at 19,811. Nifty has formed a bearish candlestick with minor upper and lower shadows on the daily chart, as the closing was lower than opening levels. Its immediate resistance level is now placed at 19,850 while immediate support is at 19,770.
BANK NIFTY: The index opened 364 points higher at 44,589 and closed at 44,409. Bank Nifty has formed a bearish candlestick with a minor lower shadow on the daily scale. Its immediate resistance level is now placed at 44,600 while support is at 44,200.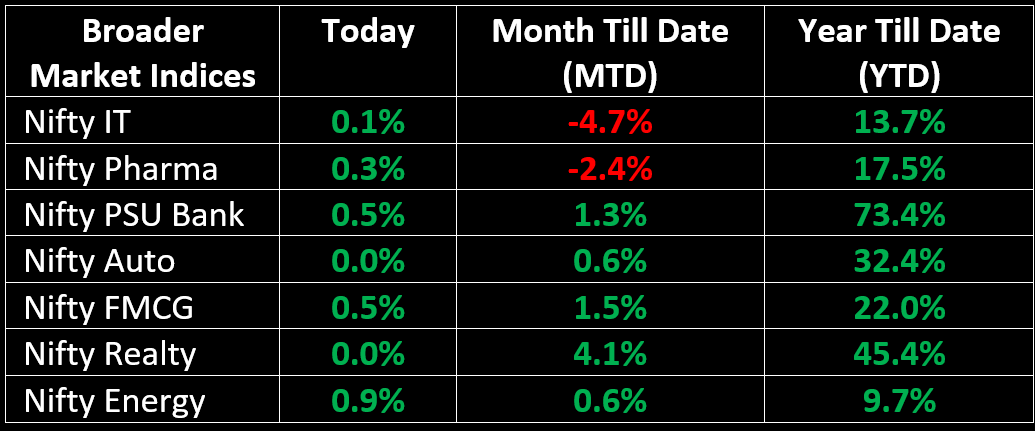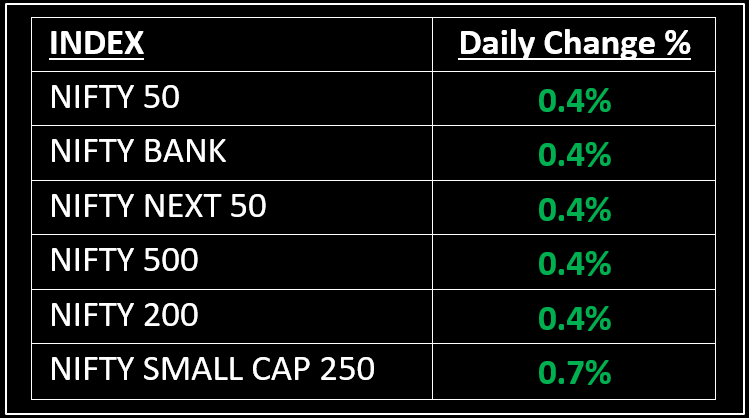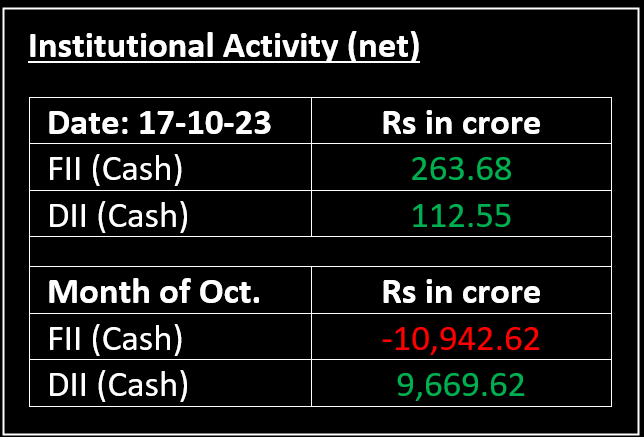 Stocks in Spotlight
▪ Newgen Software Technologies: Stock surged over 11% after the company reported a sharp improvement in its September quarter earnings numbers.
▪ Ajmera Realty: Stock jumped over 5% after the company secured a residential redevelopment project in Mumbai. The targeted sale value of the project is Rs 360 crore.
▪ Trident: Stock closed 2.83% lower on news of I-T raids being conducted across group locations.
Global News
▪ Pan-European Stoxx 600 index was down 0.1%, with utilities adding 0.6% while mining stocks dropped 1.7%.
▪ Australia and China stocks closed higher on Tuesday for the first time in three days, while the New Zealand dollar weakened following an inflation reading, the first since the elections over the weekend.
▪ Oil prices steadied on Tuesday after sliding more than $1 on Monday amid hopes the US would ease sanctions on producer Venezuela and as Washington stepped up efforts to prevent an escalation of the war between Israel and Hamas.
---
This document has been issued by Liquide Solutions Private Limited for information purposes only and should not be construed as
i) an offer or recommendation to buy or sell securities, commodities, currencies or other investments referred to herein; or
ii) an offer to sell or a solicitation or an offer for the purchase of any of the baskets of Liquide Solutions; or
iii) investment research or investment advice. It does not have regard to specific investment objectives, financial situation and the particular needs of any specific person who may receive this document. Investors should seek personal and independent advice regarding the appropriateness of investing in any of the funds, securities, other investment, or investment strategies that may have been discussed or referred to herein and should understand that the views regarding future prospects may or may not be realized. In no event shall Liquide Life Private Limited and / or its affiliates or any of their directors, trustees, officers and employees be liable for any direct, indirect, special, incidental or consequential damages arising out of the use of information/opinion herein.
With Liquide, you can explore stocks, trade securely in your own broker account, and receive expert-recommended trade setups. Stay updated with real-time tracking, market commentary, and AI-powered insights from LiMo, our intelligent bot. Whether you're a seasoned investor or a newbie, Liquide provides the tools you need to discover your next big investment opportunity. Download the app now from Google Play Store and Apple App Store to revolutionize your investment journey. Don't miss out on the chance to level up your investing game with Liquide.