POST-MARKET SUMMARY 16 June 2023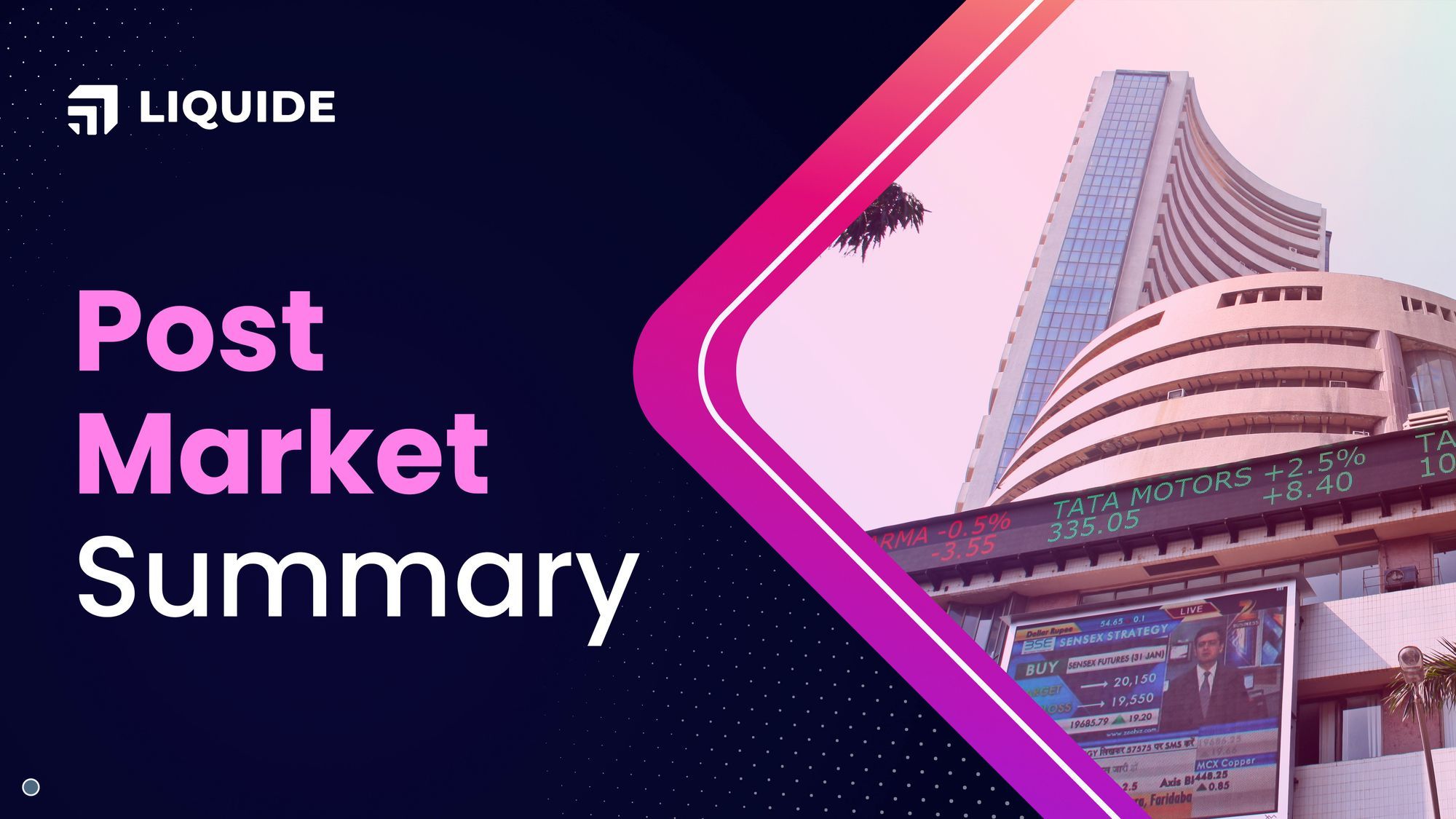 On June 16, the Nifty recouped its previous session's losses and reached a new all-time high, buoyed by positive trends in global markets and broad-based buying across sectors. The market ended at record-breaking levels, with the Nifty ending 137.90 points higher. The positive factors driving domestic sentiment included declining inflation, robust economic indicators, and continued investments by foreign institutional investors (FIIs).
NIFTY:  The index opened 35 points higher at 18,723 and made a high of 18,864 before closing at 18,826. Nifty has formed a Bullish candle on the daily & weekly time frame. Its immediate resistance level is now placed at 18,890 while support is at 18,700.
BANK NIFTY:  The index opened 140 points higher at 43,583 and closed at 43,938. Bank Nifty has formed a Bullish candle, as buying was seen in heavyweights. Its immediate resistance level is now placed at 44,150 while support is at 43,700.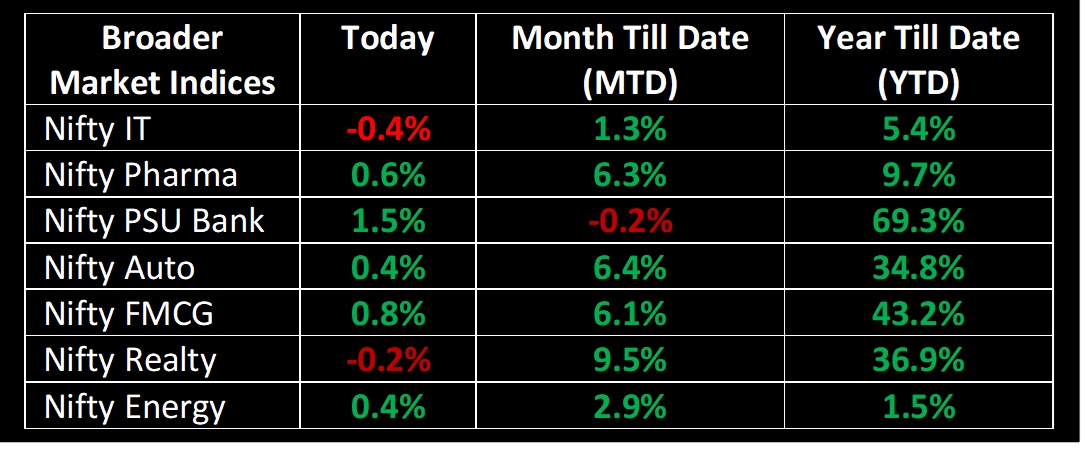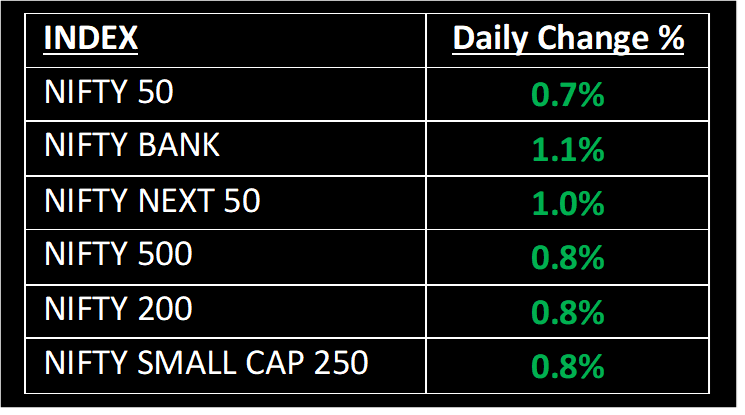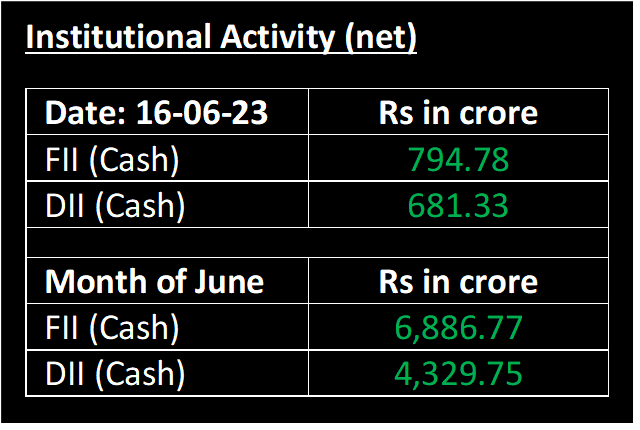 Stocks in Spotlight
▪ Paras Defence & Space Technologies: Stock gained 4%, after the company bagged an order worth Rs 53 crore from the Ministry of Defence.
▪ HDFC Life Insurance Company Ltd: Stock jumped 5%, after the company reported a 1.8x to 2x growth in business in May.
▪ IKIO Lighting: The company made a stellar debut on the bourses and settled at Rs 403.75 on the BSE, representing a premium of 42% over the issue price of Rs 285.
Global News
▪ China's Central Bank cut rate on 1-year MLF loans to 2.65% from 2.75% for the first time in 10 months.
▪ The Bank of Japan held its short-term interest rate target at -0.1% and made no changes to its yield curve control policy after a two-day meeting, in line with economists' expectations.
This document has been issued by Liquide Solutions Private Limited for information purposes only and should not be construed as i) an offer or recommendation to buy or sell securities, commodities, currencies or other investments referred to herein; or ii) an offer to sell or a solicitation or an offer for purchase of any of the baskets of Liquide Solutions; or iii) an investment research or investment advice. It does not have regard to specific investment objectives, financial situation and the particular needs of any specific person who may receive this document. Investors should seek personal and independent advice regarding the appropriateness of investing in any of the funds, securities, other investment, or investment strategies that may have been discussed or referred herein and should understand that the views regarding future prospects may or may not be realized. In no event shall Liquide Life Private Limited and / or its affiliates or any of their directors, trustees, officers and employees be liable for any direct, indirect, special, incidental or consequential damages arising out of the use of information / opinion herein.
With Liquide, you can explore stocks, trade securely in your own broker account, and receive expert-recommended trade setups. Stay updated with real-time tracking, market commentary, and AI-powered insights from LiMo, our intelligent bot. Whether you're a seasoned investor or a newbie, Liquide provides the tools you need to discover your next big investment opportunity. Download the app now from Google Play Store and Apple App Store to revolutionize your investment journey. Don't miss out on the chance to level up your investing game with Liquide.