POST-MARKET SUMMARY 13 September 2023
After a brief correction, the Nifty50 saw a resurgence in bullish momentum on September 13, with the index closing above the significant psychological level of 20,000 for the first time. Top Gainer : Coal India | Top Loser : HDFC Life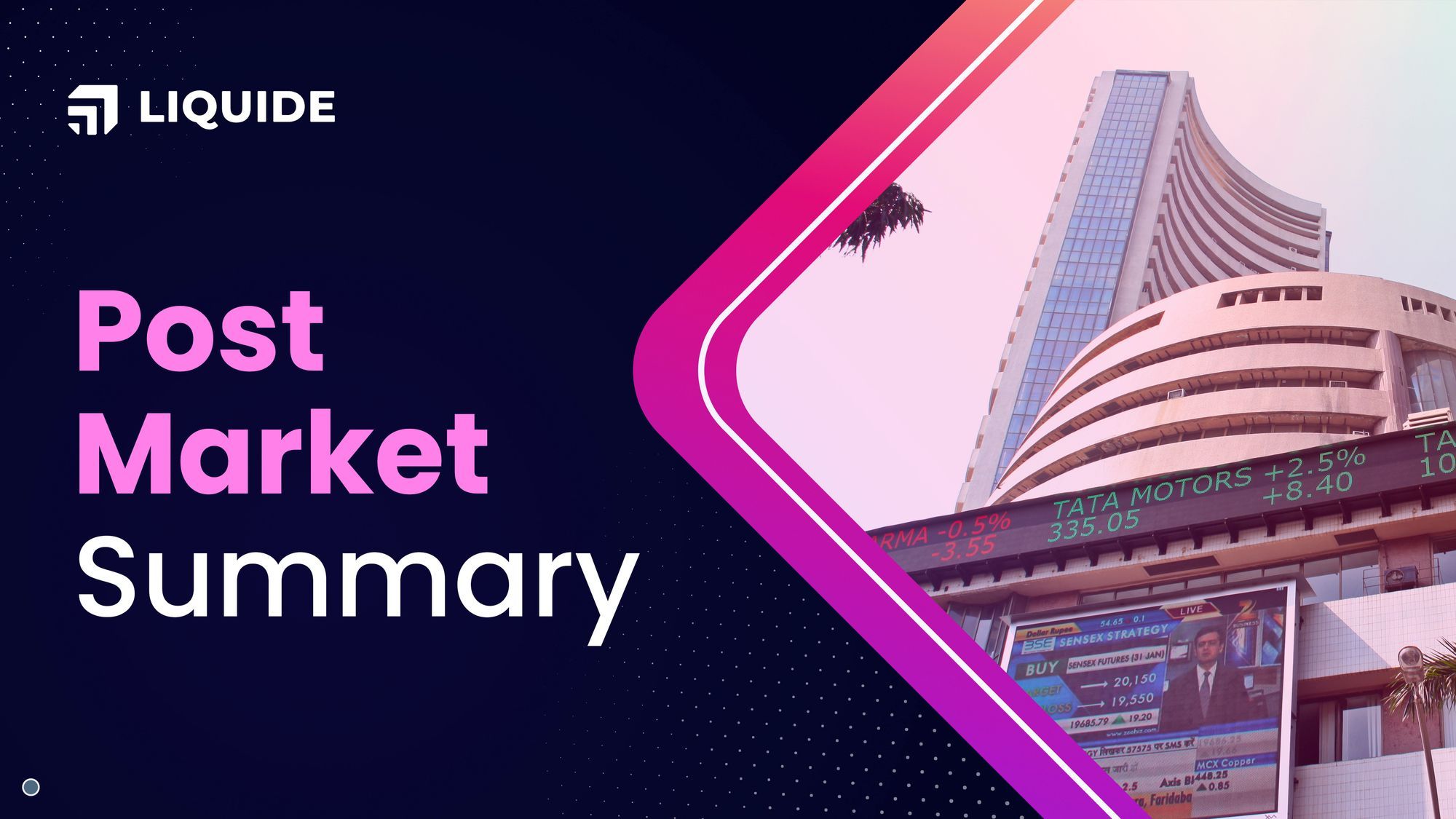 After a brief correction, the Nifty50 saw a resurgence in bullish momentum on September 13, with the index closing above the significant psychological level of 20,000 for the first time. The banking sector played a pivotal role in supporting this rebound. The trading day began on a flat note amid mixed global cues, but the market maintained a steady range throughout the session.
NIFTY: The index opened flat at 19,989 and made a high of 20,096 before closing at 20,070. Nifty has formed a bullish candlestick pattern on the daily chart, but broadly traded within previous day's trading range. Its immediate resistance level is now placed at 20,150 while immediate support is at 19,900.
BANK NIFTY:  The index opened 62 points lower at 45,449 and closed at 45,909. Bank Nifty has formed a long bullish candlestick pattern, which somewhat resembles a Bullish Engulfing kind of formation on the daily timeframe. Its immediate resistance level is now placed at 46,100 while support is at 45,600.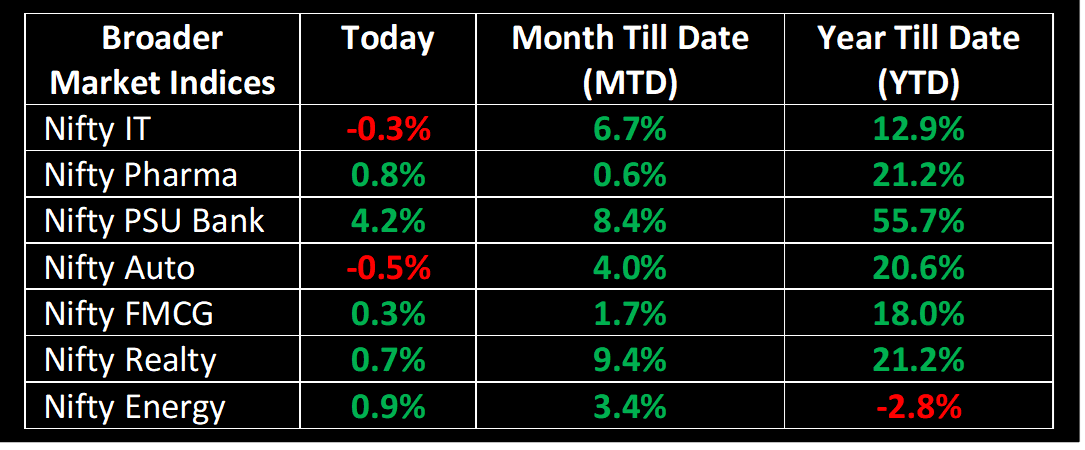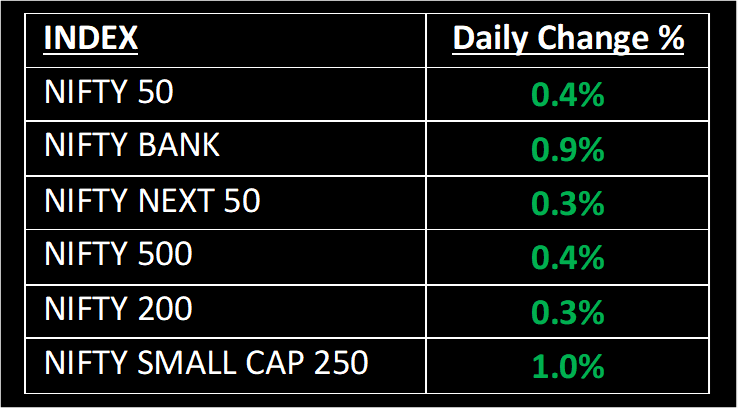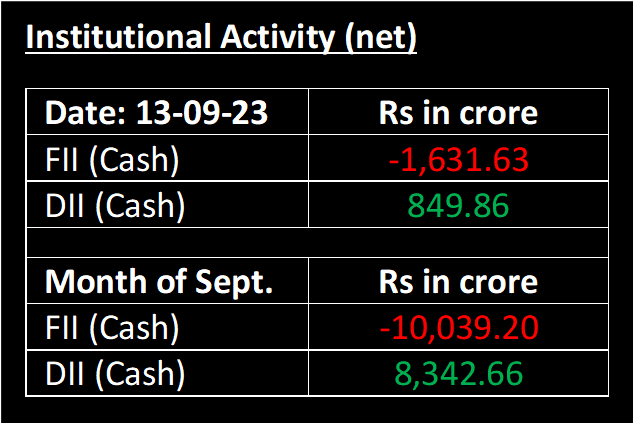 Stocks in Spotlight
▪ RITES Ltd:  Stock gained 2.2% after the company signed an agreement with Caminho De Ferro De Mocamedes (CFM), Angola, for cooperation in the development of railways and related infrastructure in the African nation, including the supply of rolling stock.
▪  Tata Power Ltd:  Stock traded 1% higher after its subsidiary signed a memorandum of understanding (MoU) with SIDBI on September 12.
▪  Coffee Day Enterprises:  Stock surged 20% after the company averted insolvency proceedings and reached a settlement with IndusInd Bank.
Global News
▪  The Stoxx 600 index was down by 0.88% as most sectors declined. Retail stocks dropped 2% while industrials fell 1.5%.
▪  Asia-Pacific markets fell across the board as investors assess key economic data out of Japan and South Korea.
▪  Oil prices edged higher on Wednesday, hovering at a new 10-month high hit the previous day, as expectations of tighter global supply and fears of supply disruption in Libya outweighed concerns of slower demand in some countries such as China.
---
This document has been issued by Liquide Solutions Private Limited for information purposes only and should not be construed as
i) an offer or recommendation to buy or sell securities, commodities, currencies or other investments referred to herein; or
ii) an offer to sell or a solicitation or an offer for the purchase of any of the baskets of Liquide Solutions; or
iii) investment research or investment advice. It does not have regard to specific investment objectives, financial situation and the particular needs of any specific person who may receive this document. Investors should seek personal and independent advice regarding the appropriateness of investing in any of the funds, securities, other investment, or investment strategies that may have been discussed or referred to herein and should understand that the views regarding future prospects may or may not be realized. In no event shall Liquide Life Private Limited and / or its affiliates or any of their directors, trustees, officers and employees be liable for any direct, indirect, special, incidental or consequential damages arising out of the use of information/opinion herein.
With Liquide, you can explore stocks, trade securely in your own broker account, and receive expert-recommended trade setups. Stay updated with real-time tracking, market commentary, and AI-powered insights from LiMo, our intelligent bot. Whether you're a seasoned investor or a newbie, Liquide provides the tools you need to discover your next big investment opportunity. Download the app now from Google Play Store and Apple App Store to revolutionize your investment journey. Don't miss out on the chance to level up your investing game with Liquide.