POST-MARKET SUMMARY 05 September 2023
Post-market report and news around trending stocks.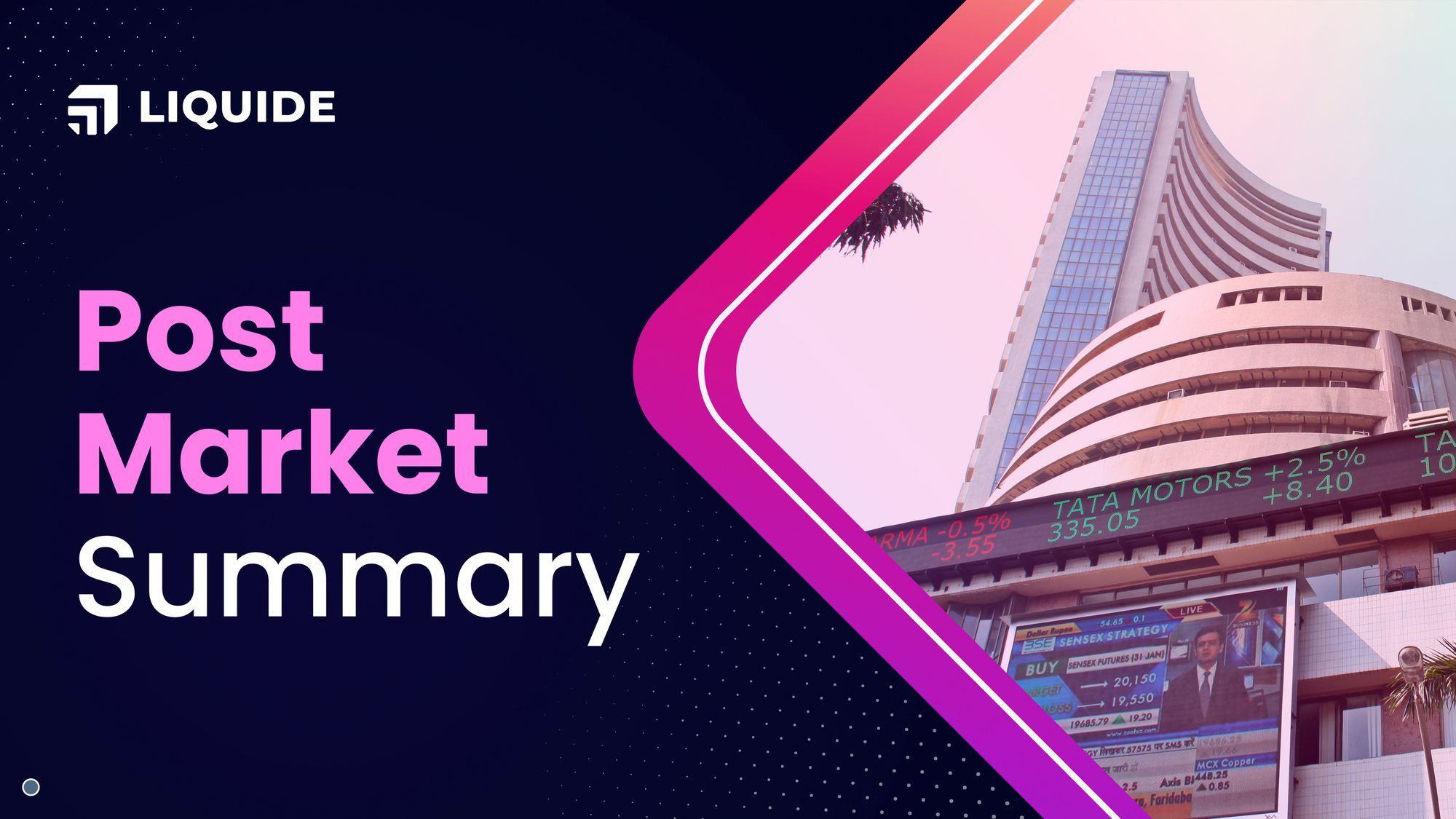 On September 5, the Nifty climbed above 19,550, marking the third consecutive session of gains, led by mid-cap and small-cap stocks, and widespread sectoral buying. Despite this positive streak, the market remained rangebound with a cautious outlook, as US markets were closed on Monday, prompting investors to be selective. Monitoring the rupee's potential volatility is crucial, as it may influence Foreign Institutional Investor (FII) flows in the future.
NIFTY: The index opened 36 points higher at 19,564 and made a high of 19,587 before closing at 19,574. Nifty has formed a small-bodied bullish candlestick pattern on the daily chart, making higher highs and higher lows for the 3rd straight session. Its immediate resistance level is now placed at 19,700 while immediate support is at 19,450.
BANK NIFTY:  The index opened 47 points higher at 44,625 and closed at 44,532. Bank Nifty has formed a bearish candlestick pattern on the daily chart. Its immediate resistance level is now placed at 44,800 while support is at 44,200.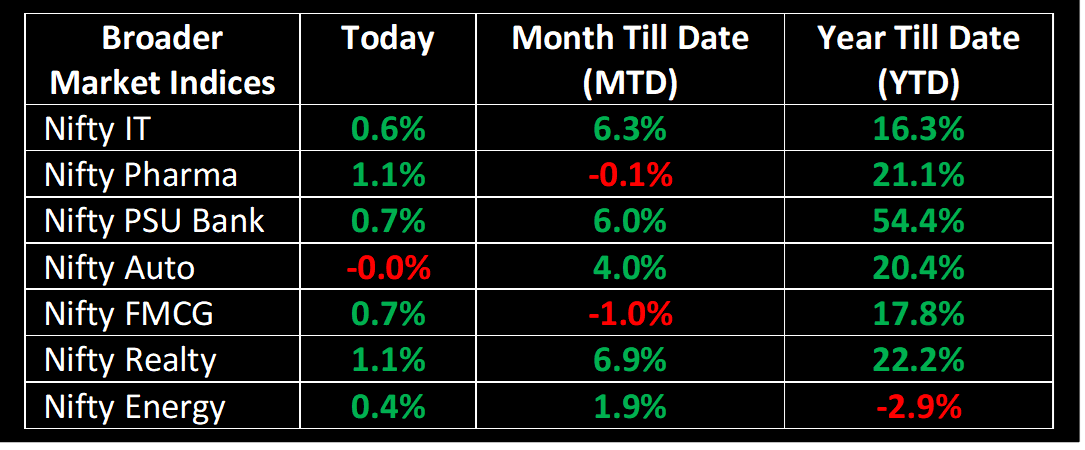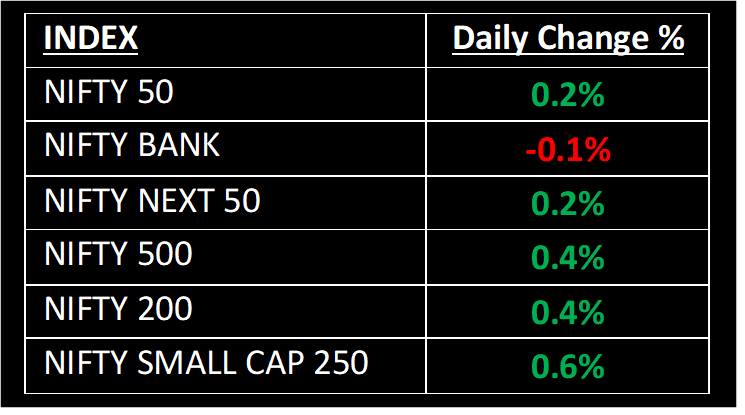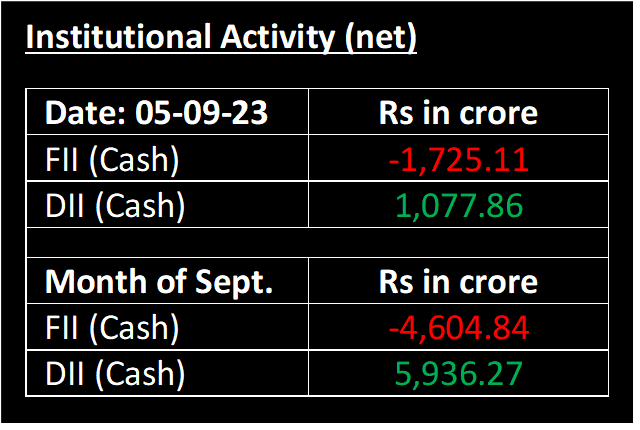 Stocks in Spotlight
▪ Angel One Ltd:  Stock ended nearly 4% lower despite the company announcing that its gross client acquisitions for August surged 64.9% over the last year and 19% over the last month to 7.3 lakh.
▪  Rail Vikas Nigam Ltd:  Stock gained over 1.5% after the company's joint venture emerged as the lowest bidder for a railway project worth Rs 174 crore.
▪  DLF Ltd:  Stock ended nearly 1.5% higher and scaled a 52-week high of Rs 525.80 after the real estate major announced a pipeline of residential project launches worth nearly Rs 20,000 crore scheduled for this fiscal.
Global News
▪  The Stoxx 600 index was 0.1% lower, trimming earlier losses, as sectors traded mixed. Construction and chemicals stocks both fell 0.65%, while financial services climbed 0.6%.
▪  Gold prices edged lower on Tuesday as the dollar stood firm near recent highs, although trading was subdued with traders looking for more cues on the US Federal Reserve's policy path after a widely expected interest rate pause this month.
---
This document has been issued by Liquide Solutions Private Limited for information purposes only and should not be construed as
i) an offer or recommendation to buy or sell securities, commodities, currencies or other investments referred to herein; or
ii) an offer to sell or a solicitation or an offer for the purchase of any of the baskets of Liquide Solutions; or
iii) investment research or investment advice. It does not have regard to specific investment objectives, financial situation and the particular needs of any specific person who may receive this document. Investors should seek personal and independent advice regarding the appropriateness of investing in any of the funds, securities, other investment, or investment strategies that may have been discussed or referred to herein and should understand that the views regarding future prospects may or may not be realized. In no event shall Liquide Life Private Limited and / or its affiliates or any of their directors, trustees, officers and employees be liable for any direct, indirect, special, incidental or consequential damages arising out of the use of information/opinion herein.
With Liquide, you can explore stocks, trade securely in your own broker account, and receive expert-recommended trade setups. Stay updated with real-time tracking, market commentary, and AI-powered insights from LiMo, our intelligent bot. Whether you're a seasoned investor or a newbie, Liquide provides the tools you need to discover your next big investment opportunity. Download the app now from Google Play Store and Apple App Store to revolutionize your investment journey. Don't miss out on the chance to level up your investing game with Liquide.