POST-MARKET SUMMARY 04 October 2023
On October 4, the Nifty experienced its second consecutive day of declines, influenced by unfavourable global indicators and ongoing foreign institutional investor (FII) divestment. Top Gainer : Adani Ent | Top Loser : Axis Bank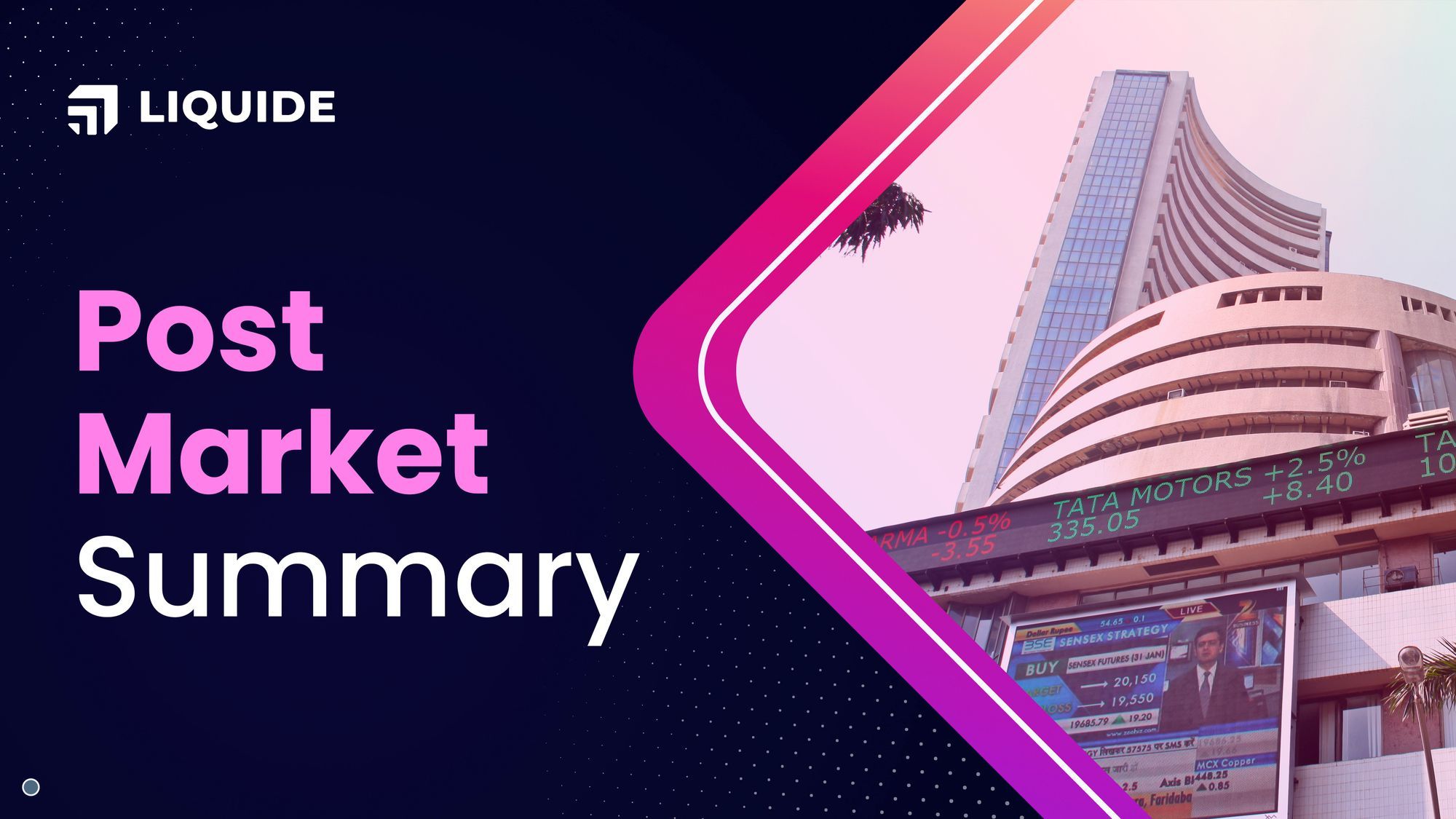 On October 4, the Nifty experienced its second consecutive day of declines, influenced by unfavourable global indicators and ongoing foreign institutional investor (FII) divestment. This downward trend was exacerbated by a strengthening US dollar and increasing US treasury yields, which contributed to a general aversion to risk in the market. International investors have been withdrawing their investments from Indian equity markets because the current surge in the US dollar and bond yields is diminishing the appeal of emerging market assets. Despite India's robust macroeconomic growth performance, the country is not immune to global challenges. Therefore, any correction in global markets driven by concerns about potential interest rate hikes is likely to have a ripple effect here.
NIFTY: The index opened 82 points lower at 19,446 and made a high of 19,457 before closing at 19,436. Nifty has formed a Dragonfly Doji candlestick formation, which indicates a strong possibility of a relief rally from the current levels. Its immediate resistance level is now placed at 19,600 while immediate support is at 19,200.
BANK NIFTY: The index opened 291 points lower at 44,108 and closed at 43,964. Bank Nifty has formed a bearish candlestick pattern on the daily chart. Its immediate resistance level is now placed at 44,400 while support is at 43,800.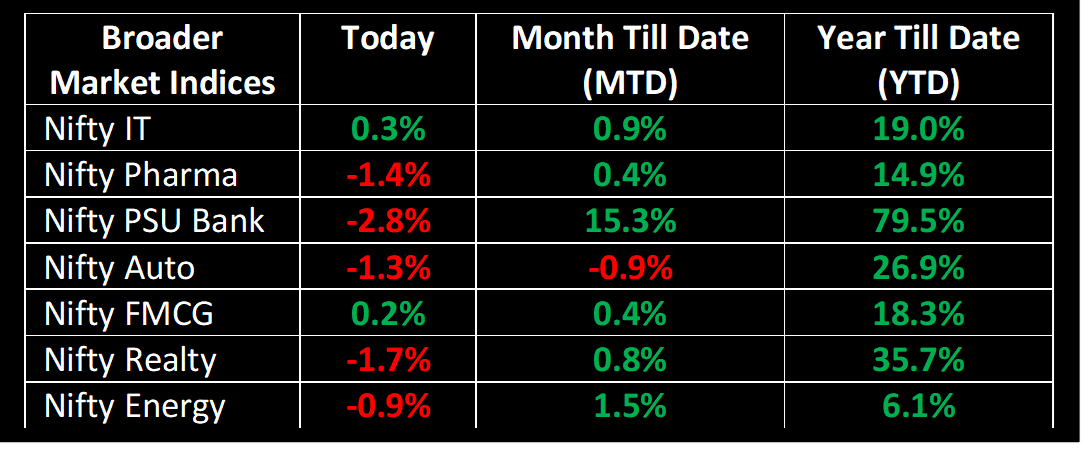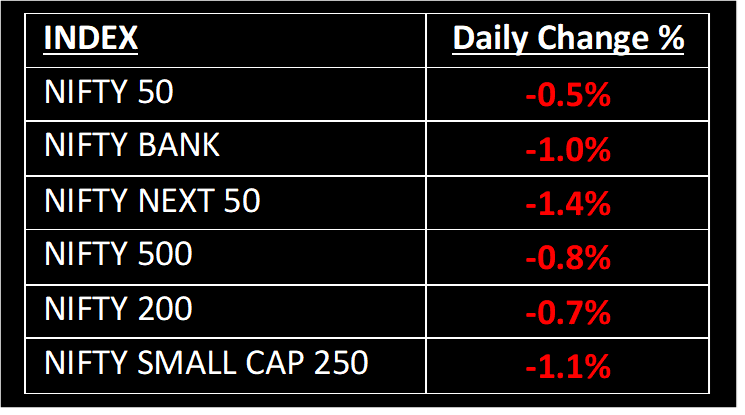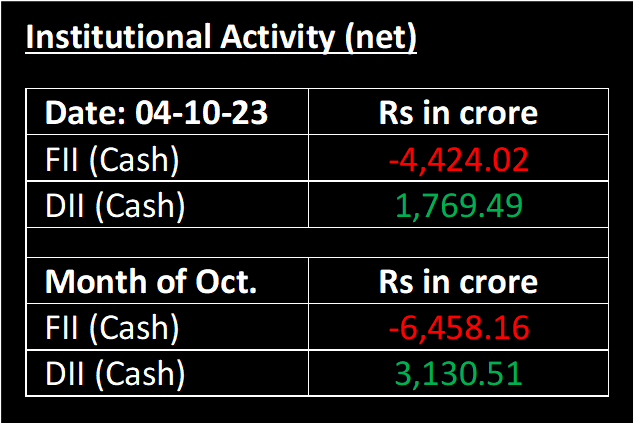 Stocks in Spotlight
▪  Adani Enterprises:  Stock jumped 3.2% after UAE-based International Holding Company (IHC) raised its stake in the company to over 5%.
▪  Nestle India:  Stock climbed 3% after the company said it will consider the split of its existing equity shares on October 19 along with the second interim dividend and quarterly results announcement.
▪ HDFC Bank:  Stock gained 1.4% after the bank reported a robust 57.7% growth in advances, growing to Rs 23.54 lakh crore from Rs 14.94 lakh crore last year.
Global News
▪  Pan-European Stoxx 600 index fell 0.5%, with autos shedding 2% to lead losses as most sectors and major bourses slid into the red.
▪  Oil fell on Wednesday, as pledges by Saudi Arabia and Russia to continue crude output cuts to the end of 2023 were offset by demand fears stemming from macroeconomic headwinds.
▪  Gold held near a seven-month low on Wednesday, while Palladium slipped to its weakest level since late 2018.
---
This document has been issued by Liquide Solutions Private Limited for information purposes only and should not be construed as
i) an offer or recommendation to buy or sell securities, commodities, currencies or other investments referred to herein; or
ii) an offer to sell or a solicitation or an offer for the purchase of any of the baskets of Liquide Solutions; or
iii) investment research or investment advice. It does not have regard to specific investment objectives, financial situation and the particular needs of any specific person who may receive this document. Investors should seek personal and independent advice regarding the appropriateness of investing in any of the funds, securities, other investment, or investment strategies that may have been discussed or referred to herein and should understand that the views regarding future prospects may or may not be realized. In no event shall Liquide Life Private Limited and / or its affiliates or any of their directors, trustees, officers and employees be liable for any direct, indirect, special, incidental or consequential damages arising out of the use of information/opinion herein.
With Liquide, you can explore stocks, trade securely in your own broker account, and receive expert-recommended trade setups. Stay updated with real-time tracking, market commentary, and AI-powered insights from LiMo, our intelligent bot. Whether you're a seasoned investor or a newbie, Liquide provides the tools you need to discover your next big investment opportunity. Download the app now from Google Play Store and Apple App Store to revolutionize your investment journey. Don't miss out on the chance to level up your investing game with Liquide.