Infosys vs HCL Technologies: Analysing Q2 FY2024 Results
Shares of Infosys and HCL Technologies saw divergent trends, a day after the IT giants released their September quarter results. Explore the outcomes and factors influencing their share prices.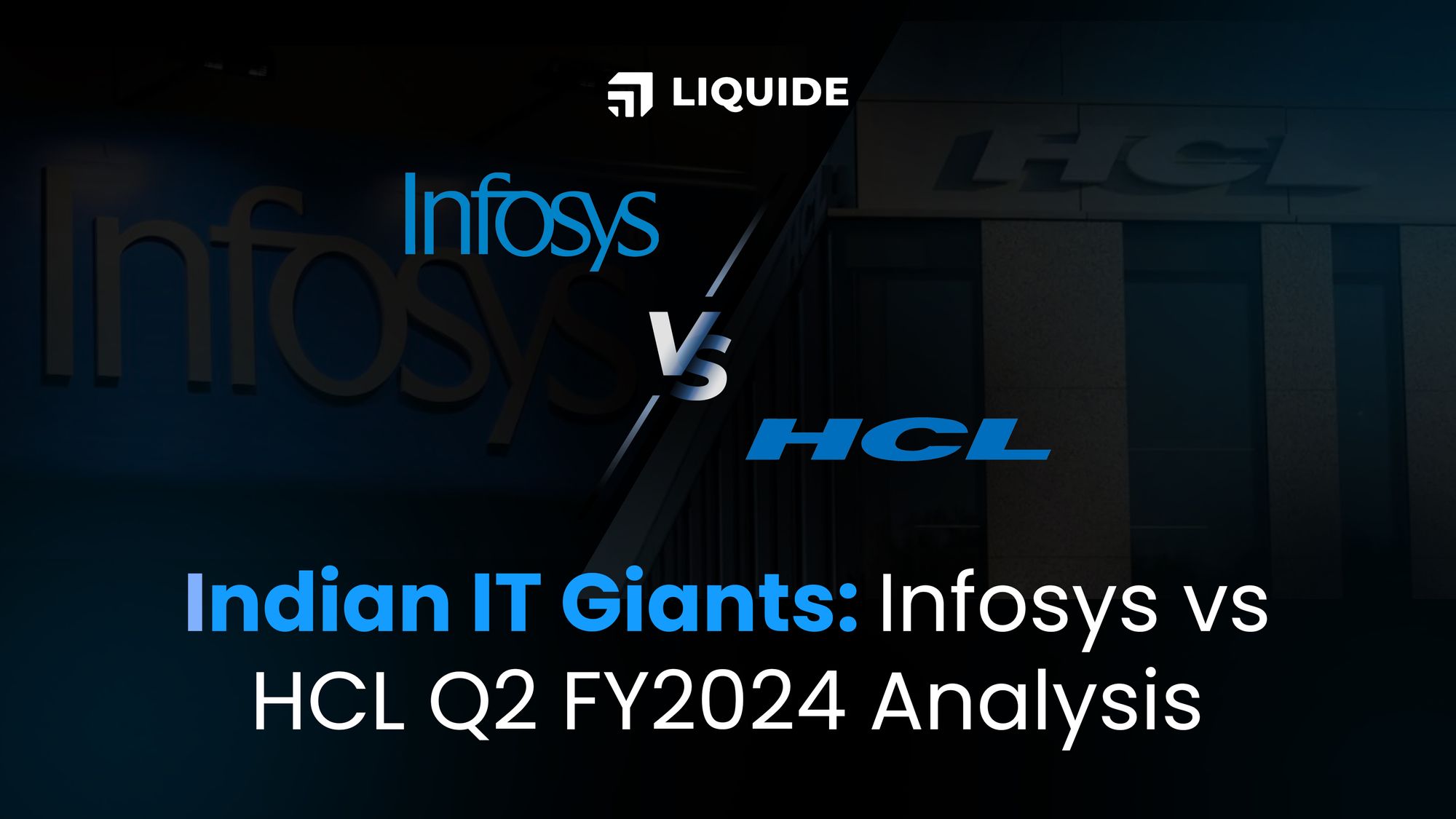 Tata Consultancy Services (TCS) is not alone in the spotlight this week. Two other major players in the Indian IT industry, Infosys and HCL Technologies have unveiled their September quarter results. While these companies faced different challenges and opportunities, their results significantly influenced their stock prices. Before diving deeper into the specifics, here's a brief overview of how these IT powerhouses performed in this pivotal quarter.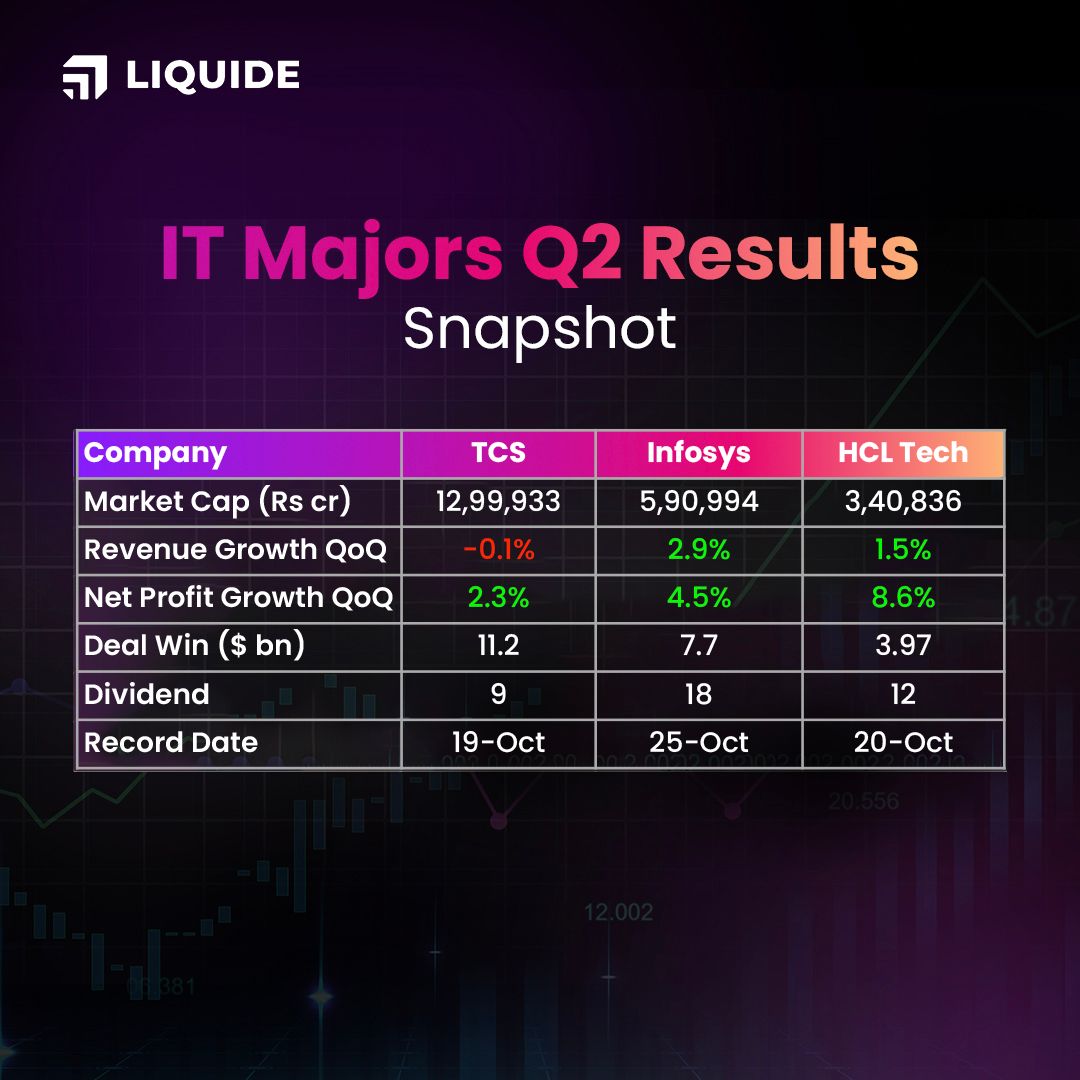 Also Read: Analysing TCS Q2 Results: A Deep Dive into Revenue, Results, and Projections
Infosys Q2 FY24 Results: Cutting Guidance but Staying Optimistic
Infosys reported Q2 revenue at Rs 39,626 crore, showing a 6.7% increase YoY. In constant currency terms, their revenue grew by 2.5% YoY and 2.3% QoQ. The consolidated net profit for the quarter rose by 3.1% YoY to Rs 6,215 crore. This was in line with expectations, but there were some surprises in the form of guidance changes.
The company trimmed its FY24 revenue guidance to 1-2.5% in constant currency terms. This change was made after a significant reduction last quarter from 4-7% to 1-3.5%. However, Infosys retained its operating margin guidance at 20-22% for the current financial year. The operating margin for Q2FY24 was 21.2%, a slight decrease of 0.3% YoY but an increase of 0.4% QoQ.
Deal Wins and Collaborations
One significant highlight for Infosys was its deal wins, which reached $7.7 billion in Q2, compared to the previous quarter's $2.3 billion. This success indicates Infosys' ability to adapt to evolving client needs, offering transformation benefits, productivity, and cost savings at scale. The growing adoption of Generative AI, such as Topaz, also contributed to Infosys' strong performance.
Infosys has extended collaborations with key players like Liberty Global and Microsoft to accelerate the industry-wide adoption of generative AI.
HCL Technologies Q2 FY24 Results: Deal Wins Drive Growth
HCL Technologies saw an 8.4% year-on-year growth in its September quarter revenue to Rs 27,037 crore. Notably, it made adjustments to its guidance figures, reducing its FY24 revenue guidance from 6-7% to 4-5% in constant currency terms. This move aligns with the current macroeconomic challenges within the IT sector.
Despite the guidance cut, the company retained its margin projections for the current fiscal year. Also, it reported a net profit of Rs 3,833 crore for the quarter, marking a 9.9% increase over the year-ago quarter.
Another notable highlight is its success in deal acquisitions. Total contract value reached an all-time high at $3.96 billion, reflecting an impressive leap from $1.56 billion in the previous quarter. This achievement followed seven consecutive quarters of securing deals exceeding $2 billion.
Market Reactions
Despite cutting revenue growth guidance, HCL Tech's results were well-received by investors. On October 13, the stock surged over 3% to hit an intraday high of Rs 1,266.50 before closing 2.6% higher at Rs 1,255.90. In contrast, Infosys shares fell 2.3% to close at Rs 1,431.15 on the same day.
Now stay updated on the latest results with the Liquide App. We're excited to elevate your investing experience with something thrilling – Introducing 'Results Corner,' our latest feature on the Liquide App!
As companies unveil their quarterly results, we've streamlined the process just for you:
👉 Access quarterly and annual results with ease.
👉 Compare historical data effortlessly.
👉 Stay ahead with upcoming results and essential dates… and there's more, all conveniently in one place!
Download theLiquide app now from the Google Play Store or Apple App Store and embark on a journey of informed and successful investing.