Exploring India's Lunar Triumph: Chandrayaan-3, ISRO and the Stellar Companies Behind the Mission
Diving deep into Chandrayaan-3: India's lunar triumph, its groundbreaking tech, and the companies that made it happen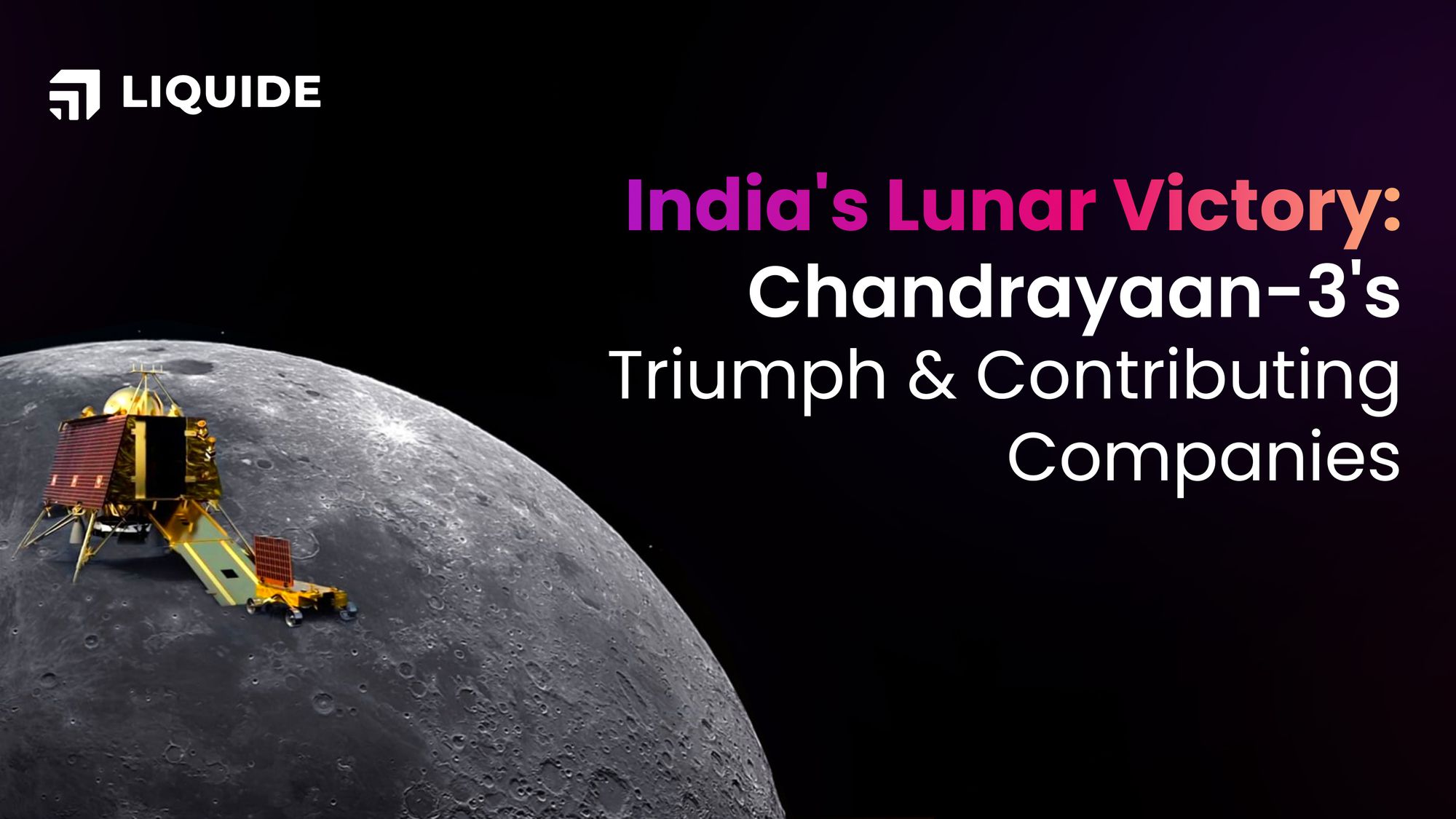 In a historic feat, India's ambitious Chandrayaan-3 mission marked success with a soft landing on the southern pole of the lunar surface, making it the fourth country to achieve it. Led by the Indian Space Research Organization (ISRO), the mission showcases India's prowess in space technology and exploration.

What sets Chandrayaan-3 apart are several key factors. It has achieved a landing on the challenging south pole of the moon, a region that has never been attempted before. The mission's successful demonstration of a soft landing and rover deployment is of great significance, providing India with the technological prowess to explore the surfaces of other celestial bodies in the future.

This achievement also propels India into an exclusive group of nations. Prior to Chandrayaan-3, only the USA, China, and the former USSR had managed successful soft landings on the moon. What's notable is that Chandrayaan-3's cost, at Rs 615 crore, is significantly lower than that of comparable missions, being less expensive than both the Russian Lunar Mission and even India's own Chandrayaan-2.

At the heart of Chandrayaan-3's success is the Vikram Lander, housing the Pragyan Rover, which carries an impressive array of six payloads designed for in-depth study of the lunar surface. Notably, it carries the highest-quality camera to date.

Chandrayaan-3's accomplishment stands as a testament to India's expanding role in space exploration, scientific research, and technological innovation. This milestone achievement not only opens new doors for further exploration but also serves as a source of national pride and inspiration for generations to come.
Market Echoes Chandrayaan-3 Success

The stock market, too, is echoing India's jubilation over the Chandrayaan-3 triumph. Numerous firms that supplied parts for ISRO's moon expedition experienced a boost in their share prices. On August 24, companies such as Tata Elxsi, Centum Electronics, and MTAR Technologies observed a 2-10% jump. Shares of Mishra Dhatu Nigam, Hindustan Aeronautics, Bharat Electronics, and Larsen & Toubro hit record highs while MTAR Technologies touched its 52-week high.

Let's take a look at the collaborative efforts of these companies that have contributed to this great achievement.  

Larsen & Toubro (L&T): The Indian conglomerate played a vital role by creating crucial booster sections, overseeing system integration, and testing pressure for Chandrayaan-3 at its Powai site. Moreover, the company has participated in combining launch vehicle systems for India's space initiatives. L&T designs and manufactures essential aerospace elements, tracking, and launch systems for space tasks, in addition to serving the armed forces.

Bharat Heavy Electricals (BHEL): BHEL's contribution was significant in providing batteries for the Lander module and the propulsion module. ISRO has partnered with BHEL to manufacture space-grade solar panels and satellite batteries. Their Welding Research Institute (WRI) also supplied bimetallic converters, demonstrating their engineering expertise.  

MTAR Technologies: MTAR Technologies, a frontrunner in this domain, crafted vital elements like engines and booster pumps for Chandrayaan-3's launch vehicle. The company's history involves producing rocket engines and core pumps for ISRO, particularly contributing key sections of cryogenic engines necessary for liftoff. MTAR Technologies is a prominent player in precision engineering solutions, serving entities like ISRO and the Defence Research & Development Organisation (DRDO). Additionally, it holds a robust presence in the clean-energy realm and extends its influence to nuclear, space, and defence sectors.

Mishra Dhatu Nigam: This government-owned metallurgical company played a key role in supplying key materials including cobalt-based alloys, nickel-based alloys, titanium alloys, and special steels. Their contributions have ensured the durability and reliability of various components.  

Centum Electronics: Centum Electronics played a pivotal role as an industrial collaborator with ISRO, providing crucial modules and systems for space applications within this endeavour. This prominent company is a substantial component supplier, contributing around 300-500 electronics parts for each mission. Over time, the company's product range has expanded to encompass various applications across launch vehicles, satellite payloads, satellite bus systems, and ground equipment.

Paras Defence & Space Technologies: The company furnished the navigation system utilised in Chandrayaan-3. This company stands out as one of the few in India possessing specialized expertise in optics and electromagnetic pulse (EMP) protection. Their offerings span five core product verticals: Defence and space Optics, Defence Electronics, EMP Solutions, Heavy Engineering, and, through subsidiary entities, Drones and Anti-Drone Systems.

Tata Elxsi: Tata Elxsi played a significant role in the Chandrayaan-3 mission by creating spacecraft, avionics, and software. Through its partnership with ISRO, the company has become a crucial contributor to the space sector.

Hindustan Aeronautics (HAL): The company was involved in crafting the lander and essential mechanical support tools. In collaboration with L&T, it furnished various components to National Aerospace Laboratories (NAL), which played a pivotal role in supporting the Chandrayaan-3 venture.

Godrej Aerospace: Godrej Aerospace played a crucial role in the Chandrayaan-3 mission by manufacturing essential components. This included producing key engines and thrusters such as the L110 for the core stage and CE20 for the engine thrust chamber of the upper stage.

Walchandnagar Industries: This firm produced vital boosters essential for the Chandrayaan-3 launch craft. It has contributed components to all 48 ISRO launches to date. The company has been notably involved in crafting booster motor casings and nozzles for ISRO.

Taneja Aerospace: This company constructed significant structural components for HAL and supplied parts to ISRO for booster rockets. The firm is also a supplier of aerostructures to government organisations like HAL and NAL, contributing to new aircraft development programs.

Electrosteel Castings: The firm provided ductile iron pipes to the Satish Dhawan Space Centre, located on Sriharikota Island, which serves as India's sole spaceport. Alongside ductile iron pipes, the company's product portfolio includes ductile iron fittings, flange pipes, and restrained joint pipes.

Their collaborative efforts, along with ISRO's ingenuity, have paved the way for India's continued advancements in space technology. With upcoming projects like Aditya-L1 solar mission, NASA-ISROSAR Satellite, SPADEX, Mangalyaan-2 Mars orbiter mission, and Gaganyaan human space mission, the future holds even more promise for Indian aerospace and defense companies.
Stay connected with Liquide to delve deeper into the world of investments and financial growth. Unleash the potential of LiMo, our AI-powered trade setups, portfolio health evaluations, and expert hotline support. Gain a comprehensive understanding of the market with our insightful analysis. Download the Liquide app from the Apple Appstore or Google Play Store today, and set out on your investment journey confidently.