Tata Motors cruises into Profitability in Q1: A Sneak-Peak into its Financial Performance and Game-Changing DVR Share Conversion
Discover Tata Motors' exciting Q1 results and its bold move towards DVR share conversion, enhancing corporate simplicity and shareholder value.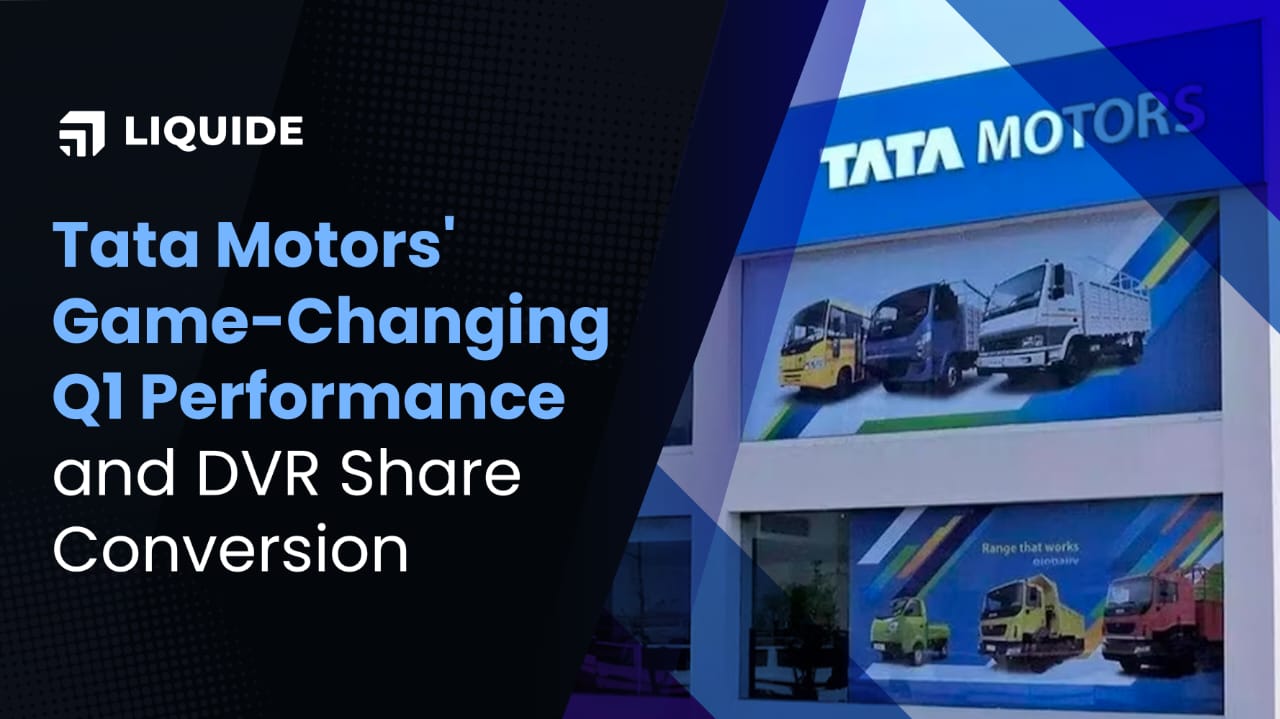 Discover Tata Motors' exciting Q1 results and its bold move towards DVR share conversion, enhancing corporate simplicity and shareholder value.
Tata Motors, India's premier automaker, is making big waves with its exceptional first-quarter results in the fiscal year 2023-24 (Q1 FY24). Alongside its spectacular financials, the auto giant is also simplifying its corporate structure, bidding farewell to its 'A' ordinary shares (DVR).
In response to this, Tata Motors' stock reached a 52-week high of Rs 665.40 on the NSE in early morning trade on July 26, while Tata Motors DVR shares soared over 15% to reach a yearly high of Rs 437.
Impressive Q1 FY24 Results: Tata Motors Puts Pedal to the Metal

Tata Motors has registered a net profit for the third quarter in a row, fuelled by price surges and booming demand for its luxury segment, Jaguar Land Rover (JLR). A net profit of a staggering Rs 3,089 crore was reported for Q1 FY24, a stark contrast to the net loss of Rs 4,987 crore from the corresponding period a year ago.
This outstanding performance is largely thanks to the increased margin of its passenger vehicle business and vigorous sales of JLR. Operational revenue saw a hefty jump of 42%, reaching Rs 1.03 lakh crore for the quarter under review.
Unveiling a Simplified Corporate Structure

In a monumental move towards simplifying its corporate structure, Tata Motors announced its plan to cancel its 'A' ordinary shares (DVR), initially issued back in 2008 and subsequently in 2010 and 2015. This bold step follows the board of directors' approval of a Scheme of Arrangement for cancelling the 'A' ordinary shares and issuing 7 ordinary shares for every 10 'A' ordinary shares held by shareholders.
The 'A' ordinary shares, known as Tata Motors DVR on the Bombay Stock Exchange (BSE) and National Stock Exchange (NSE), will be delisted following the conversion. These shares, with a 1/10th voting right of ordinary shares and entitlement to five percentage points higher dividend, were unique to Tata Motors, with the company being the only large listed corporate with such an instrument after regulatory changes restricted the issuance of differential voting rights.

What will be the impact on Shareholders and Market Dynamics after DVR merger with TATA Motors shares ?

Currently trading at a 43% discount to ordinary shares, the proposed Scheme indicates a 23% premium on the previous day's closing share price of 'A' ordinary shares. This translates into a 30% discount over ordinary share price and is substantially below historical averages.
The proposed Scheme is set to decrease the outstanding equity shares by 4.2%, creating additional value for all shareholders. Tata Motors' move to provide a decent exit to DVR shareholders marks a positive shift as it was the sole player in DVRs in the Indian market, which generally has a muted appetite for such instruments.

Approvals and Advisory

This game-changing Scheme still requires regulatory and shareholder approvals. PWC is acting as the independent registered valuer for the transaction, with Citigroup and Axis Capital providing fairness opinions for the 'A' ordinary and ordinary shareholders respectively. Tata Motors is receiving legal advice for the transaction from Cyril Amarchand Mangaldas.

Conclusion
In an electrifying start to FY24, Tata Motors is not just breaking profitability records, but also pioneering a path towards simplifying corporate structure in the Indian automotive market. This twofold strategy of strong financial performance and proactive share management could well be the key to the company's continued success in the future.

With Liquide, you can explore stocks, trade securely in your own broker account, and receive expert-recommended trade setups. Stay updated with real-time tracking, market commentary, and AI-powered insights from LiMo, our intelligent bot. Whether you're a seasoned investor or a newbie, Liquide provides the tools you need to discover your next big investment opportunity. Download the app now from Google Play Store and Apple App Store to revolutionize your investment journey. Don't miss out on the chance to level up your investing game with Liquide.