Reliance Industries Q2 FY24: Impressive Growth Despite Energy Challenges
Reliance Industries' Q2 FY24 results show robust growth amidst energy challenges. Analysis of results and future projection.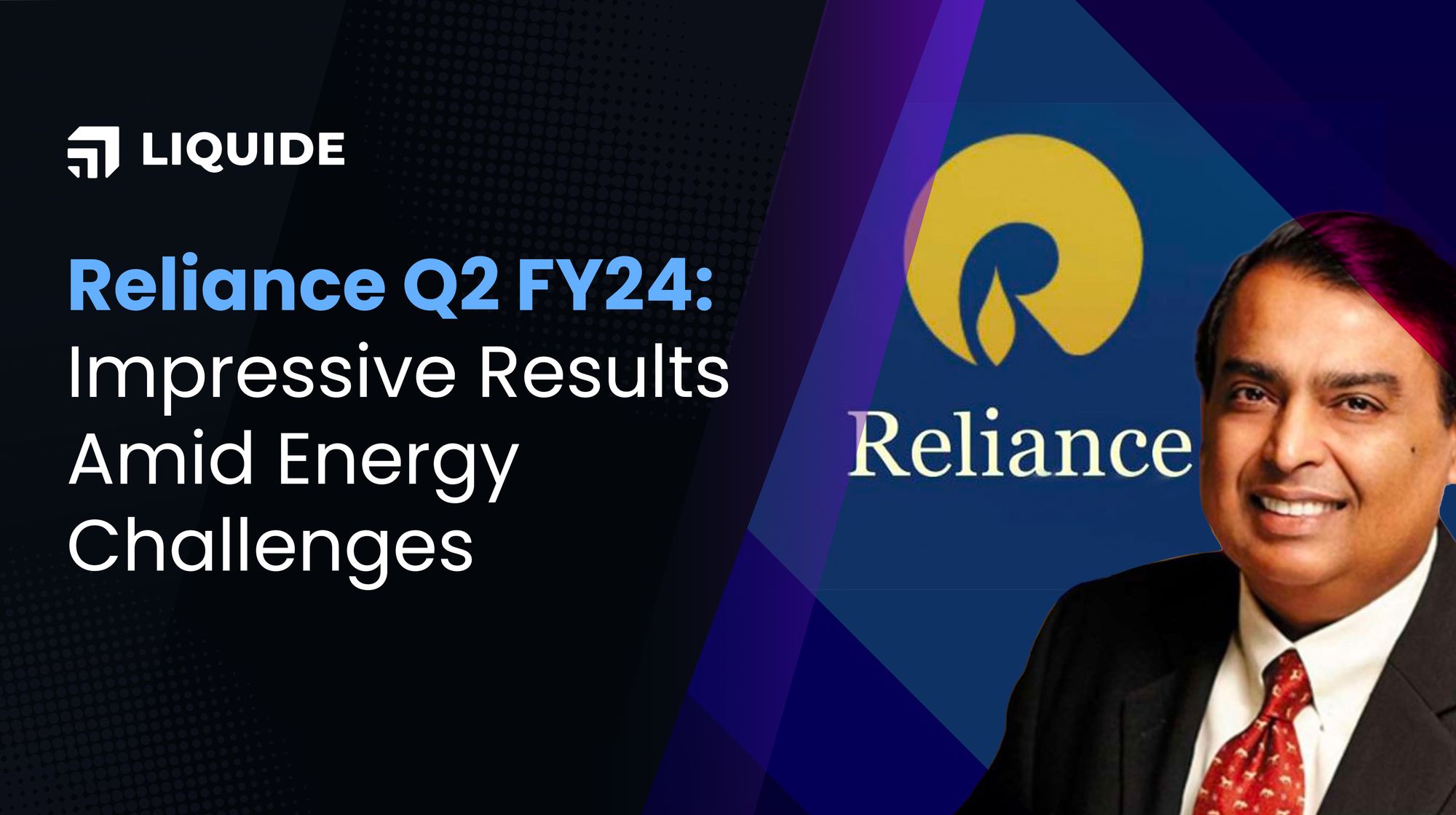 Reliance Industries Ltd (RIL) posted a strong set of earnings in the second quarter of the current fiscal year. Profit growth was aided by strong revenue growth and improved margin in consumer-facing businesses (retail and telecom) even as legacy businesses (oil and gas and oil to chemical) exhibited volatility.
A Closer Look at Q2 Financial Performance
Reliance Industries reported an impressive consolidated net profit of Rs 17,394 crore for the second quarter, a substantial 27% increase from the previous year's profit of Rs 15,587 crore, thanks to a robust performance in retail, Jio, and upstream businesses.
Notably, the earnings before interest, taxes, depreciation, and amortisation (EBITDA) surged by 30.2%, reaching Rs 44,867 crore.
The oil-to-telecom behemoth reported consolidated revenue of Rs 2.38 lakh crore, reflecting a 1% increase compared to the same quarter last year. This growth is noteworthy given the adverse impact of lower crude oil prices on revenue from fuel sales.
Segment-wise Performance
The Oil & Gas upstream sector witnessed a revenue surge of 71.8% YoY, attributed to the MJ field's increased production, which saw a rise of 61.5%. However, margins were impacted due to the commissioning and ramp-up expenses for the MJ field and costs related to Tapti field decommissioning.
O2C sector revenues saw a decrease of 7.3% due to lower product price realisation, as crude oil prices fell by 14% in Q2FY23. While the EBITDA margin showed YoY improvement, it reduced by 50 bps sequentially, influenced by a weaker downstream contribution and decreased polymer deltas.
Jio Platforms observed a slight growth sequentially and a prominent double-digit rise YoY. This was fueled by an addition of 32 million subscribers, enhanced data usage owing to 5G adoption, and a 3% rise in ARPU.
Reliance Retail exhibited solid double-digit growth across all metrics. There was a steady increase in-store transactions, supported by heightened store visits and a growing registered customer count, peaking at 26 crore and 28 crore respectively. The EBITDA margins grew approximately 80 bps YoY due to efficient operational leverage and cost-control initiatives.
Digital and new commerce sectors retained their strong growth trajectory, holding 19% of the total business share. Ajio experienced significant growth with its product range expanding by roughly 50%. Jio Mart also flourished, marked by increased visitor traffic and average bill amounts. Its product offerings tripled and the seller community doubled in size compared to the previous year.
Market Reaction and Future Outlook
Following the release of Q2 results, shares of Reliance Industries on Monday hit an intraday high of Rs 2,325 before closing 2.1% higher at Rs 2,312.5 on the National Stock Exchange (NSE). This impressive market response reflects the positive sentiment among investors and analysts regarding the company's robust performance.
The management remains optimistic about the future. They expect strong global oil demand growth, driven by transportation fuels. Further, their focus on a pan-India 5G network rollout is set to boost profitability.
Here's a glimpse of what leading brokerages predict: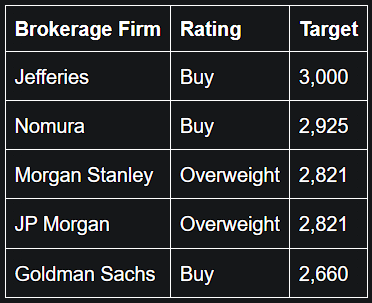 Conclusion
RIL has consistently led the way in its core petrochemical business and has carved a prominent presence in the retail and telecom consumer sectors. Venturing into the renewable and clean energy sector via its subsidiary, Reliance New Energy Ltd, the company is poised to possibly mirror its previous successes, which could drive the valuation in the long term.
Unsure whether to buy, hold, or sell Reliance Industries? Ask LiMo, India's first-ever AI copilot for stock investing that provides both a judgement and the reasoning behind it. For an in-depth grasp of the financial markets and potential investment avenues, delve deeper with Liquide. Boasting advanced tools like LiMo and thorough market insights, Liquide equips you with the knowledge to make informed investment decisions.
Download the Liquide app now from the Google Play Store or Apple App Store and embark on a journey of informed and successful investing. Don't miss out on the tools that can shape your financial future.