POST-MARKET SUMMARY 6 June 2023
Post-market data and news around listed stocks.
On June 6, the Nifty showed a strong recovery from its previous lows and closed the day flat with a positive bias. The index has been in a phase of consolidation for a week, signalling cautiousness among traders on account of the onset of RBI's three-day Monetary Policy Committee meeting. The RBI will announce its decision on interest rates on June 8. Despite advances in the automotive and real estate sectors, a drop in IT stocks dampened the overall positive sentiment courtesy of America's IT services company, EPAM Systems, which significantly cut its guidance midway through Q2. Markets are being influenced by the possibility of a halt in rate hikes by the US Federal Reserve.
NIFTY: The index opened 7 points higher at 18,600 and made a high of 18,622 before closing at 18,599. Nifty has formed a Dragonfly Doji, which indicates indecisiveness. Its immediate resistance level is now placed at 18,650 while support is at 18,500.
BANK NIFTY: The index opened 55 points higher at 44,156 and closed at 44,164. Bank Nifty has formed a Doji on the daily chart for the second consecutive day, indicating a tug-of-war between the bulls & bears. Its immediate resistance level is now placed at 44,300 while support is at 43,850.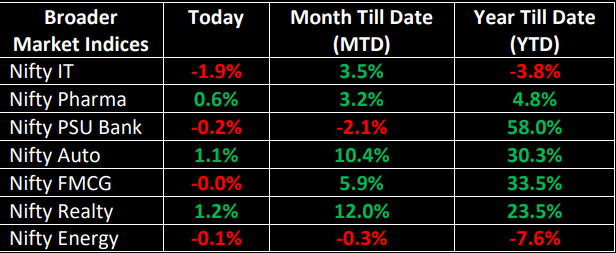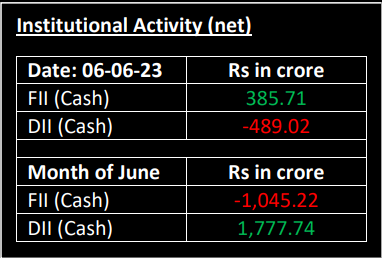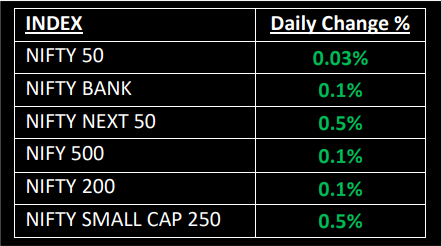 Stocks in Spotlight
▪ All Cargo Logistics: Stock surged 2.9% after Trans India Real Estate agreed to divest a 10% stake each in five All Cargo subsidiaries and a 100% stake in All Cargo Multimodal to Blackstone
▪ J K Cement: Stock ended 1% higher as the company announced the acquisition of a 100% stake in Toshali Cements at a total cost of Rs 157 crore
▪ BSE Ltd: Stock traded down over 2% after its rival NSE shifted the expiry day for the weekly Bank Nifty derivative contracts to Fridays from Thursdays.
Global News
▪ European stocks trade mixed amid downbeat market sentiment; Oil & Gas down around 1.9%
▪ SEC sues Coinbase in New York's federal court, alleging the crypto firm broke US securities rules
▪ India-Germany Defence meet: Reports suggest submarine deal, industrial cooperation likely on agenda
▪ Manufacturing orders in Germany slipped 0.4% in April. New industrial orders are down 9.9% compared to May 2022
With Liquide, you can explore stocks, trade securely in your own broker account, and receive expert-recommended trade setups. Stay updated with real-time tracking, market commentary, and AI-powered insights from LiMo, our intelligent bot. Whether you're a seasoned investor or a newbie, Liquide provides the tools you need to discover your next big investment opportunity. Download the app now from Google Play Store and Apple App Store to revolutionize your investment journey. Don't miss out on the chance to level up your investing game with Liquide.