POST-MARKET SUMMARY 30 August 2023
Post-market report and news around trending stocks.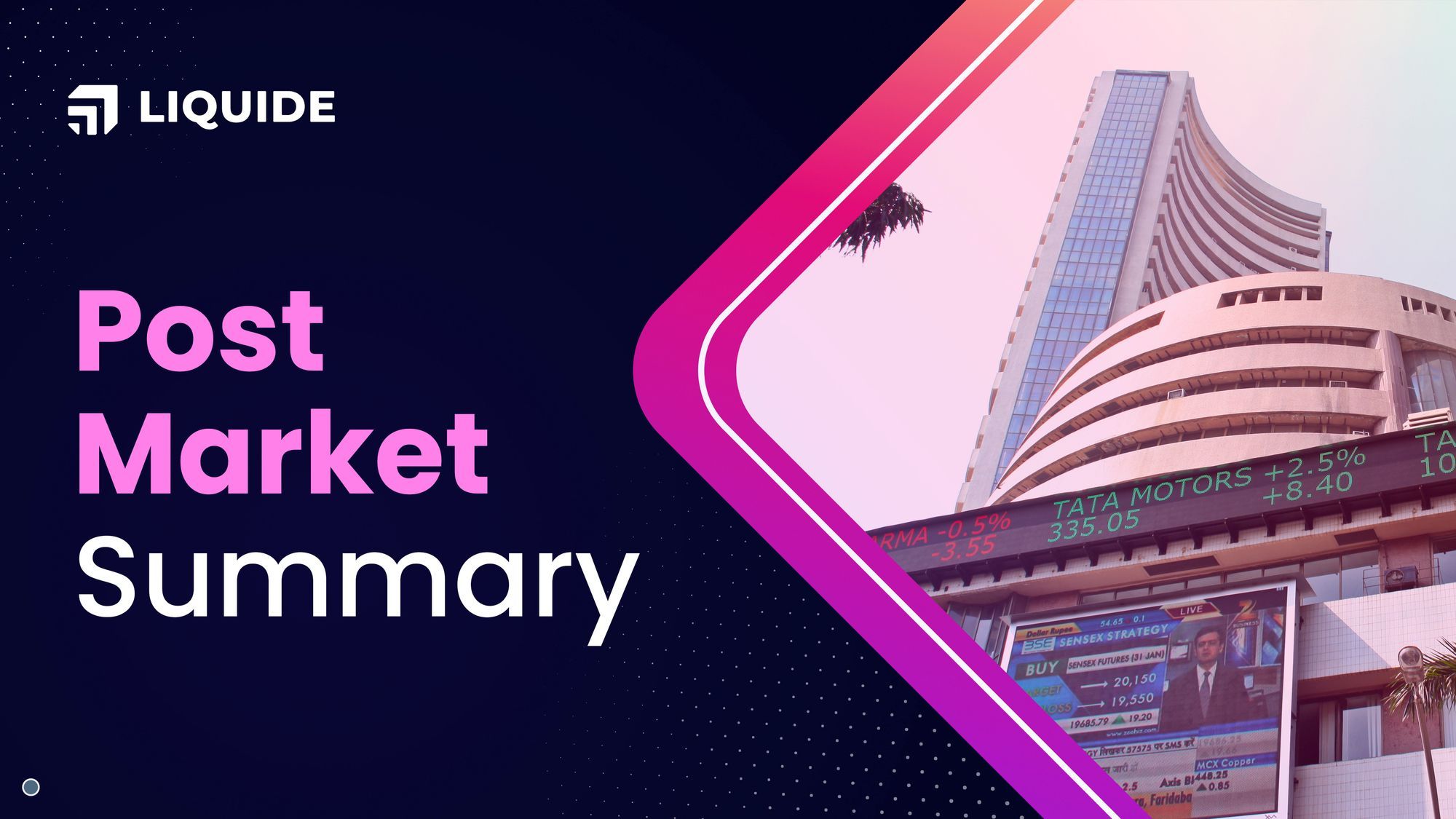 Markets were extremely choppy towards the closing hours and erased most of their early gains to end marginally higher, as investors resorted to profit-taking in select stocks ahead of tomorrow's monthly F&O expiry. Thanks to supporting global cues, the market started gap-up and held the gains throughout the session led by buying across sectors. However, last hour selling erased all the intraday gains.
NIFTY: The index opened 91 points higher at 19,433 and made a high of 19,452 before closing at 19,347. Nifty has formed a bearish candlestick pattern on the daily chart with lower-than-average volumes but continued making higher highs and higher lows for the 3rd consecutive session. Its immediate resistance level is now placed at 19,500 while immediate support is at 19,200.
BANK NIFTY:  The index opened 211 points higher at 44,706 and closed at 44,232. Bank Nifty has formed a long bearish candlestick pattern on the daily scale and failed to hold on to 50-day EMA. Its immediate resistance level is now placed at 44,500 while support is at 44,000.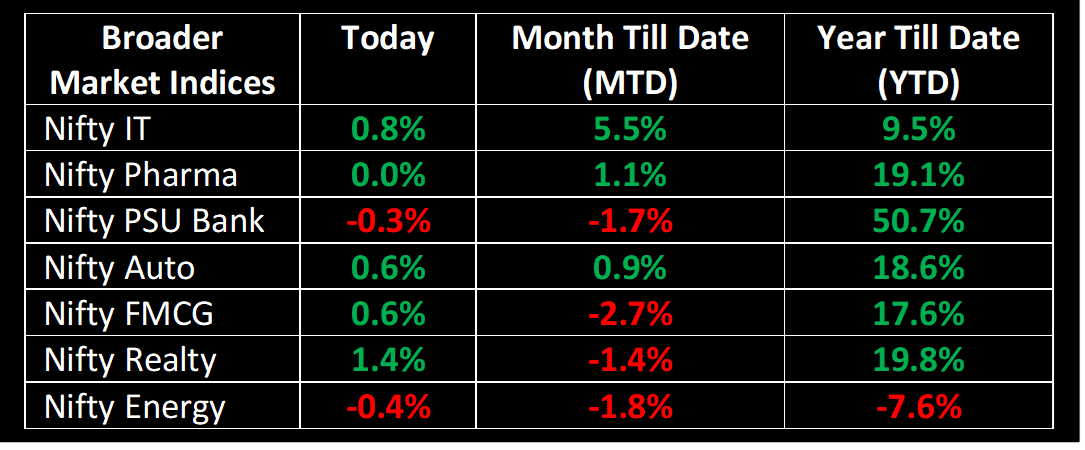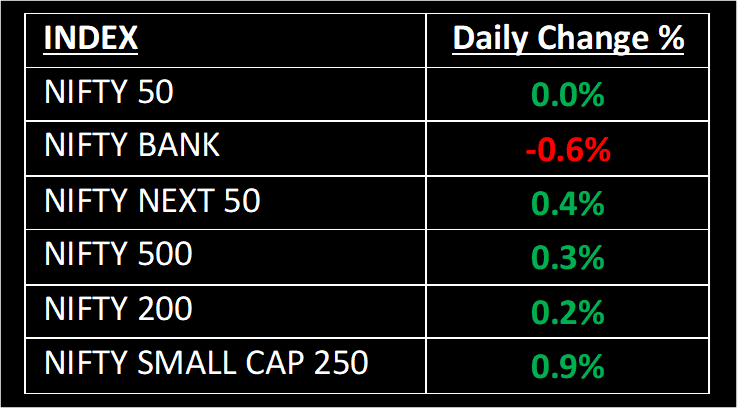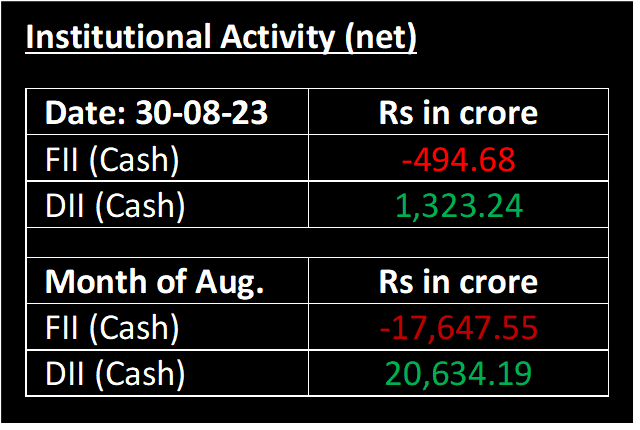 Stocks in Spotlight
▪  Zomato Ltd:  Stock surged over 5% after a block deal involving 1.17% equity took place on the bourses. Around 10 crore shares, worth 1.17% stake changed hands at an average floor price of Rs 94.70/ share.
▪ Titagarh Rail Systems Ltd:  Stock traded 1.76% higher after the rail wagon and coach maker bagged a Rs 350-crore contract from Gujarat Metro Rail Corporation.
▪ Indiabulls Housing Finance:  Stock jumped nearly 2.5%, continuing the rally after the company repaid Rs 1,112.5 crore worth of bonds and Rs 2,323 crore worth of dollar-denominated external commercial borrowings last week.
Global News
▪  Asia-Pacific markets traded higher, largely mirroring moves on Wall Street as US stocks saw a Nvidia-fueled tech rally on Tuesday.
▪  The Australian S&P/ASX 200 climbed 1.21% and led gains in the region, ending the day at 7,297.7.
▪  Gold prices hovered near three-week highs on Wednesday, as investors pared back bets of further US interest rate hikes in response to soft economic readings, with more data eyed this week to analyze the outlook.
---
This document has been issued by Liquide Solutions Private Limited for information purposes only and should not be construed as
i) an offer or recommendation to buy or sell securities, commodities, currencies or other investments referred to herein; or
ii) an offer to sell or a solicitation or an offer for the purchase of any of the baskets of Liquide Solutions; or
iii) investment research or investment advice. It does not have regard to specific investment objectives, financial situation and the particular needs of any specific person who may receive this document. Investors should seek personal and independent advice regarding the appropriateness of investing in any of the funds, securities, other investment, or investment strategies that may have been discussed or referred to herein and should understand that the views regarding future prospects may or may not be realized. In no event shall Liquide Life Private Limited and / or its affiliates or any of their directors, trustees, officers and employees be liable for any direct, indirect, special, incidental or consequential damages arising out of the use of information/opinion herein.
With Liquide, you can explore stocks, trade securely in your own broker account, and receive expert-recommended trade setups. Stay updated with real-time tracking, market commentary, and AI-powered insights from LiMo, our intelligent bot. Whether you're a seasoned investor or a newbie, Liquide provides the tools you need to discover your next big investment opportunity. Download the app now from Google Play Store and Apple App Store to revolutionize your investment journey. Don't miss out on the chance to level up your investing game with Liquide.