POST-MARKET SUMMARY 22 August 2023
Post-market report and news around trending stocks.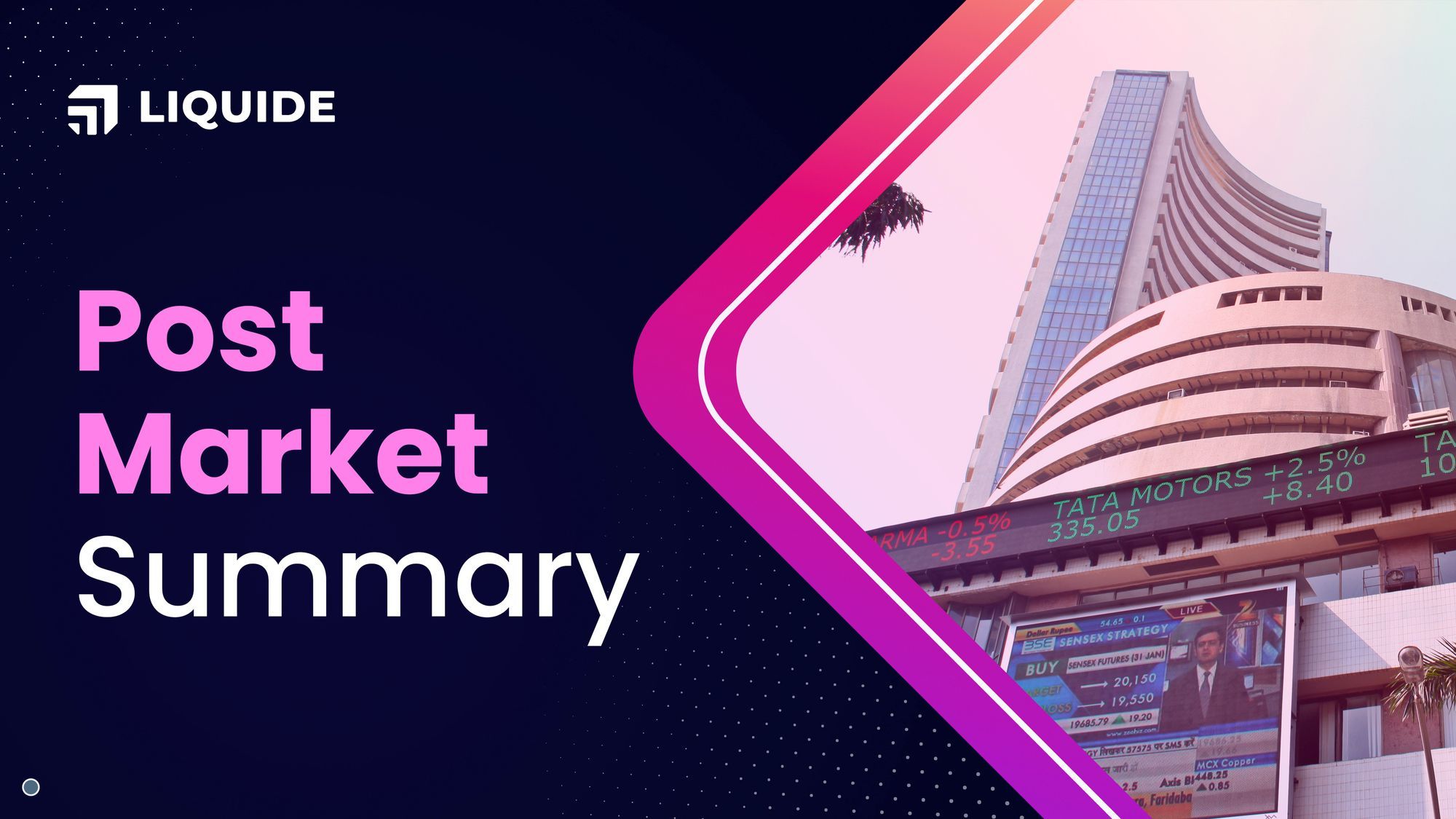 The markets closed marginally higher in an extremely rangebound session today. Traders chose a cautious approach, opting to observe from the sidelines following a period of turbulent trading in the preceding week. Amidst the constrained movement, there was noticeable interest in purchasing power and capital goods stocks. Conversely, Indian IT stocks underperformed even though the tech-centric Nasdaq saw a notable rise in the previous trading session.
NIFTY: The index opened 24 points higher at 19,417 and made a high of 19,443 before closing at 19,396. Nifty has formed a small-bodied bearish candlestick with a minor upper shadow on the daily chart, indicating lack of strength at the higher levels. Its immediate resistance level is now placed at 19,500 while immediate support is at 19,250.
BANK NIFTY:  The index opened 123 points higher at 44,125 and closed at 43,993. Bank Nifty has formed a bearish candlestick on the daily scale. Its immediate resistance level is now placed at 44,400 while support is at 43,700.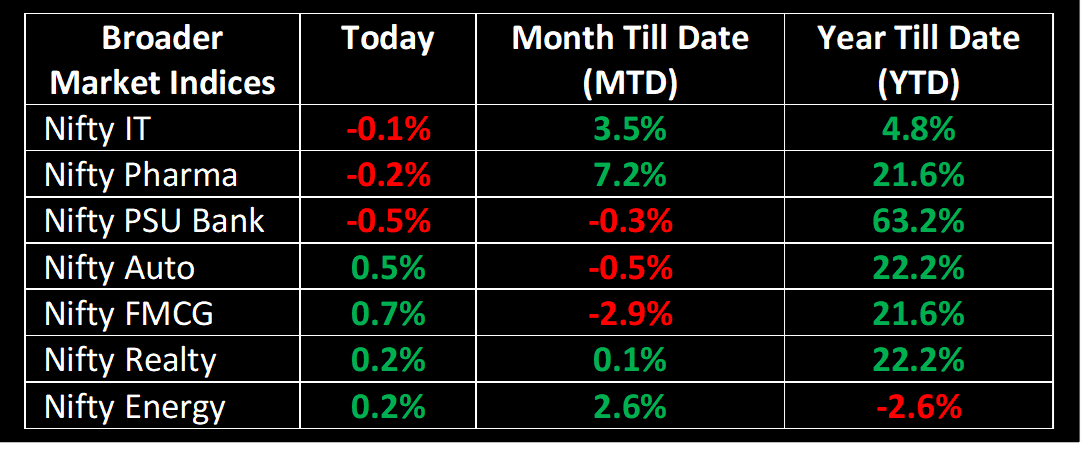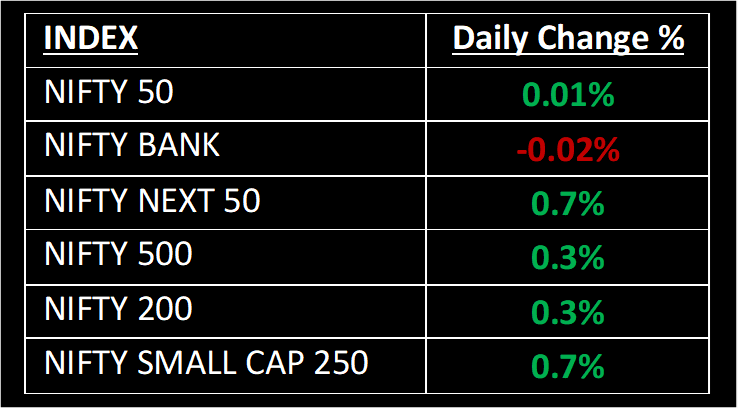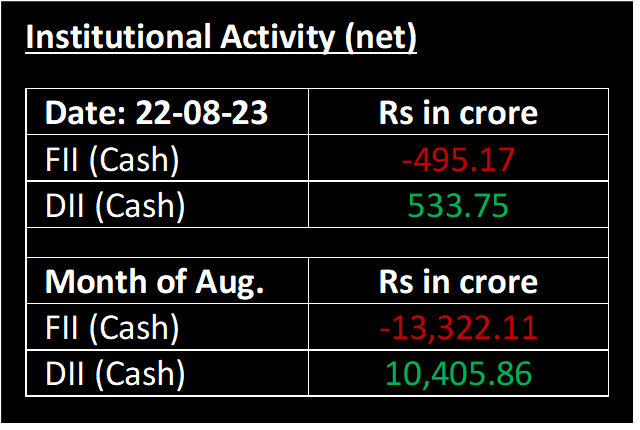 Stocks in Spotlight
▪  BHEL: Stock jumped over 10% to Rs 111.25 after the company secured order worth Rs 4,000 crore from a wholly owned subsidiary of Adani Power.
▪  Adani Power Ltd:   Stock gained ~7% after the announcement of the growth objectives of the company during an investor presentation.
▪  Coffee Day Enterprises Ltd:   Stock rallied over 6% after the National Financial Reporting Authority levied a Rs 1.10 crore fine on auditors in a case about the diversion of funds from a subsidiary of the company.
Global News
▪  Asia-Pacific markets are mostly up even as yields of US 10-year Treasury bonds hit levels not seen in over a decade. The benchmark 10-year Treasury note yield hit a high of 4.34%, reaching its highest level since November 2007.
▪   Gold prices crosses $1,900 per ounce on Tuesday, helped by a slight pullback in the dollar and bond yields as investors await the Jackson Hole Symposium later this week.
---
This document has been issued by Liquide Solutions Private Limited for information purposes only and should not be construed as
i) an offer or recommendation to buy or sell securities, commodities, currencies or other investments referred to herein; or
ii) an offer to sell or a solicitation or an offer for the purchase of any of the baskets of Liquide Solutions; or
iii) investment research or investment advice. It does not have regard to specific investment objectives, financial situation and the particular needs of any specific person who may receive this document. Investors should seek personal and independent advice regarding the appropriateness of investing in any of the funds, securities, other investment, or investment strategies that may have been discussed or referred to herein and should understand that the views regarding future prospects may or may not be realized. In no event shall Liquide Life Private Limited and / or its affiliates or any of their directors, trustees, officers and employees be liable for any direct, indirect, special, incidental or consequential damages arising out of the use of information/opinion herein.
With Liquide, you can explore stocks, trade securely in your own broker account, and receive expert-recommended trade setups. Stay updated with real-time tracking, market commentary, and AI-powered insights from LiMo, our intelligent bot. Whether you're a seasoned investor or a newbie, Liquide provides the tools you need to discover your next big investment opportunity. Download the app now from Google Play Store and Apple App Store to revolutionize your investment journey. Don't miss out on the chance to level up your investing game with Liquide.