POST-MARKET SUMMARY 21 November 2023
On November 21, equity indices rebounded, nullifying the losses incurred in the last two sessions. This surge was fueled by positive global cues and widespread buying across various sectors, excluding capital goods and oil and gas stocks. Top Gainer: SBI Life | Top Loser: BPCL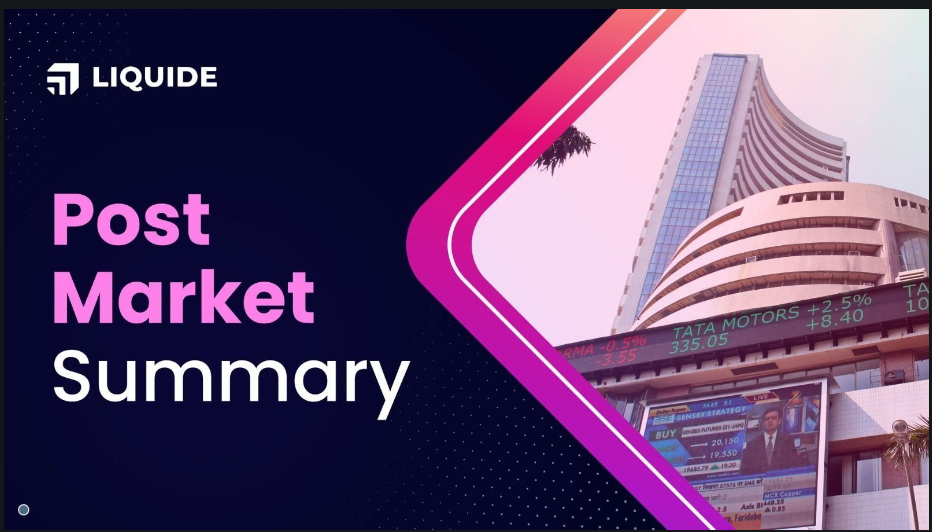 On November 21, equity indices rebounded, nullifying a substantial portion of the losses incurred in the last two sessions. This upward surge was fueled by positive global cues and widespread buying across various sectors, excluding capital goods and oil and gas stocks. Sectors such as pharmaceuticals, realty, and metal each notched a 1% increase, while oil & gas and capital goods experienced a 0.5% decline.
NIFTY: The index opened 76 points higher at 19,770 and made a high of 19,829 before closing at 19,783. Nifty has formed a small bullish candlestick with long upper shadow on the daily chart. Its immediate resistance level is now placed at 19,850 while immediate support is at 19,750.
BANK NIFTY: The index opened 206 points higher at 43,790 and closed at 43,689. Bank Nifty has formed a bearish candlestick pattern with long lower shadow on the daily chart. Its immediate resistance level is now placed at 43,790 while support is at 43,450.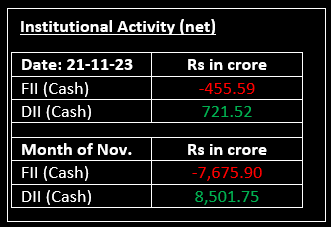 Stocks in Spotlight
▪ Som Distilleries: Stock gained 3.2% as the brewer received the permission to expand its beer capacity. The stock pared gains and closed at 1.61% higher from the previous day's close.
▪ Suzlon Energy: Stock fell around 5% to hit the lower circuit ahead of an investor meet on November 21. As many as 13 crore shares exchanged hands compared to the monthly average of 10 crore.
▪ Coal India: Stock tanked 3.84% as the state-run miner traded ex-dividend from November 21. The board of directors declared the first interim dividend for the current financial year at Rs 15.25 a share with a face value of Rs 10 (152.5%).
Global News
▪ Gold prices rose to an over two-week high on Tuesday, as the US dollar dipped on expectations that the Federal Reserve is done with hiking interest rates.
▪ The Stoxx 600 index was down 0.24%, following a muted morning and a flat session on Monday as third-quarter earnings season winds down.
▪ Chinese property shares surged after Bloomberg reported that Chinese regulators are drafting a list of 50 developers eligible for a range of financing, including China Vanke and Longfor Group Holdings.
---
This document has been issued by Liquide Solutions Private Limited for information purposes only and should not be construed as
i) an offer or recommendation to buy or sell securities, commodities, currencies or other investments referred to herein; or
ii) an offer to sell or a solicitation or an offer for the purchase of any of the baskets of Liquide Solutions; or
iii) investment research or investment advice. It does not have regard to specific investment objectives, financial situation and the particular needs of any specific person who may receive this document. Investors should seek personal and independent advice regarding the appropriateness of investing in any of the funds, securities, other investment, or investment strategies that may have been discussed or referred to herein and should understand that the views regarding future prospects may or may not be realized. In no event shall Liquide Life Private Limited and/or its affiliates or any of their directors, trustees, officers and employees be liable for any direct, indirect, special, incidental or consequential damages arising out of the use of information/opinion herein.
With Liquide, you can explore stocks, trade securely in your own broker account, and receive expert-recommended trade setups. Stay updated with real-time tracking, market commentary, and AI-powered insights from LiMo, our intelligent bot. Whether you're a seasoned investor or a newbie, Liquide provides the tools you need to discover your next big investment opportunity. Download the app now from Google Play Store and Apple App Store to revolutionize your investment journey. Don't miss out on the chance to level up your investing game with Liquide.