POST-MARKET SUMMARY 21 August 2023
Post-market report and news around trending stocks.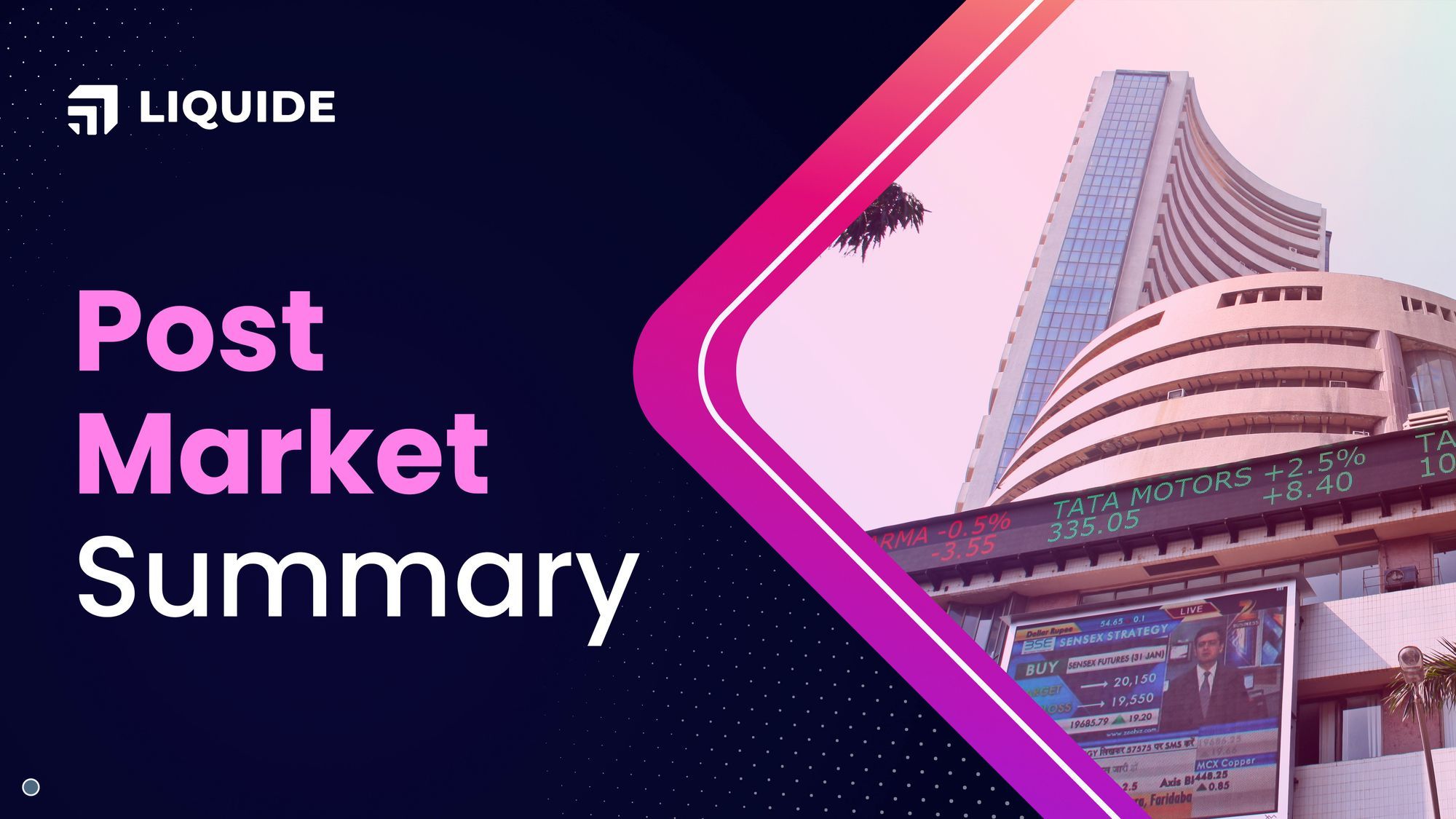 On August 21, the Nifty snapped its two-day losing streak amid broad-based buying across sectors, except for a few PSU Banks and Oil & Gas companies. Despite mixed cues from the global markets, trading began on a neutral-to-positive stance. As the day advanced, the Nifty climbed past the 19,400 mark, but profit-booking at higher levels led to a partial reduction in the gained intraday value.
NIFTY: The index opened flat at 19,320 and made a high of 19,425 before closing at 19,393. Nifty has formed a bullish candlestick pattern on the daily scale. Its immediate resistance level is now placed at 19,500 while immediate support is at 19,250.
BANK NIFTY:  The index opened 101 points higher at 43,952 and closed at 44,002. Bank Nifty has formed a small-bodied bullish candlestick with a minor upper shadow on the daily chart. Its immediate resistance level is now placed at 44,400 while support is at 43,700.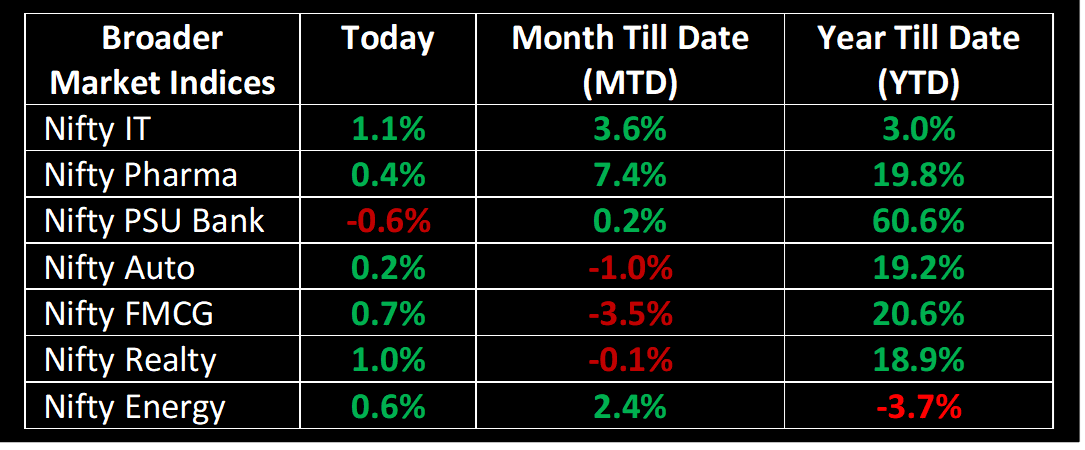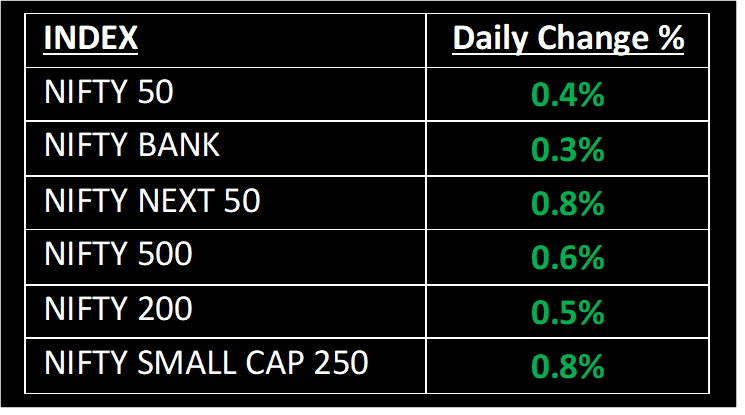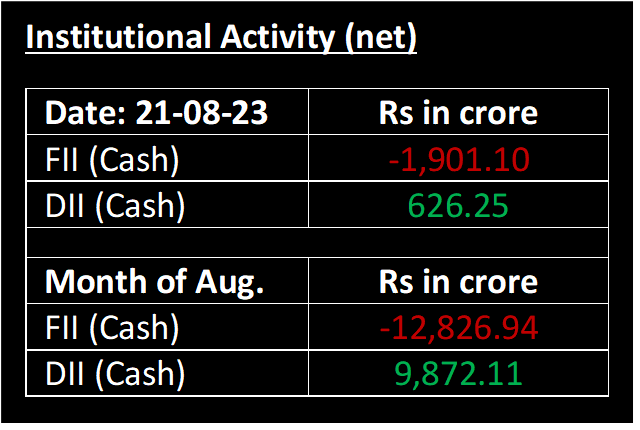 Stocks in Spotlight
▪  KEC International Ltd:  Stock jumped 4.5% after the company bagged orders worth Rs 1,007 crore across various businesses.
▪  Inox Green Energy Ltd:   Stock gained nearly 4% after the company's subsidiary received a Letter of Award from NLC India for the operation and maintenance of 51 MW wind turbine generators in Tamil Nadu.
▪  Tanla Platforms Ltd:   Stock fell 5.8% after the company decided not to continue the agreement with Vodafone Idea. The company had entered into a term sheet with Vodafone Idea for the provision of platform and firewall services for international A2P services in November 2021, which was valid for 2 years.
Global News
▪  Asia-Pacific markets were mixed as China slashed its one-year loan prime rate (LPR) but kept its five-year rate unchanged on Monday. The one-year LPR was cut by 10 bps from 3.55% to 3.45%, while the five-year LPR remained at 4.2%.
▪  The dollar retreated slightly on Monday after five straight weeks of gains, with investors eyeing the Federal Reserve's Jackson Hole symposium for clues on future rate decisions after the current hiking cycle.
---
This document has been issued by Liquide Solutions Private Limited for information purposes only and should not be construed as
i) an offer or recommendation to buy or sell securities, commodities, currencies or other investments referred to herein; or
ii) an offer to sell or a solicitation or an offer for the purchase of any of the baskets of Liquide Solutions; or
iii) investment research or investment advice. It does not have regard to specific investment objectives, financial situation and the particular needs of any specific person who may receive this document. Investors should seek personal and independent advice regarding the appropriateness of investing in any of the funds, securities, other investment, or investment strategies that may have been discussed or referred to herein and should understand that the views regarding future prospects may or may not be realized. In no event shall Liquide Life Private Limited and / or its affiliates or any of their directors, trustees, officers and employees be liable for any direct, indirect, special, incidental or consequential damages arising out of the use of information/opinion herein.
With Liquide, you can explore stocks, trade securely in your own broker account, and receive expert-recommended trade setups. Stay updated with real-time tracking, market commentary, and AI-powered insights from LiMo, our intelligent bot. Whether you're a seasoned investor or a newbie, Liquide provides the tools you need to discover your next big investment opportunity. Download the app now from Google Play Store and Apple App Store to revolutionize your investment journey. Don't miss out on the chance to level up your investing game with Liquide.