POST-MARKET SUMMARY 20 October 2023
The Indian stock market declined for third consecutive day on October 20, amid weakness in global markets. Top Gainer: Kotak Bank | Top Loser: ITC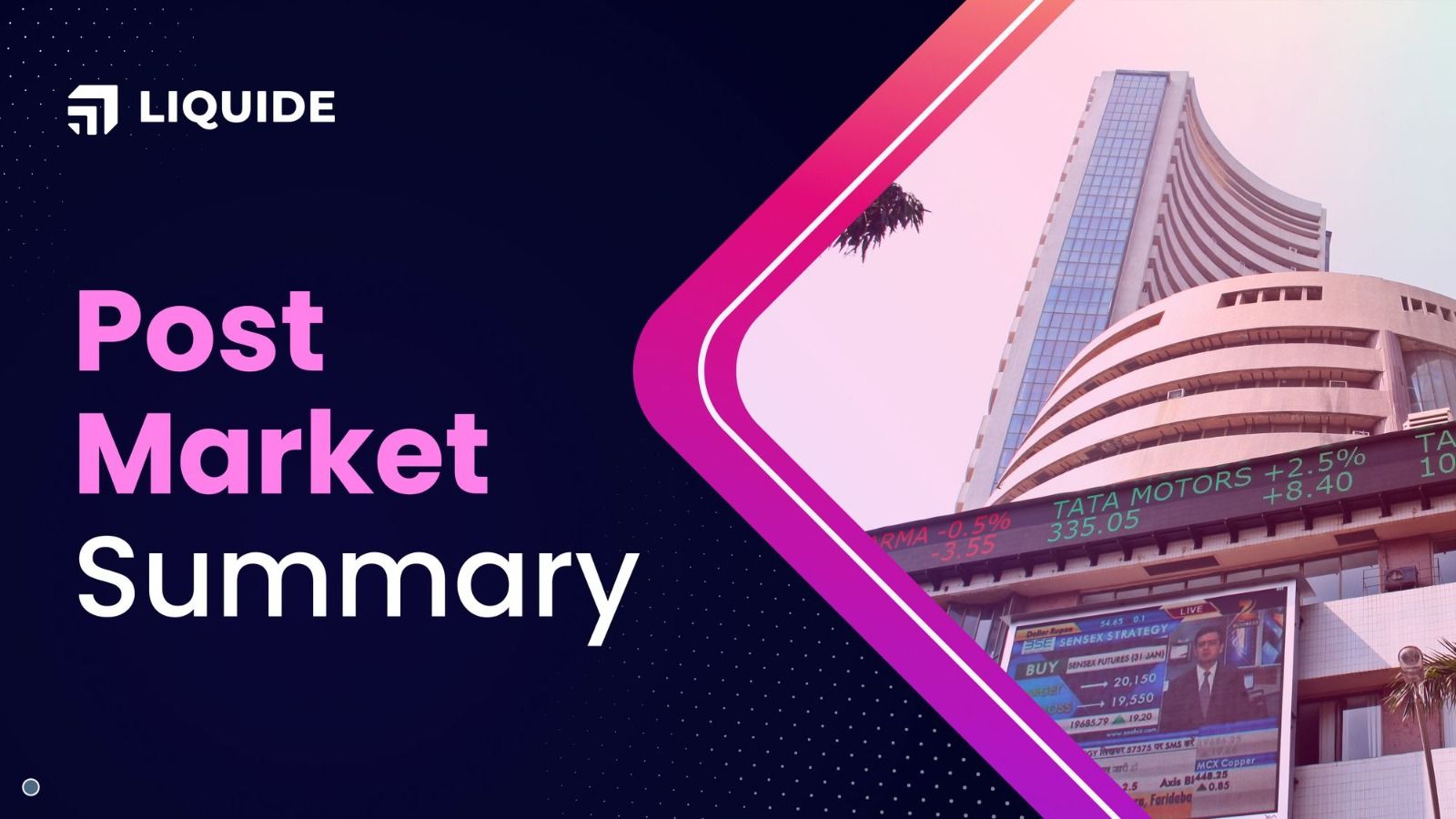 The Indian stock market declined for third consecutive day on October 20, amid weakness in global markets. The negative mood on Dalal Street was compounded by disappointing Q2 earnings from specific companies and increased instability in West Asia and the pressing need for ongoing monetary tightening emphasized by the Chair of the US Federal Reserve.
NIFTY: The index opened 82 points lower at 19,542 and made a high of 19,593 before closing at 19,542. Nifty has formed a double top on the daily chart and a bearish candle on the weekly chart. Its immediate resistance level is now placed at 19,600 while immediate support is at 19,490.
BANK NIFTY: The index opened 170 points lower at 43,584 and closed at 43,723. Bank Nifty has been locked in a persistent struggle between bullish and bearish forces. Its immediate resistance level is now placed at 44,050 while support is at 43,600.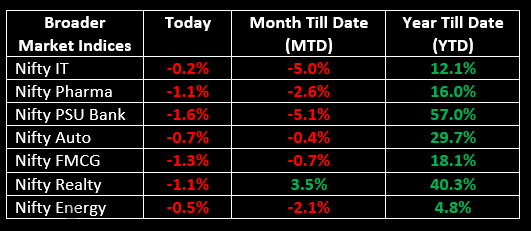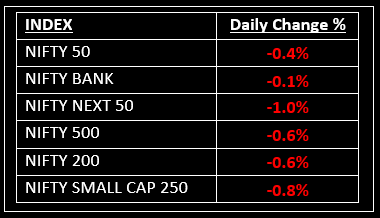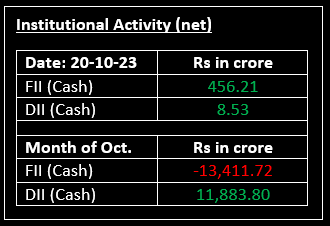 Stocks in Spotlight
▪ Indraprastha Gas: Shares of Indraprastha Gas fell almost 12% after the Delhi government approved the electric vehicle policy for cab aggregators and delivery services.
▪ HFCL: Shares of HFCL declined more than 5% after the company recorded a 15.2% decline in its net profit at Rs 69 crore in Q2.
▪ Titagarh Railway Systems: The stock jumped over 6% after the company inked pact with Gujarat Metro Rail Corporation (GMRC) for the Ahmedabad Metro Rail Phase-II Project worth Rs 350 crore.
Global News
▪ Spot gold was up 0.1% at $1,976.10 per ounce, after hitting its highest since July 20. U.S. gold futures added 0.4% to $1,988.50.
▪ The pan-European Stoxx 600 index was 1.2% lower in afternoon trading, with most sectors in negative territory. Mining stocks saw the biggest drop with a 3% decline, followed by travel and leisure, which fell 2.2%.
▪ Asia-Pacific markets were all low as U.S. Federal Reserve Chair Jerome Powell said inflation was still too high and would likely require lower economic growth. The benchmark U.S. 10-year Treasury yield also crossed 5% for the first time in 16 years.
---
This document has been issued by Liquide Solutions Private Limited for information purposes only and should not be construed as
i) an offer or recommendation to buy or sell securities, commodities, currencies or other investments referred to herein; or
ii) an offer to sell or a solicitation or an offer for the purchase of any of the baskets of Liquide Solutions; or
iii) investment research or investment advice. It does not have regard to specific investment objectives, financial situation and the particular needs of any specific person who may receive this document. Investors should seek personal and independent advice regarding the appropriateness of investing in any of the funds, securities, other investment, or investment strategies that may have been discussed or referred to herein and should understand that the views regarding future prospects may or may not be realized. In no event shall Liquide Life Private Limited and / or its affiliates or any of their directors, trustees, officers and employees be liable for any direct, indirect, special, incidental or consequential damages arising out of the use of information/opinion herein.
With Liquide, you can explore stocks, trade securely in your own broker account, and receive expert-recommended trade setups. Stay updated with real-time tracking, market commentary, and AI-powered insights from LiMo, our intelligent bot. Whether you're a seasoned investor or a newbie, Liquide provides the tools you need to discover your next big investment opportunity. Download the app now from Google Play Store and Apple App Store to revolutionize your investment journey. Don't miss out on the chance to level up your investing game with Liquide.