POST-MARKET SUMMARY 18 October 2023
Despite a brief recovery in the previous session, the market faced renewed selling pressure on October 18. Most sectors experienced declines, with the exceptions being the automotive and pharmaceutical sectors. Top Gainer: Cipla | Top Loser: Bajaj Finance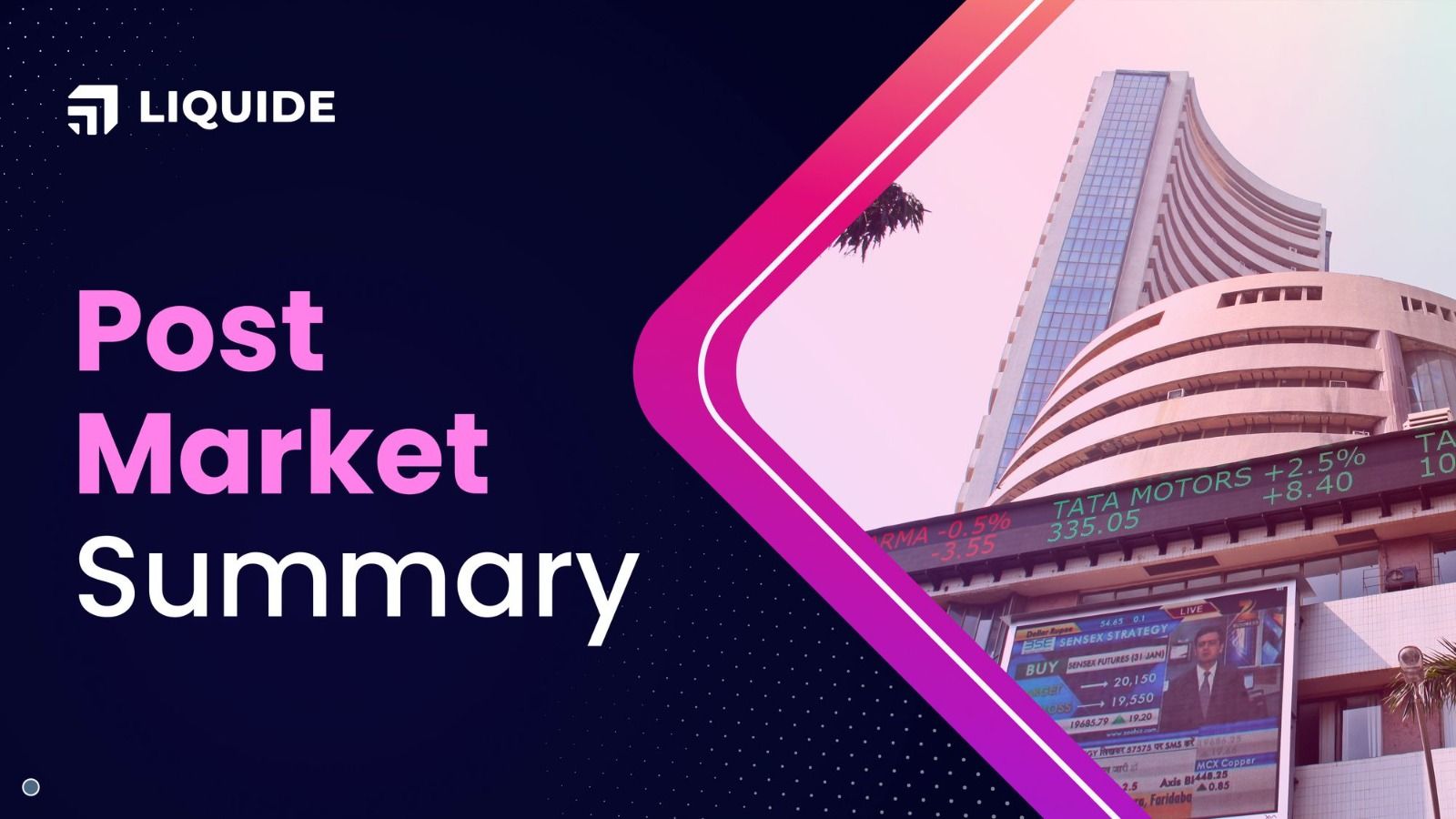 Despite a brief recovery in the previous session, the market faced renewed selling pressure on October 18. Most sectors experienced declines, with the exceptions being the automotive and pharmaceutical sectors. The market began the day on a negative note due to unfavourable global cues. The renewed weakness in banking and financial industry leaders, along with a decrease in other major stocks like Reliance, suggests a potential for further downward movement.
NIFTY: The index opened flat at 19,820 and made a high of 19,840 before closing at 19,671. Nifty has formed a long bearish candlestick pattern on the daily chart. Its immediate resistance level is now placed at 19,730 while immediate support is at 19,600.
BANK NIFTY: The index opened flat at 44,404 and closed at 43888. Bank Nifty has formed a strong bearish candlestick pattern on the daily scale. Its immediate resistance level is now placed at 44,050 while support is at 43,800.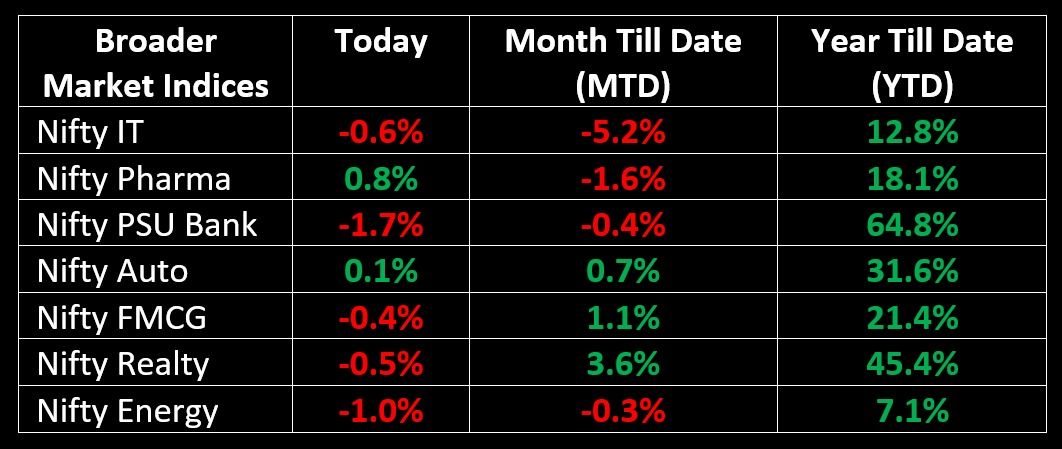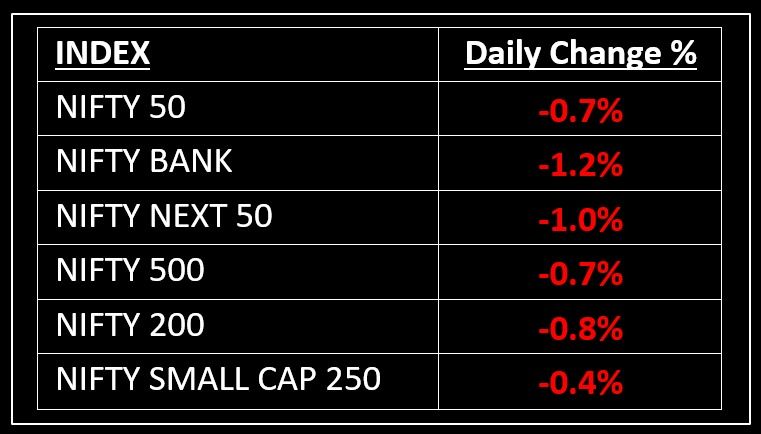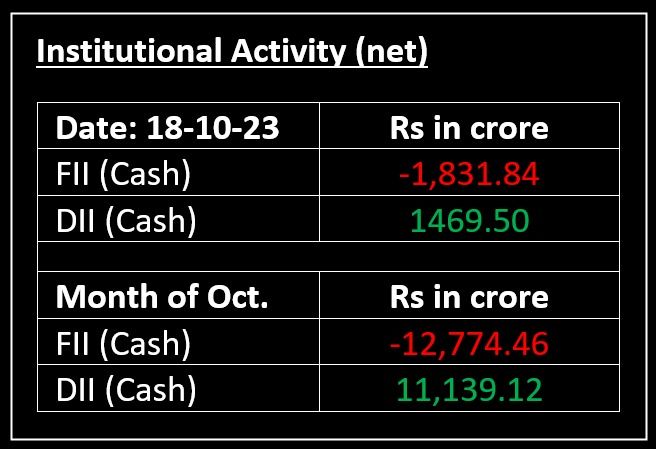 Stocks in Spotlight
▪ Zensar Technologies: The stock tanked 5% after it posted a modest revenue growth of 0.5% on-year and 1.1% on-quarter to Rs 1,240 crore, impacted by weak hi-tech and manufacturing verticals.
▪ VST Industries: Shares of VST Industries fell nearly 2% after the company's net profit for the second quarter of FY24 slumped 17.6% YoY.
▪ Syngene International: Shares of Syngene International plunged over 6% after the drug maker trimmed its revenue guidance to a mid-teen level in the second half of the year.
Global News
▪ Asia markets were mixed in choppy afternoon trading on Wednesday after economic data from China showed stronger-than-expected growth.
▪ The Pan-European Stoxx 600 index was down 0.6%, with mining stocks shedding 1.7% to lead losses while telecoms added 0.4%.
▪ Gold prices touched a near one-month high on Wednesday after a deadly blast in Gaza fueled fears about the Middle East conflict escalating and kept the safe-haven asset a favoured investment.
---
This document has been issued by Liquide Solutions Private Limited for information purposes only and should not be construed as
i) an offer or recommendation to buy or sell securities, commodities, currencies or other investments referred to herein; or
ii) an offer to sell or a solicitation or an offer for the purchase of any of the baskets of Liquide Solutions; or
iii) investment research or investment advice. It does not have regard to specific investment objectives, financial situation and the particular needs of any specific person who may receive this document. Investors should seek personal and independent advice regarding the appropriateness of investing in any of the funds, securities, other investment, or investment strategies that may have been discussed or referred to herein and should understand that the views regarding future prospects may or may not be realized. In no event shall Liquide Life Private Limited and / or its affiliates or any of their directors, trustees, officers and employees be liable for any direct, indirect, special, incidental or consequential damages arising out of the use of information/opinion herein.
With Liquide, you can explore stocks, trade securely in your own broker account, and receive expert-recommended trade setups. Stay updated with real-time tracking, market commentary, and AI-powered insights from LiMo, our intelligent bot. Whether you're a seasoned investor or a newbie, Liquide provides the tools you need to discover your next big investment opportunity. Download the app now from Google Play Store and Apple App Store to revolutionize your investment journey. Don't miss out on the chance to level up your investing game with Liquide.