POST-MARKET SUMMARY 18 August 2023
Post-market report and news around trending stocks.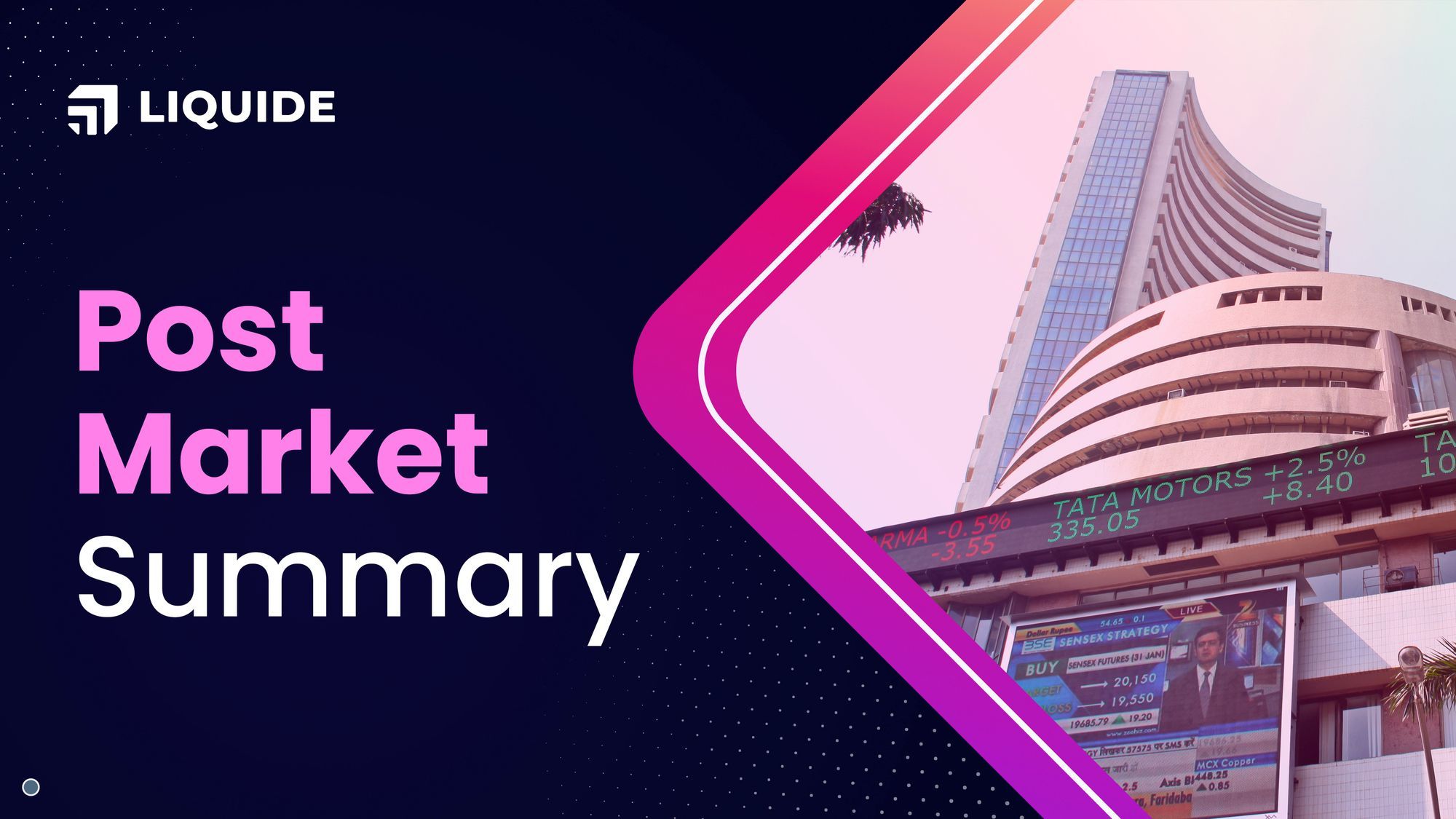 Indian benchmark indices concluded the second successive session in negative territory on August 18th, amid volatility. The Nifty managed to finish just above the 19,300 mark. Global stock markets, including India, are currently grappling with a notable upswing in US bond yields. This surge has contributed to the devaluation of currencies in China and other emerging economies. Consequently, investors are opting to shift their investments from volatile equity assets to secure US dollar-denominated securities, seeking refuge in safe-haven options.
NIFTY:  The index opened 64 points lower at 19,301 and made a high of 19,373 before closing at 19,310. Nifty has formed a Doji kind of candlestick pattern on the daily scale as the closing was near opening levels. Its immediate resistance level is now placed at 19,400 while immediate support is at 19,250.
BANK NIFTY:  The index opened 167 points lower at 43,724 and closed at 43,851. Bank Nifty has formed a bearish candlestick pattern on the weekly scale, making lower highs and lower lows formation for the third straight week. Its immediate resistance level is now placed at 44,000 while support is at 43,700.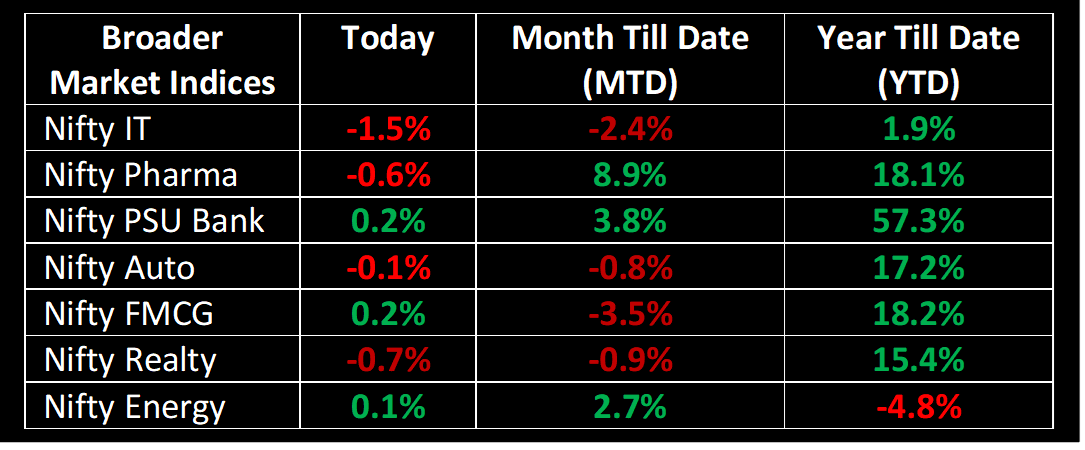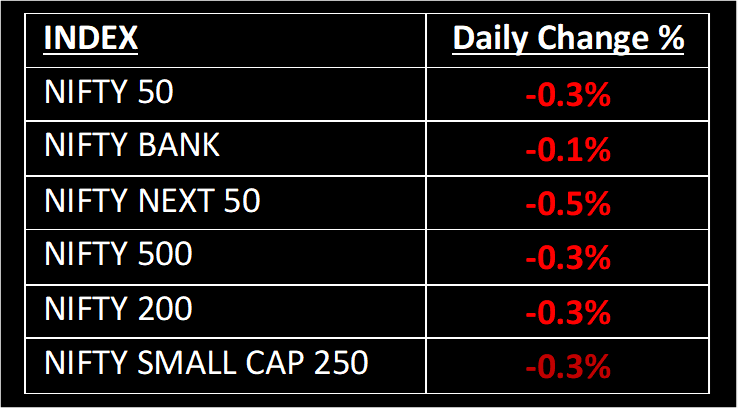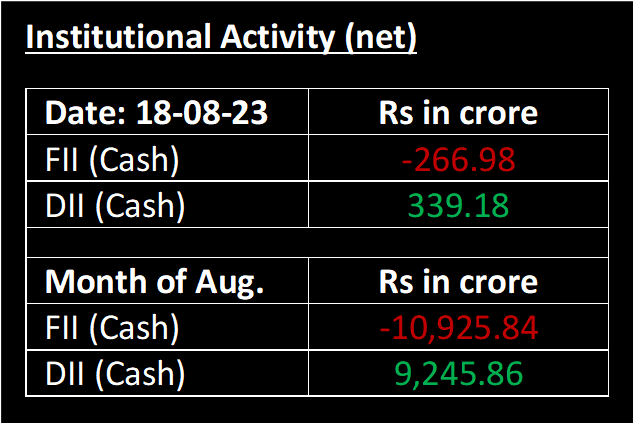 Stocks in Spotlight
▪  Indian Hume Pipe Company:  Stock jumped 8% after the company received a letter of award from the Government of Odisha for the execution and maintenance of a rural piped water supply project worth Rs 639.16 crore.
▪  Adani Green Energy Ltd:   Stock rose 6.5% after one of its associate companies received a crucial certificate to commence operation at its manufacturing plant.
▪  Confidence Petroleum Ltd:   Stock was up 4% after the company commissioned 13 new auto LPG dispensing stations to cater to green fuel requirements of cars and auto rickshaws.
Global News
▪  European Stoxx 600 index was down 1% by early afternoon, with mining stocks falling 1.9% to lead losses as most sectors and major bourses slid into the red. Utilities bucked the trend to add 0.5%.
▪  Gold gained on Friday as the dollar and bond yields eased but remained on course for a third straight weekly dip as strong US economic data reinforced bets that the Federal Reserve will keep interest rates elevated.
---
This document has been issued by Liquide Solutions Private Limited for information purposes only and should not be construed as
i) an offer or recommendation to buy or sell securities, commodities, currencies or other investments referred to herein; or
ii) an offer to sell or a solicitation or an offer for the purchase of any of the baskets of Liquide Solutions; or
iii) investment research or investment advice. It does not have regard to specific investment objectives, financial situation and the particular needs of any specific person who may receive this document. Investors should seek personal and independent advice regarding the appropriateness of investing in any of the funds, securities, other investment, or investment strategies that may have been discussed or referred to herein and should understand that the views regarding future prospects may or may not be realized. In no event shall Liquide Life Private Limited and / or its affiliates or any of their directors, trustees, officers and employees be liable for any direct, indirect, special, incidental or consequential damages arising out of the use of information/opinion herein.
With Liquide, you can explore stocks, trade securely in your own broker account, and receive expert-recommended trade setups. Stay updated with real-time tracking, market commentary, and AI-powered insights from LiMo, our intelligent bot. Whether you're a seasoned investor or a newbie, Liquide provides the tools you need to discover your next big investment opportunity. Download the app now from Google Play Store and Apple App Store to revolutionize your investment journey. Don't miss out on the chance to level up your investing game with Liquide.