POST-MARKET SUMMARY 16 October 2023
The markets maintained a rangebound trajectory with a bearish undertone, influenced by subdued Asian market indicators. Investors engaged in profit-booking within the banking, real estate, and IT sectors. Top Gainer: Hero Moto | Top Loser: Divis Lab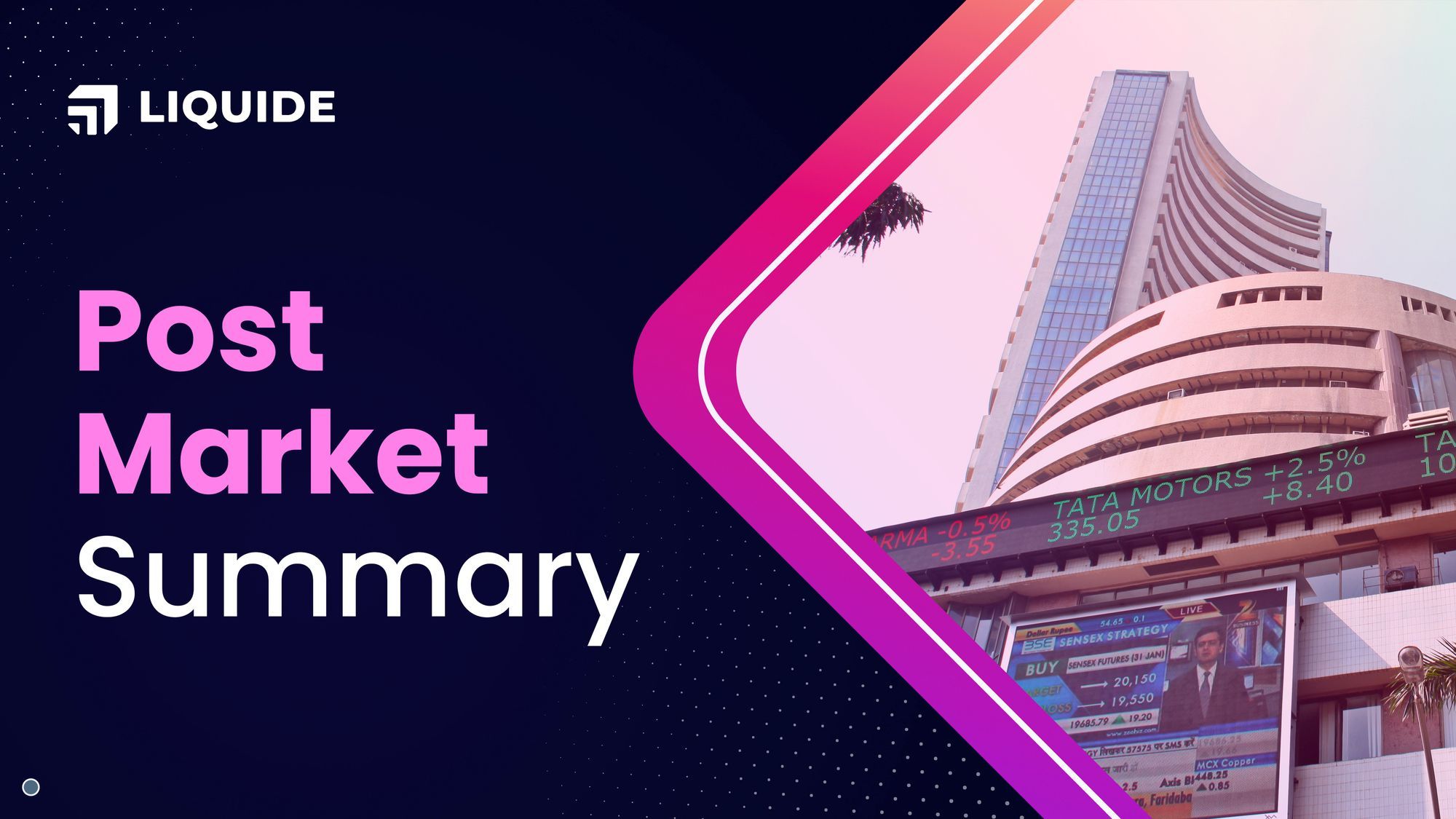 The markets maintained a rangebound trajectory with a bearish undertone, influenced by subdued Asian market indicators. Investors engaged in profit-booking within the banking, real estate, and IT sectors, while a surge in buying activity was observed in metal, automotive, and consumer durable stocks, aiding in mitigating market declines. Initially, due to mixed global signals, the market opened on a pessimistic note, pushing the Nifty below the 19,700 level. However, it managed to recover and sustained a sideways movement for the remainder of the trading session.
NIFTY: The index opened flat at 19,737 and made a high of 19,781 before closing at 19,731. Nifty has formed a small-bodied bearish candlestick pattern with long upper and lower shadows, which resembles a Doji kind of pattern on the daily chart. Its immediate resistance level is now placed at 19,800 while immediate support is at 19,670.
BANK NIFTY: The index opened 83 points lower at 44,204 and closed at 44,225. Bank Nifty has formed a Doji kind of candlestick pattern on the daily chart, making lower highs, lower lows for the second consecutive session. Its immediate resistance level is now placed at 44,500 while support is at 44,050.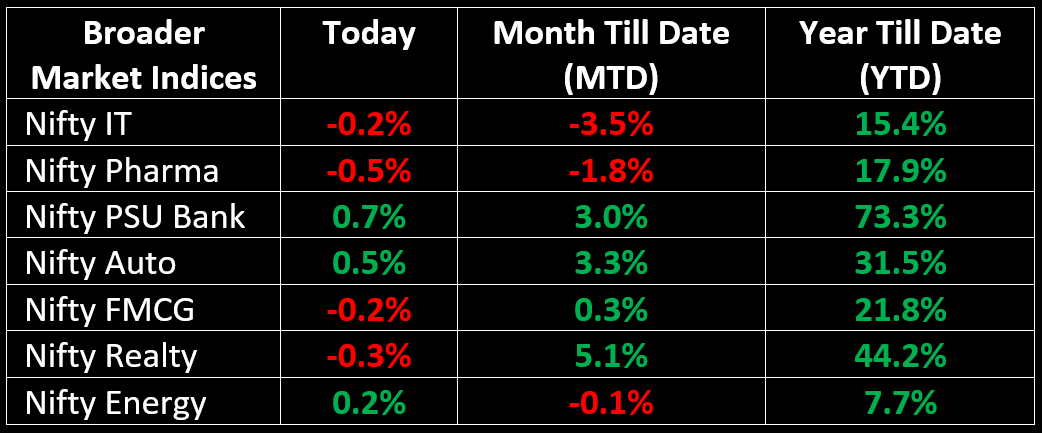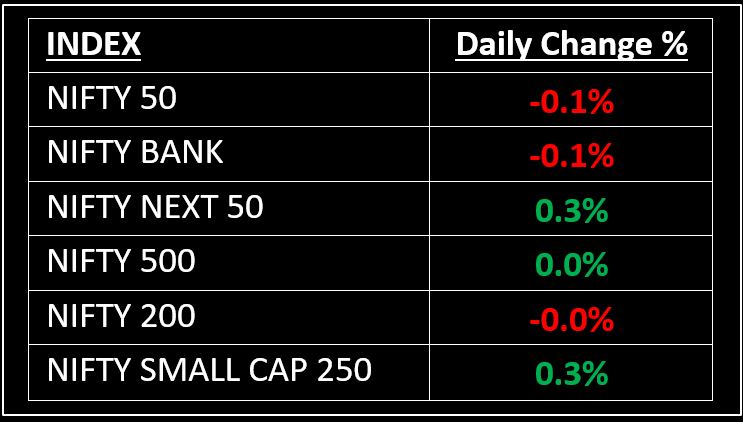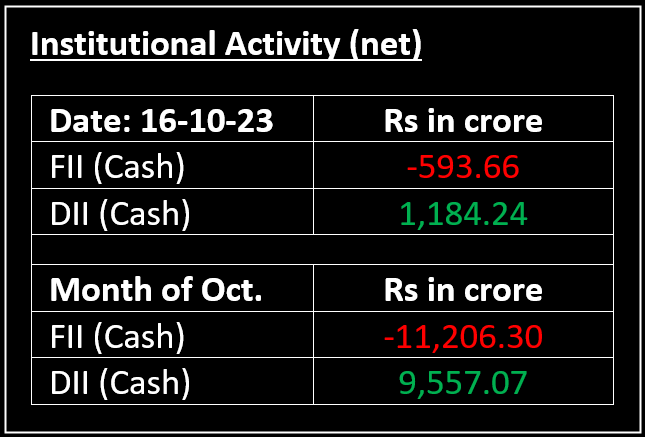 Stocks in Spotlight
▪ Skipper Ltd: Shares of Skipper surged over 3% after the company said it won orders worth Rs 588 crore.
▪ MCX: Shares of MCX rallied more than 3.5% as trading began on the company's new software platform.
▪ GATI: Shares of Gati surged over 10% after volumes rose 18% year-on-year in the July-September quarter of the current fiscal year.
Global News
▪ Pan-European Stoxx 600 index was up 0.14%, with sectors spread across positive and negative territory. Healthcare stocks slipped 0.45%, while mining stocks rallied 1.2%.
▪ Brent Oil Futures steadied above $90 a barrel on Monday after passing the threshold on Friday, as investors waited to see if the Israel-Hamas conflict draws in other countries.
▪ Gold held above the key $1,900 ceiling on Monday, despite a drop in prices due to technical selling following a fierce 3% rally in the previous session.
---
This document has been issued by Liquide Solutions Private Limited for information purposes only and should not be construed as
i) an offer or recommendation to buy or sell securities, commodities, currencies or other investments referred to herein; or
ii) an offer to sell or a solicitation or an offer for the purchase of any of the baskets of Liquide Solutions; or
iii) investment research or investment advice. It does not have regard to specific investment objectives, financial situation and the particular needs of any specific person who may receive this document. Investors should seek personal and independent advice regarding the appropriateness of investing in any of the funds, securities, other investment, or investment strategies that may have been discussed or referred to herein and should understand that the views regarding future prospects may or may not be realized. In no event shall Liquide Life Private Limited and / or its affiliates or any of their directors, trustees, officers and employees be liable for any direct, indirect, special, incidental or consequential damages arising out of the use of information/opinion herein.
With Liquide, you can explore stocks, trade securely in your own broker account, and receive expert-recommended trade setups. Stay updated with real-time tracking, market commentary, and AI-powered insights from LiMo, our intelligent bot. Whether you're a seasoned investor or a newbie, Liquide provides the tools you need to discover your next big investment opportunity. Download the app now from Google Play Store and Apple App Store to revolutionize your investment journey. Don't miss out on the chance to level up your investing game with Liquide.