POST-MARKET SUMMARY 16 November 2023
On November 16, the Indian benchmark indices closed positively for the second day in a row, navigating through a volatile trading session. Despite a lower opening influenced by mixed global signals, the indices rebounded and surged throughout the day. Top Gainer: Hero Moto Co | Top Loser: Axis Bank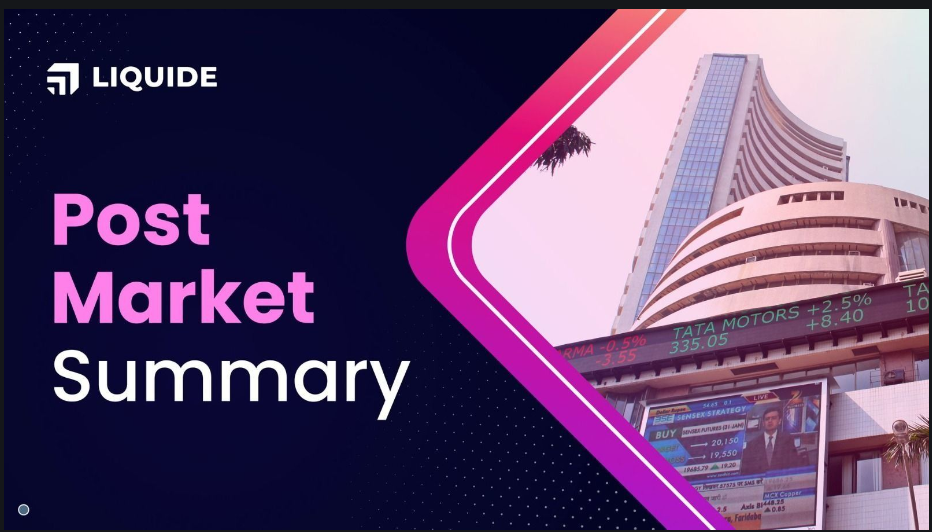 On November 16, the Indian benchmark indices closed positively for the second day in a row, navigating through a volatile trading session. Despite a lower opening influenced by mixed global signals, the indices rebounded and surged throughout the day. However, a last-hour sell-off trimmed some of the gains. Among various sectors, information technology saw a substantial increase of almost 3%, with realty, oil & gas, and auto also marking gains of around 1% each.
NIFTY: The index opened flat at 19,674 and made a high of 19,875 before closing at 19,765. Nifty formed a bullish candlestick pattern with a long upper shadow and minor lower shadow on the daily charts. Its immediate resistance level is now placed at 19,850 while immediate support is at 19,700.
BANK NIFTY: The index opened 50 points higher at 44,251 and closed at 44,161. Bank Nifty has formed a bearish candlestick pattern on the daily scale making lower high lower low formation. Its immediate resistance level is now placed at 44,400 while support is at 44,000.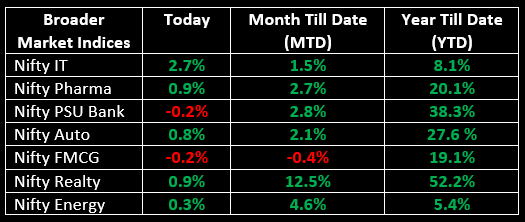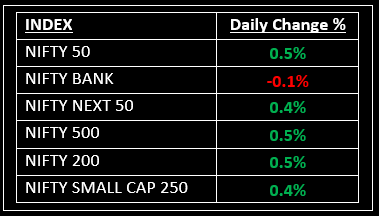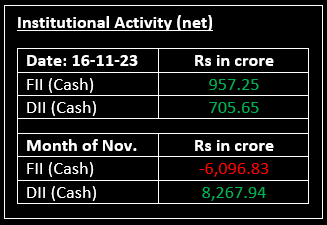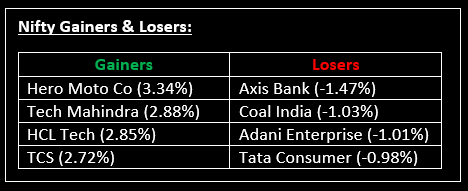 Stocks in Spotlight
▪ Pennar Industries: Stock surged 11.36% after the company said it bagged orders worth Rs 669 crore across its various business verticals.
▪ Suzlon Energy: Stock gained 4.94% after the company said that one of its wind turbine series got a listing from the government, paving the way for its commercialisation.
▪ Paytm: Stock slumped 1.64% as investors rushed to book profits after the stock gained almost 3% the previous day.
Global News
▪ European markets were lower on Thursday amid a cooling of the positive sentiment seen earlier in the week after the release of positive data from the U.S. and China.
▪ Hong Kong stocks led declines in the Asia-Pacific region on Thursday as Xpeng led electric vehicle stocks lower, while investors digested high-level discussions between the United States and China.
▪ Oil prices dropped on Thursday, extending losses from the previous session, as signals of higher supply from the United States met worries about lackluster energy demand from Asia.
---
This document has been issued by Liquide Solutions Private Limited for information purposes only and should not be construed as
i) an offer or recommendation to buy or sell securities, commodities, currencies or other investments referred to herein; or
ii) an offer to sell or a solicitation or an offer for the purchase of any of the baskets of Liquide Solutions; or
iii) investment research or investment advice. It does not have regard to specific investment objectives, financial situation and the particular needs of any specific person who may receive this document. Investors should seek personal and independent advice regarding the appropriateness of investing in any of the funds, securities, other investment, or investment strategies that may have been discussed or referred to herein and should understand that the views regarding future prospects may or may not be realized. In no event shall Liquide Life Private Limited and/or its affiliates or any of their directors, trustees, officers and employees be liable for any direct, indirect, special, incidental or consequential damages arising out of the use of information/opinion herein.
With Liquide, you can explore stocks, trade securely in your own broker account, and receive expert-recommended trade setups. Stay updated with real-time tracking, market commentary, and AI-powered insights from LiMo, our intelligent bot. Whether you're a seasoned investor or a newbie, Liquide provides the tools you need to discover your next big investment opportunity. Download the app now from Google Play Store and Apple App Store to revolutionize your investment journey. Don't miss out on the chance to level up your investing game with Liquide.