POST-MARKET SUMMARY 13 July 2023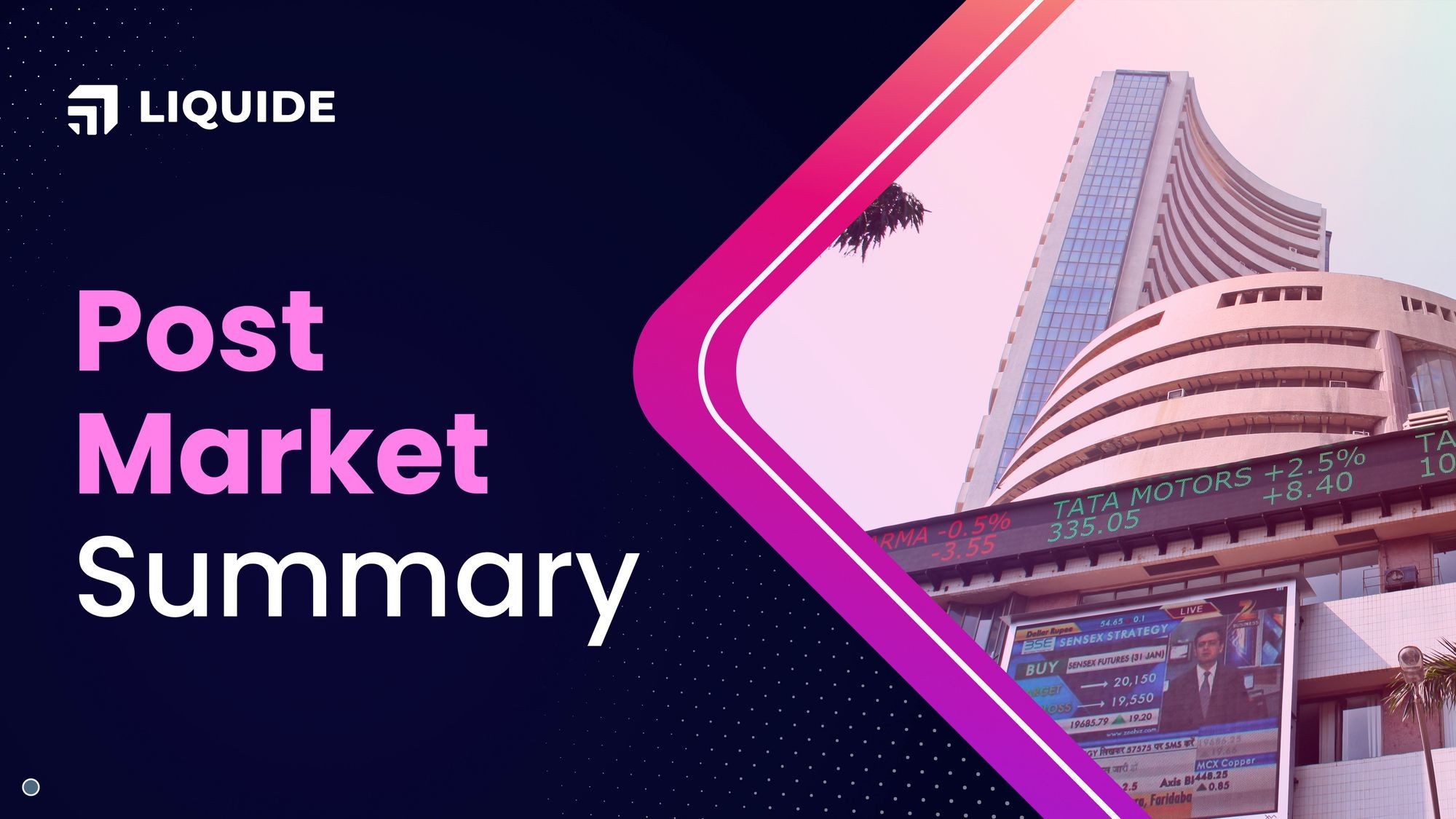 On July 13, the equity market ended with minor gains amid a highly volatile session. The market hit record highs primarily driven by information technology, metal, and realty sectors. Initially, positive global signals resulted in a strong opening for Nifty. Subsequently, the market experienced a period of consolidation. However, during the final hour, profit booking from PSU banks, oil & gas, and power sectors led to a sharp decline. Nevertheless, the market successfully ended the session in green.
NIFTY: The index opened 111 points higher at 19,495 and made a high of 19,567 before closing at 19,413. Nifty has formed a bearish candlestick pattern on the daily chart. Its immediate resistance level is now placed at 19,550 while immediate support is at 19,300.
BANK NIFTY:  The index opened 370 points higher at 45,009 and closed at 44,665. Bank Nifty has formed a bearish candlestick pattern on the daily chart. Its immediate resistance level is now placed at 45,000 while support is at 44,400.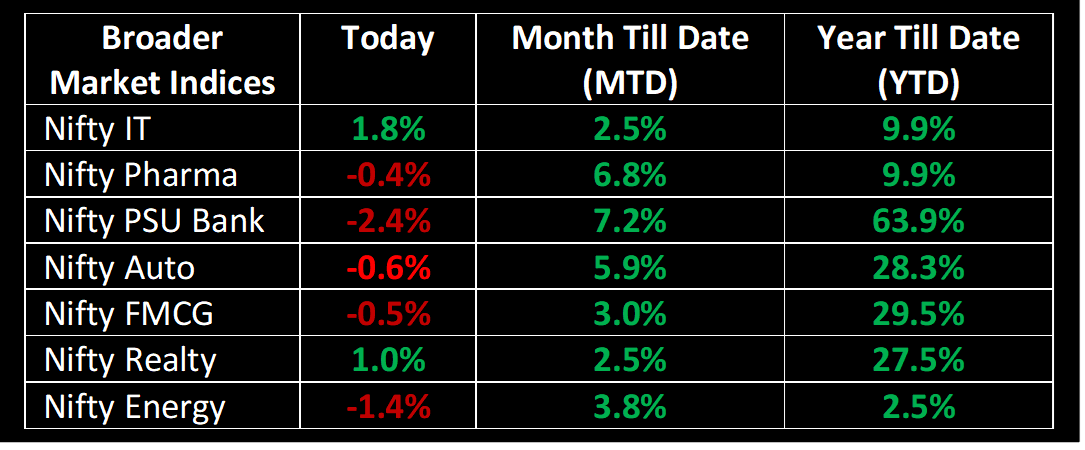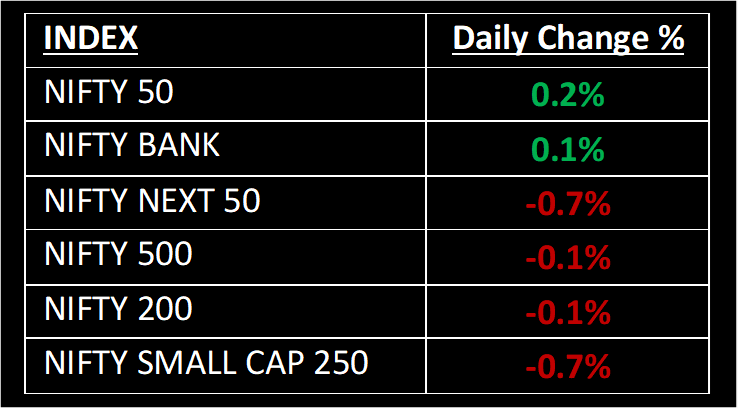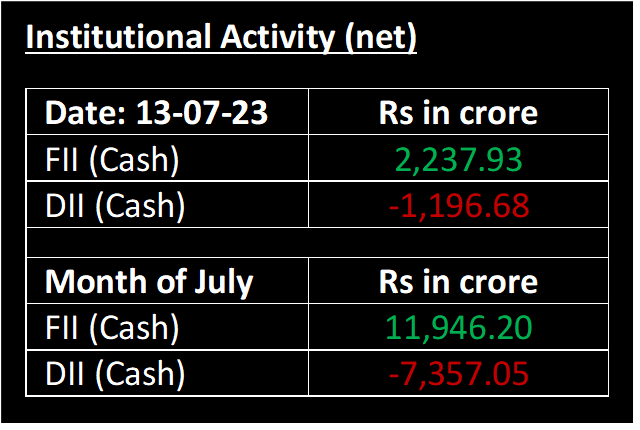 Stocks in Spotlight
▪  Tata Consultancy Services Ltd:  Stock gained 2.5%, a day after the company reported its Q1 earnings, which were in line with street estimates.
▪  Hindalco Industries Ltd:  Stock gained 2.5%, after the company approved a proposal for the sale of land situated at Kalwa, Maharashtra.
▪  Thomas Cook (India) Ltd: Stock jumped nearly 3% after its step-down subsidiary acquired a 50% stake in 500 FT SPV Limited, a UAE-based company.
Global News
▪  On Thursday, gold prices reached their highest level in approximately a month due to a decline in the value of the dollar. This drop was influenced by U.S. inflation data, which increased investor optimism that the Federal Reserve would soon halt its monetary policy tightening.
▪  Asia-Pacific markets witnessed a broad-based rise following the release of lower-than-expected US inflation data for June. The inflation rate stood at 3%, representing the smallest year-over-year growth in two years.
---
This document has been issued by Liquide Solutions Private Limited for information purposes only and should not be construed as
i) an offer or recommendation to buy or sell securities, commodities, currencies or other investments referred to herein; or
ii) an offer to sell or a solicitation or an offer for the purchase of any of the baskets of Liquide Solutions; or
iii) investment research or investment advice. It does not have regard to specific investment objectives, financial situation and the particular needs of any specific person who may receive this document. Investors should seek personal and independent advice regarding the appropriateness of investing in any of the funds, securities, other investment, or investment strategies that may have been discussed or referred to herein and should understand that the views regarding future prospects may or may not be realized. In no event shall Liquide Life Private Limited and / or its affiliates or any of their directors, trustees, officers and employees be liable for any direct, indirect, special, incidental or consequential damages arising out of the use of information/opinion herein.
With Liquide, you can explore stocks, trade securely in your own broker account, and receive expert-recommended trade setups. Stay updated with real-time tracking, market commentary, and AI-powered insights from LiMo, our intelligent bot. Whether you're a seasoned investor or a newbie, Liquide provides the tools you need to discover your next big investment opportunity. Download the app now from Google Play Store and Apple App Store to revolutionize your investment journey. Don't miss out on the chance to level up your investing game with Liquide.