POST-MARKET SUMMARY 11 October 2023
On October 11, the Indian markets continued their winning streak for the second consecutive session, thanks to favorable global market conditions and increased buying activity in heavyweight stocks. Top Gainer: Hero Moto Co | Top Loser: HCL Tech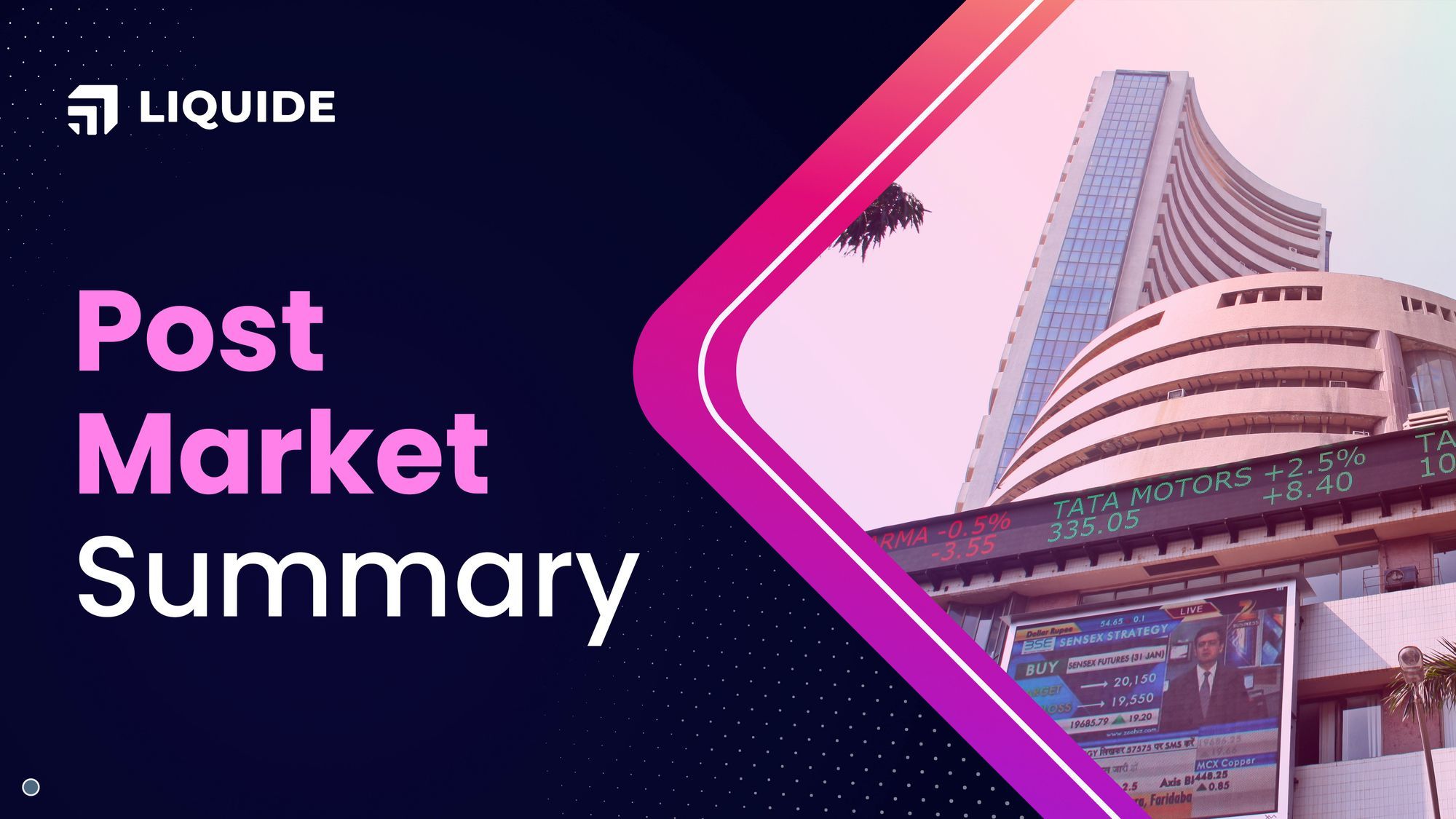 On October 11, the Indian markets continued their winning streak for the second consecutive session, thanks to favorable global market conditions and increased buying activity in heavyweight stocks. The positive momentum in the global market was a significant factor in extending the gains in the domestic market, as the moderation of US bond yields had a positive impact on investor sentiment. Despite the ongoing Israel-Palestine conflict having minimal impact on oil prices, the market's attention swiftly returned to the broader global macroeconomic situation.
NIFTY: The index opened 78 points higher at 19,767 and made a high of 19,839 before closing at 19,811. Nifty has formed a bullish candlestick with a minor upper shadow on the daily chart, indicating continuation of the uptrend. Its immediate resistance level is now placed at 19,850 while immediate support is at 19,750.
BANK NIFTY: The index opened 194 points higher at 44,554 and closed at 44,516. Bank Nifty has formed a small bodied bearish candlestick pattern with long upper and lower shadows on the daily scale. Its immediate resistance level is now placed at 44,760 while support is at 44,400.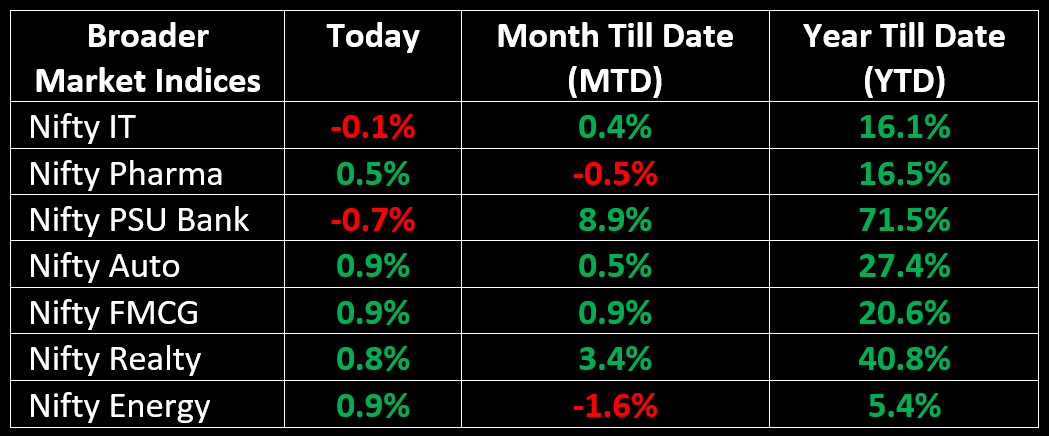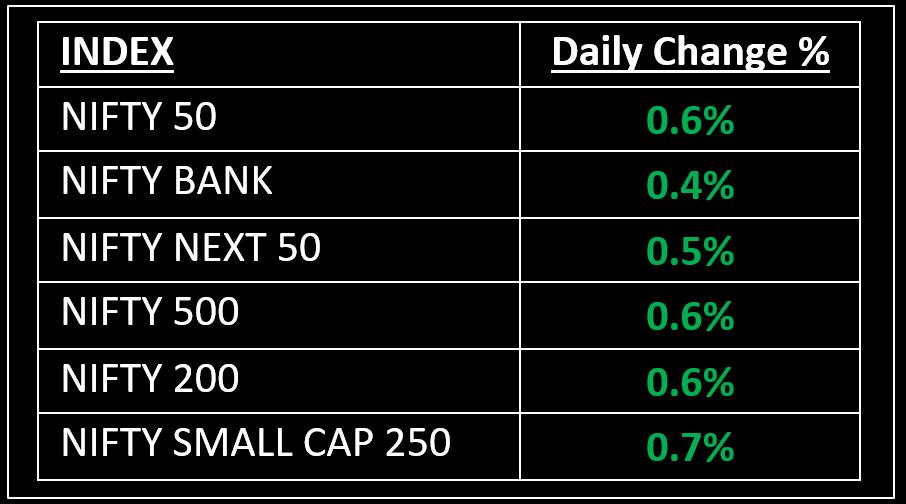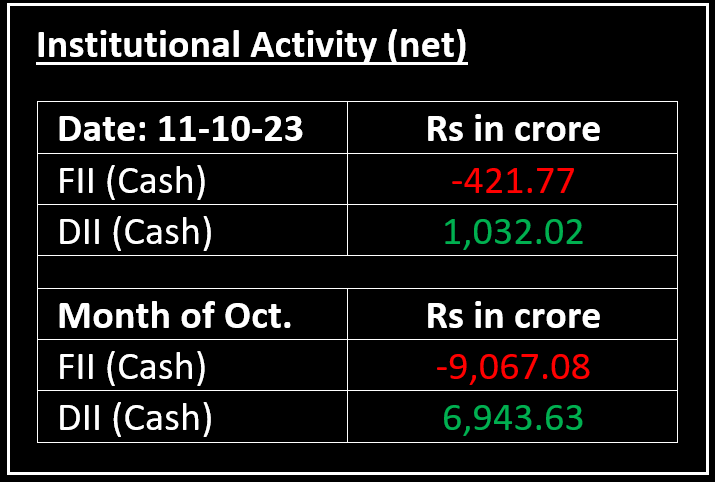 Stocks in Spotlight
▪ Vodafone Idea Ltd: Stock rallied over 7% after the Supreme Court agreed to hear the telecom challenge to its Adjusted Gross Revenue (AGR) levy, alleging calculation errors.
▪ Bank of Baroda: Stock ended 3% lower, extending losses for the second day after the Reserve Bank of India ordered it to not sign-up new customers using its mobile application BoB World.
▪ Ugro Capital Ltd: Stock gained nearly 6% after the company announced a 73% year-on-year increase in its assets under management.
Global News
▪ Asia-Pacific markets climbed across the board, with South Korean stocks leading gains. South Korea's Kospi closed 1.98% higher at 2,450.08, hitting a two-week high as chip giant Samsung Electronics jumped 2.71%.
▪ Gold prices stayed firm on Wednesday as the dollar edged lower after several US Federal Reserve officials suggested that the recent surge in Treasury yields might make further rate hikes less necessary.
▪ Oil prices were little changed in early Asian trade on Wednesday, as concerns eased about potential supply disruptions due to the conflict between Israel and the Palestinian Islamist group Hamas.
---
This document has been issued by Liquide Solutions Private Limited for information purposes only and should not be construed as
i) an offer or recommendation to buy or sell securities, commodities, currencies or other investments referred to herein; or
ii) an offer to sell or a solicitation or an offer for the purchase of any of the baskets of Liquide Solutions; or
iii) investment research or investment advice. It does not have regard to specific investment objectives, financial situation and the particular needs of any specific person who may receive this document. Investors should seek personal and independent advice regarding the appropriateness of investing in any of the funds, securities, other investment, or investment strategies that may have been discussed or referred to herein and should understand that the views regarding future prospects may or may not be realized. In no event shall Liquide Life Private Limited and / or its affiliates or any of their directors, trustees, officers and employees be liable for any direct, indirect, special, incidental or consequential damages arising out of the use of information/opinion herein.
With Liquide, you can explore stocks, trade securely in your own broker account, and receive expert-recommended trade setups. Stay updated with real-time tracking, market commentary, and AI-powered insights from LiMo, our intelligent bot. Whether you're a seasoned investor or a newbie, Liquide provides the tools you need to discover your next big investment opportunity. Download the app now from Google Play Store and Apple App Store to revolutionize your investment journey. Don't miss out on the chance to level up your investing game with Liquide.