POST-MARKET SUMMARY 11 July 2023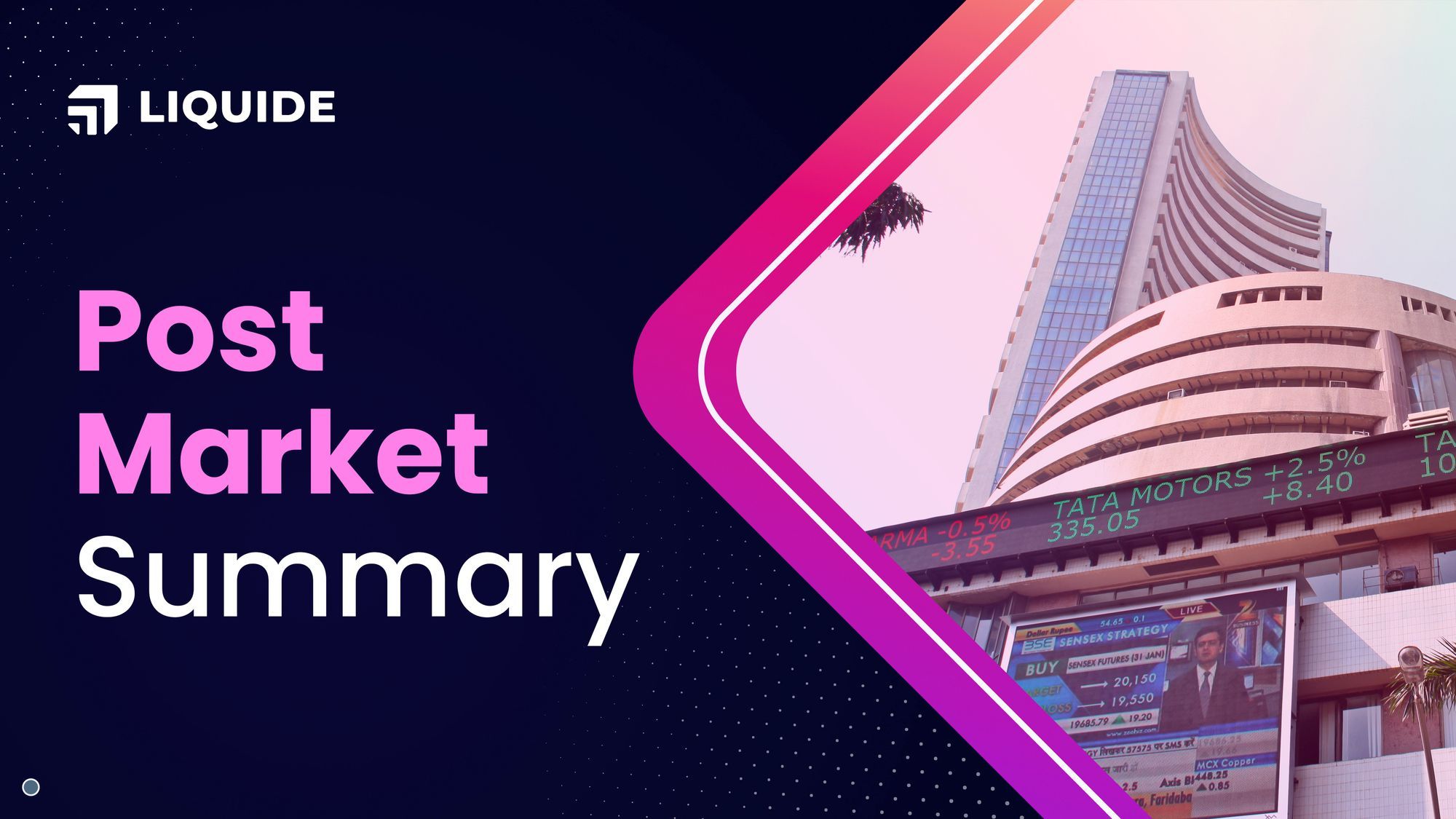 On July 11, the markets managed to close in the positive territory in a rangebound session amid favorable global cues. The upward trend in the broader markets persisted, with midcap and small cap indices each recording gains of ~1%. India continues to make progress in various economic aspects, as evidenced by its robust direct tax collection figures. This further bolstered investor sentiment. Buying was seen in sectors such as automobile, capital goods, power, and FMCG.
NIFTY: The index opened 72 points higher at 19,427 and made a high of 19,515 before closing at 19,439. Nifty has formed a double-top formation, which indicates temporary weakness. Its immediate resistance level is now placed at 19,500 while immediate support is at 19,200.
BANK NIFTY:  The index opened 138 points higher at 44,998 and closed at 44,745. Bank Nifty is currently experiencing continued dominance from the bears, as selling pressure persists from higher levels. Its immediate resistance level is now placed at 45,200 while support is at 44,500.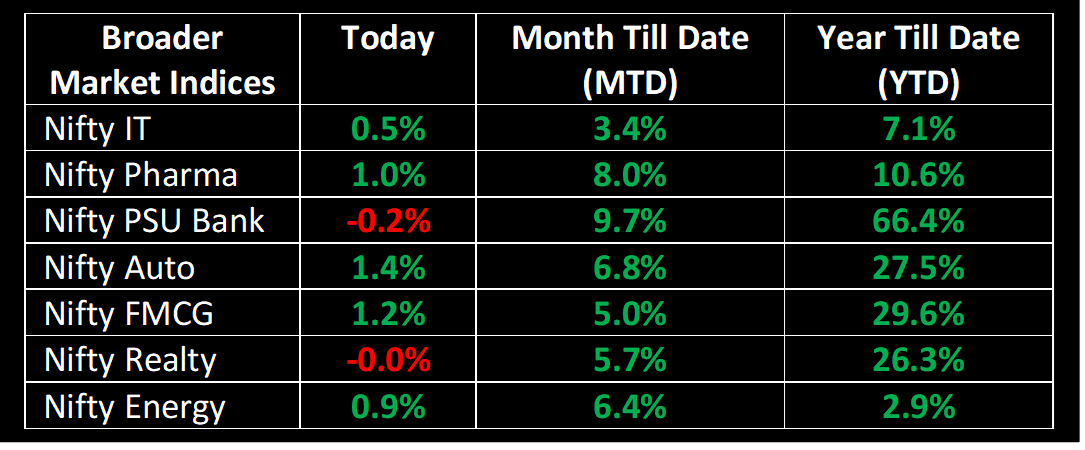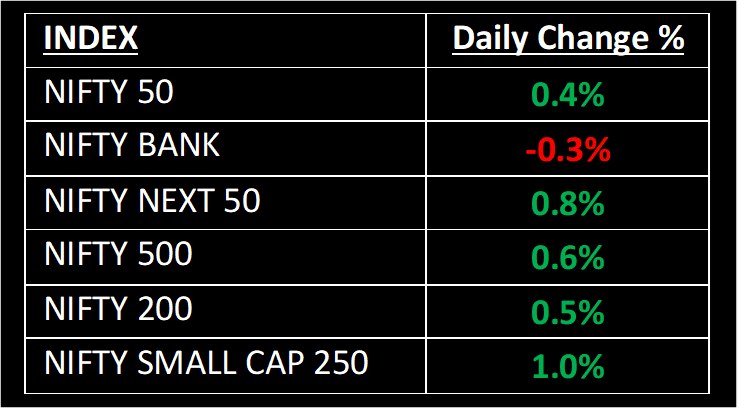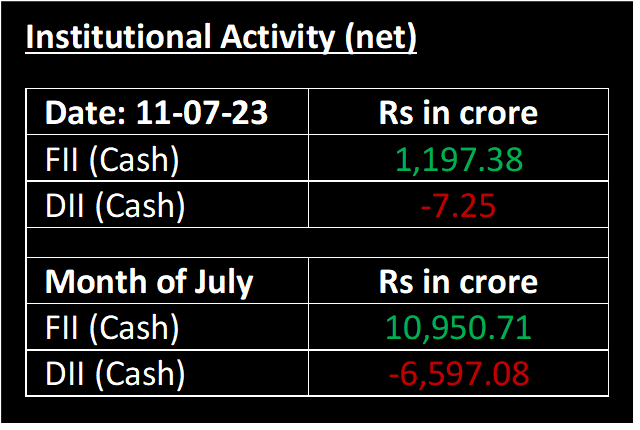 Stocks in Spotlight
▪  Mazagon Dock Shipbuilders Ltd:   Stock surged 10% on expectations of new orders, which will help increase the company's depleting order book.
▪  Premier Explosives Ltd:  Stock was locked at 20% upper circuit, as the company won orders worth Rs 552.3 crore from the Defence Ministry.
▪  Zen Technologies Ltd:  Stock surged 13%, as the company won a Rs 340-crore order in the export market.
Global News
▪  UK unemployment rate climbs from 3.8% to 4% in the three months to the end of April, as the economy struggles with high inflation.
▪  The dollar weakened to a two-month low on Tuesday after Federal Reserve officials signalled that the central bank was nearing the end of its tightening cycle.
---
This document has been issued by Liquide Solutions Private Limited for information purposes only and should not be construed as
i) an offer or recommendation to buy or sell securities, commodities, currencies or other investments referred to herein; or
ii) an offer to sell or a solicitation or an offer for the purchase of any of the baskets of Liquide Solutions; or
iii) investment research or investment advice. It does not have regard to specific investment objectives, financial situation and the particular needs of any specific person who may receive this document. Investors should seek personal and independent advice regarding the appropriateness of investing in any of the funds, securities, other investment, or investment strategies that may have been discussed or referred to herein and should understand that the views regarding future prospects may or may not be realized. In no event shall Liquide Life Private Limited and / or its affiliates or any of their directors, trustees, officers and employees be liable for any direct, indirect, special, incidental or consequential damages arising out of the use of information/opinion herein.
With Liquide, you can explore stocks, trade securely in your own broker account, and receive expert-recommended trade setups. Stay updated with real-time tracking, market commentary, and AI-powered insights from LiMo, our intelligent bot. Whether you're a seasoned investor or a newbie, Liquide provides the tools you need to discover your next big investment opportunity. Download the app now from Google Play Store and Apple App Store to revolutionize your investment journey. Don't miss out on the chance to level up your investing game with Liquide.