POST-MARKET SUMMARY 09 October 2023
On October 9, the Indian stock market experienced a decline, wiping out the gains from the previous session and ending a two-day winning streak. Top Gainer: Dr Reddy | Top Loser: Adani Ports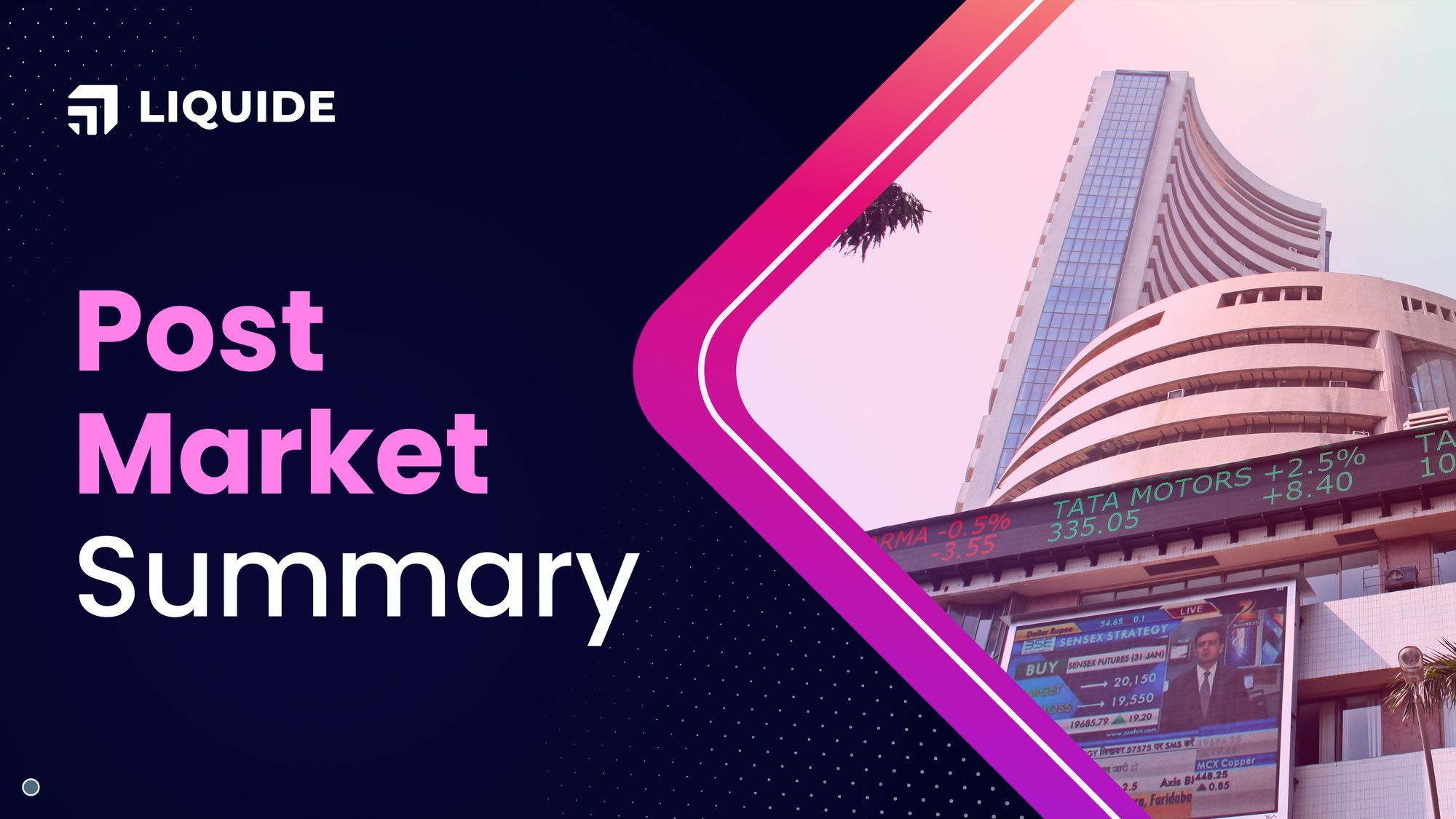 On October 9, the Indian stock market experienced a decline, wiping out the gains from the previous session and ending a two-day winning streak. This downturn was primarily driven by investor unease regarding escalating geopolitical tensions in the Middle East. Fearing potential consequences, investors chose to divest from equity assets, adopting a risk-averse approach. The primary concern was that a confrontation between Israel and Hamas could exacerbate the existing challenges faced by the global economy, including elevated interest rates and persistent high inflation.
NIFTY: The index opened 114 points lower at 19,539 and made a high of 19,588 before closing at 19,512. Nifty has formed a bearish candlestick pattern with long upper and minor lower shadows on the daily chart. Its immediate resistance level is now placed at 19,650 while immediate support is at 19,400.
BANK NIFTY: The index opened 303 points lower at 44,057 and closed at 43,886. Bank Nifty has formed a small bodied bearish candlestick pattern on the daily scale. Its immediate resistance level is now placed at 44,200 while support is at 43,600.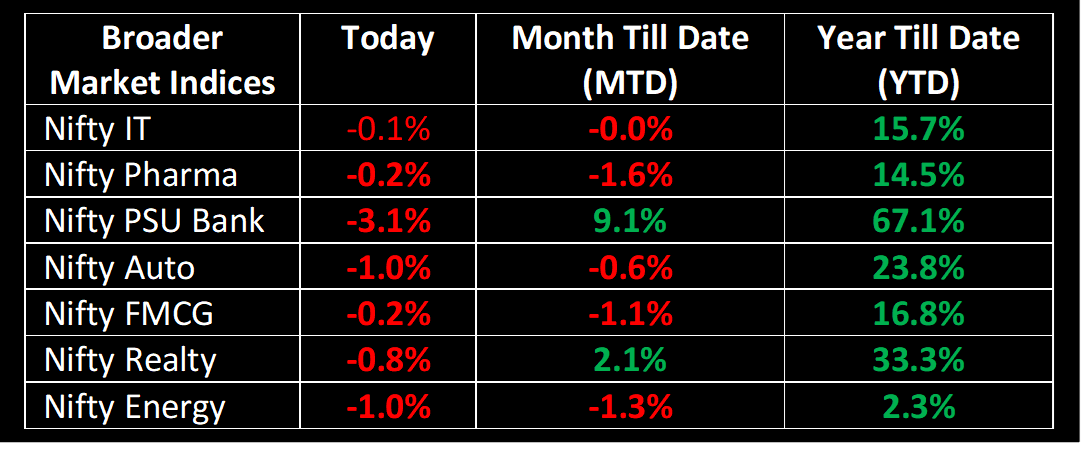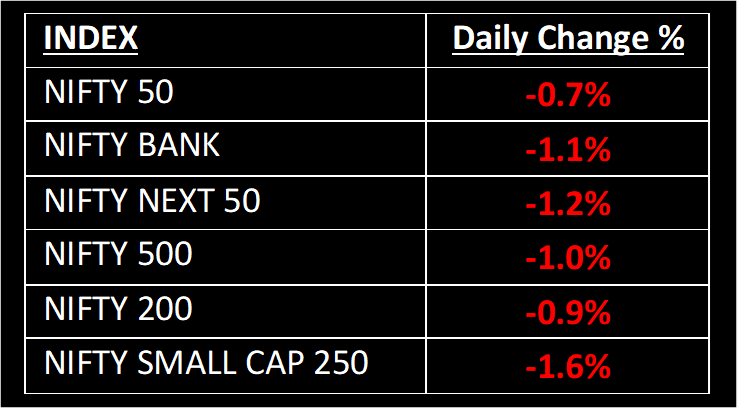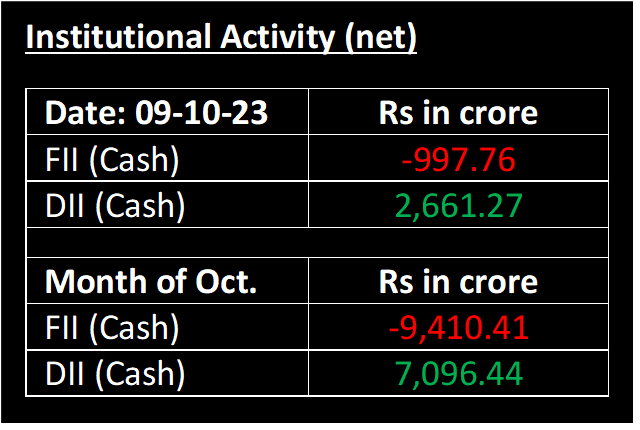 Stocks in Spotlight
▪  Adani Ports: Stock fell over 4% on mounting concerns over the fate of the Haifa Port that the Gautam Adani-led company controls in northern Israel, after the Hamas launched an attack on the country.
▪  MCX Ltd:  Stock advanced 5% intraday to a 52-week high before losing gains to close at 1% higher after it received the approval from SEBI tech panel to launch a new web-based commodity derivatives platform (CPD) after several delays with the market regulator earlier.
▪ Jupiter Hospitals Ltd: Stock slumped over 7% after the company reported an 18% erosion in net profit for the June quarter at Rs 30.4 crore.
Global News
▪  Stoxx 600 index was trading 0.2% lower, with retail stocks down 1.8% and banks down 1.4%. Oil & gas stocks were higher by 2.4% as crude oil prices surged.
▪  Asia-Pacific markets started the week on a mixed note as Chinese markets returned from a week-long Golden Week holiday.
▪  Gold prices climbed more than 1% on Monday as dramatic clashes between Israeli and Hamas forces over the weekend raised the risk of a wider Middle East conflict and spurred a rush to safe-haven investments like bullion.
---
This document has been issued by Liquide Solutions Private Limited for information purposes only and should not be construed as
i) an offer or recommendation to buy or sell securities, commodities, currencies or other investments referred to herein; or
ii) an offer to sell or a solicitation or an offer for the purchase of any of the baskets of Liquide Solutions; or
iii) investment research or investment advice. It does not have regard to specific investment objectives, financial situation and the particular needs of any specific person who may receive this document. Investors should seek personal and independent advice regarding the appropriateness of investing in any of the funds, securities, other investment, or investment strategies that may have been discussed or referred to herein and should understand that the views regarding future prospects may or may not be realized. In no event shall Liquide Life Private Limited and / or its affiliates or any of their directors, trustees, officers and employees be liable for any direct, indirect, special, incidental or consequential damages arising out of the use of information/opinion herein.
With Liquide, you can explore stocks, trade securely in your own broker account, and receive expert-recommended trade setups. Stay updated with real-time tracking, market commentary, and AI-powered insights from LiMo, our intelligent bot. Whether you're a seasoned investor or a newbie, Liquide provides the tools you need to discover your next big investment opportunity. Download the app now from Google Play Store and Apple App Store to revolutionize your investment journey. Don't miss out on the chance to level up your investing game with Liquide.