POST-MARKET SUMMARY 08 September 2023
On September 8, the market extended its winning streak for the sixth consecutive session, closing near its two-month high. Nifty closed at 19819. This remarkable performance was driven by buying activities across various sectors, with the exception of healthcare. Top Gainer : NTPC | Top Loser : UPL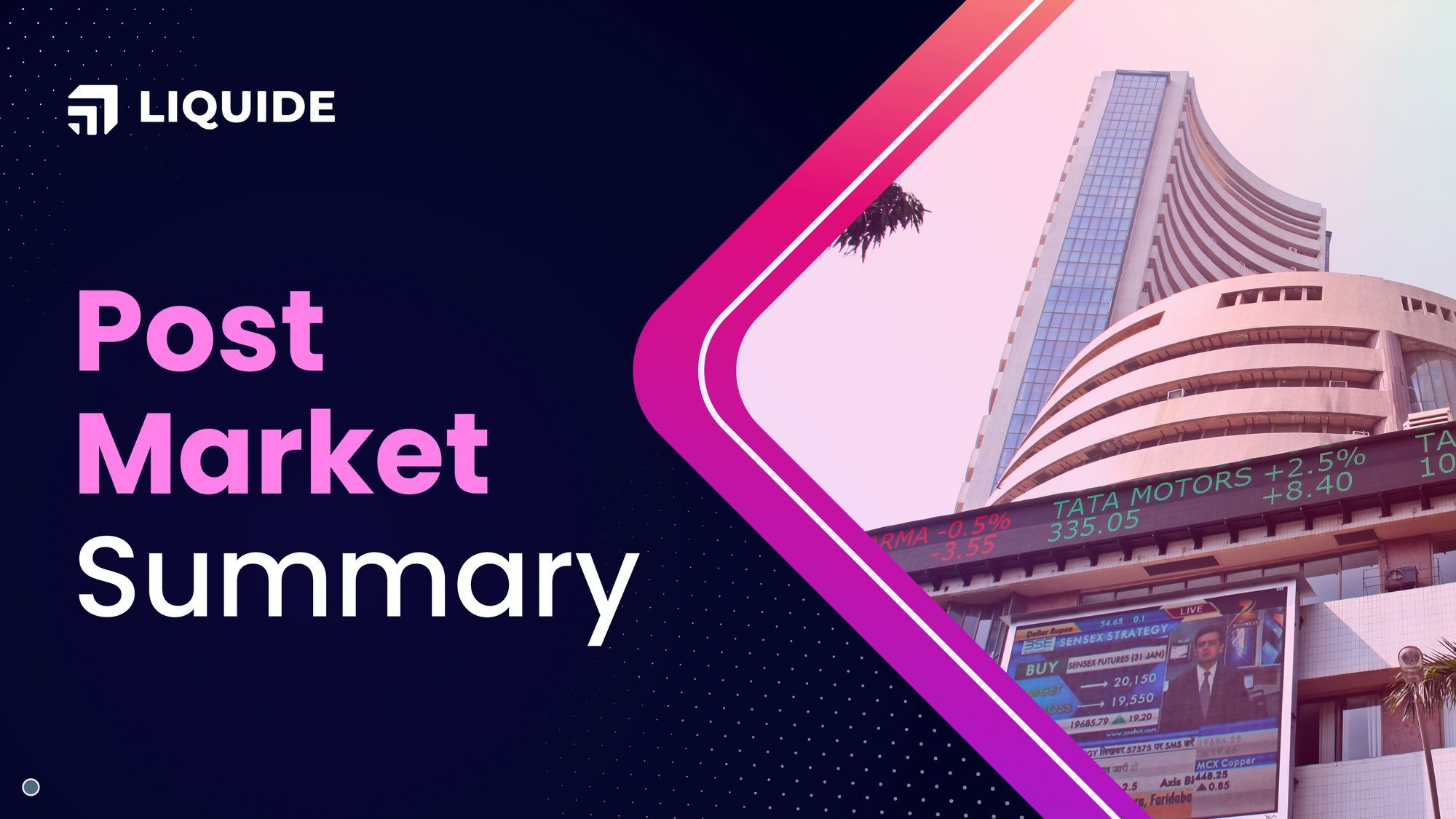 On September 8, the market extended its winning streak for the sixth consecutive session, closing near its two-month high. This remarkable performance was driven by buying activities across various sectors, with the exception of healthcare. Interestingly, the market remained resilient, shrugging off the influence of weak global cues. The market opened on a positive note and continued to gain momentum throughout the day.
NIFTY: The index opened 47 points higher at 19,774 and made a high of 19,867 before closing at 19,819. Nifty has formed a bullish candlestick pattern on the daily scale. Its immediate resistance level is now placed at 19,900 while immediate support is at 19,650.
BANK NIFTY:  The index opened 75 points higher at 44,953 and closed at 45,156. Bank Nifty has formed a bullish candlestick pattern with a small upper shadow on the daily chart. Its immediate resistance level is now placed at 45,300 while support is at 44,800.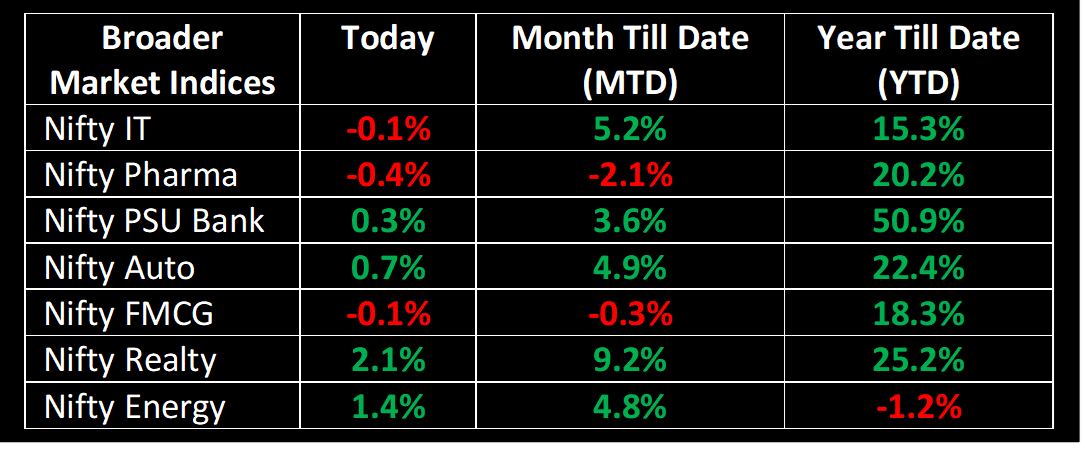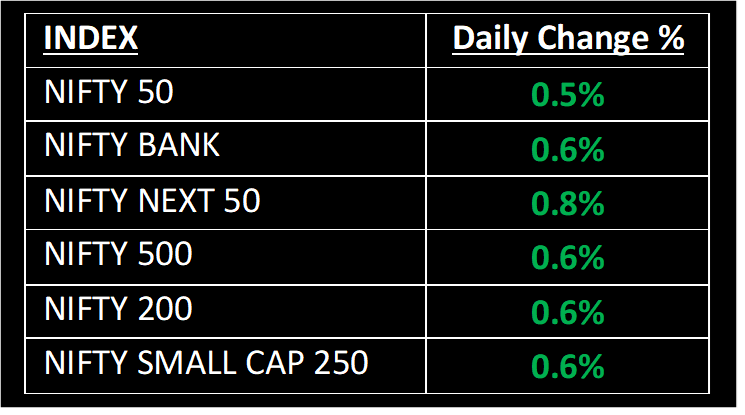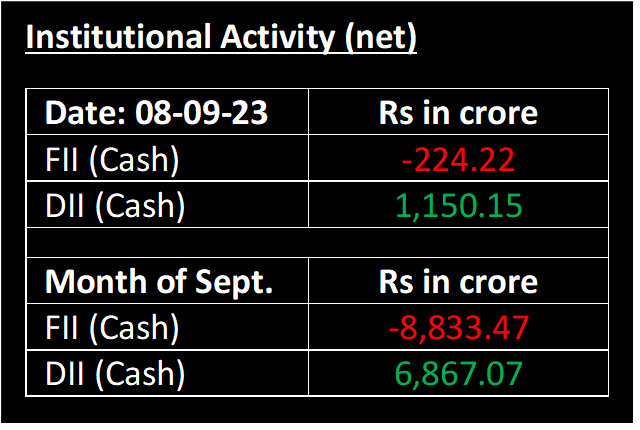 Stocks in Spotlight
▪ Landmark Cars Ltd:  Stock surged nearly 12% after the company signed a dealership agreement with Mahindra & Mahindra. This dealership will be established in one of the wholly owned subsidiaries of the company Landmark Mobility.
▪  Mazagon Dock Ltd:  Stock was up over 6% after the company signed a master ship repair agreement (MSRA) with the US Government, represented by NAVSUP Fleet Logistics Center (FLC) Yokosuka.
▪ PB Fintech Ltd: Stock traded 3% higher after a report said the company was looking to enter the insurance manufacturing market, moving up the value chain from being an insurance aggregator.
Global News
▪  Pan-European Stoxx 600 index was down 0.1% in early afternoon trade. The basic resources sector fell 0.94% while media stocks rose 0.57%.
▪  Gold remained firm on Friday as the dollar came off six-month highs, but bullion was still en-route to a weekly fall on chances of one more US interest rate hikes this year.
▪  Asia-Pacific markets traded lower on Friday as Japan released revised second quarter GDP figures. Hong Kong cancelled trade for the whole day due to a storm warning.
---
This document has been issued by Liquide Solutions Private Limited for information purposes only and should not be construed as
i) an offer or recommendation to buy or sell securities, commodities, currencies or other investments referred to herein; or
ii) an offer to sell or a solicitation or an offer for the purchase of any of the baskets of Liquide Solutions; or
iii) investment research or investment advice. It does not have regard to specific investment objectives, financial situation and the particular needs of any specific person who may receive this document. Investors should seek personal and independent advice regarding the appropriateness of investing in any of the funds, securities, other investment, or investment strategies that may have been discussed or referred to herein and should understand that the views regarding future prospects may or may not be realized. In no event shall Liquide Life Private Limited and / or its affiliates or any of their directors, trustees, officers and employees be liable for any direct, indirect, special, incidental or consequential damages arising out of the use of information/opinion herein.
With Liquide, you can explore stocks, trade securely in your own broker account, and receive expert-recommended trade setups. Stay updated with real-time tracking, market commentary, and AI-powered insights from LiMo, our intelligent bot. Whether you're a seasoned investor or a newbie, Liquide provides the tools you need to discover your next big investment opportunity. Download the app now from Google Play Store and Apple App Store to revolutionize your investment journey. Don't miss out on the chance to level up your investing game with Liquide.