POST-MARKET SUMMARY 06 October 2023
As anticipated, the benchmark indices responded favorably to the Reserve Bank of India's (RBI) policy announcement on October 6, resulting in a second consecutive session of gains, with the Nifty hovering around 19,650. Top Gainer : Bajaj Finserv | Top Loser : Hindustan Unilever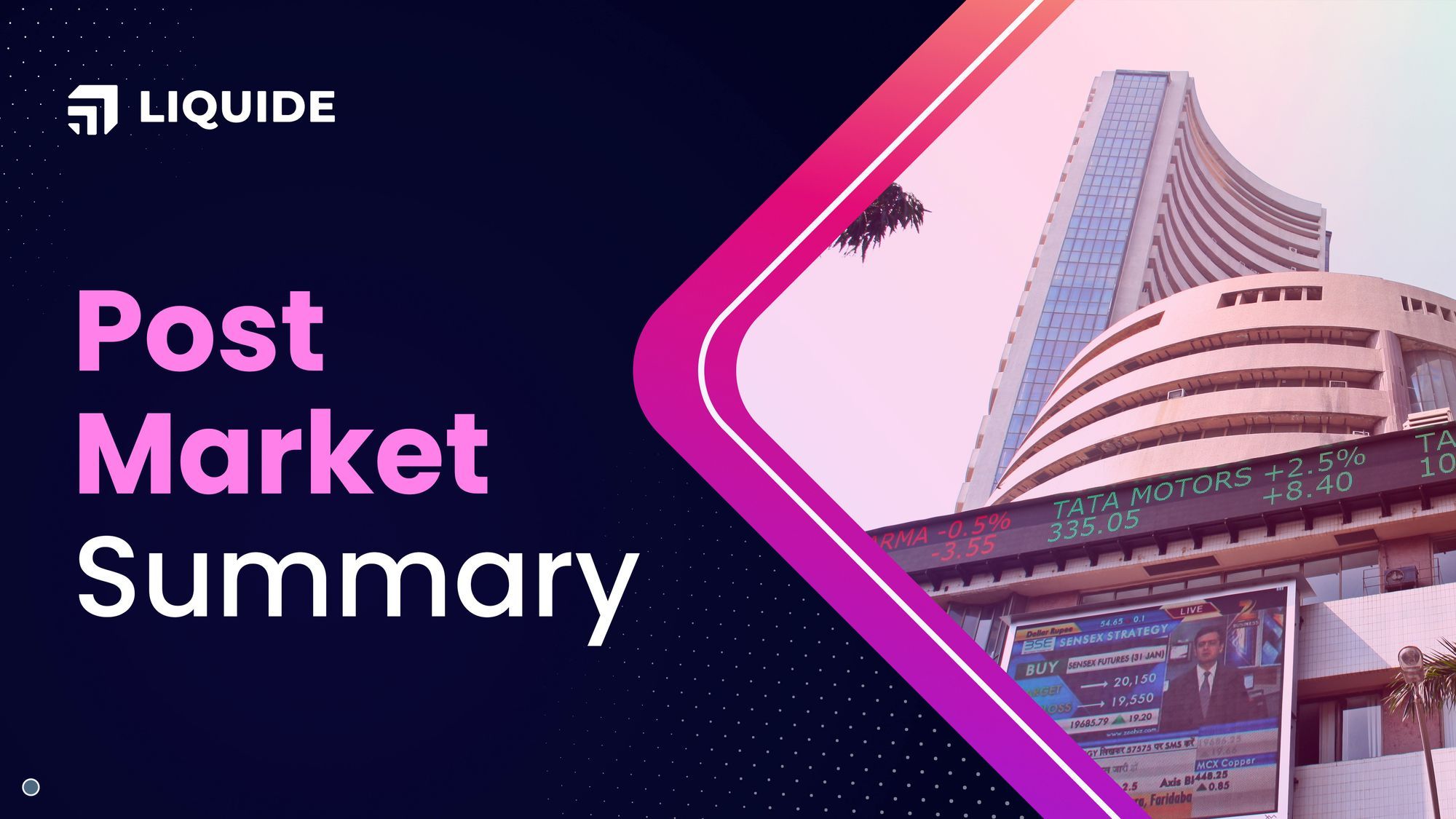 As anticipated, the benchmark indices responded favorably to the Reserve Bank of India's (RBI) policy announcement on October 6, resulting in a second consecutive session of gains, with the Nifty hovering around 19,650. The RBI's monetary policy committee (MPC) maintained the key lending repo rate at 6.5% for the fourth consecutive time, in line with expectations, as their primary objective remained centered on controlling inflation. Additionally, the broader indices also recorded upward movements, with each of them posting gains exceeding half a percent.
NIFTY: The index opened 76 points higher at 19,621 and made a high of 19,675 before closing at 19,653. Nifty has formed a bullish candlestick pattern with minor upper and lower shadow on the daily chart. Its immediate resistance level is now placed at 19,800 while immediate support is at 19,500.
BANK NIFTY: The index opened 182 points higher at 44,395 and closed at 44,360. Bank Nifty has formed a small bodied bearish candlestick pattern with minor upper and lower wicks on the daily chart. Its immediate resistance level is now placed at 44,600 while support is at 44,000.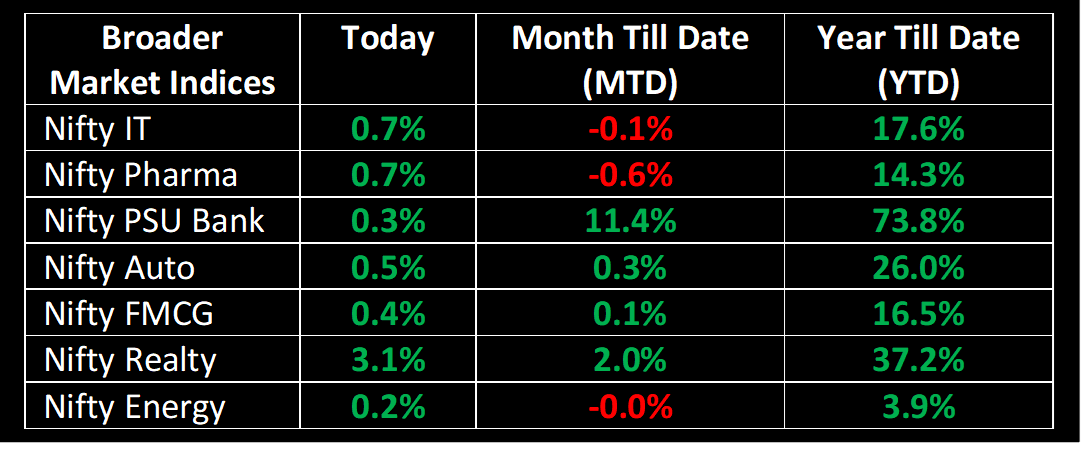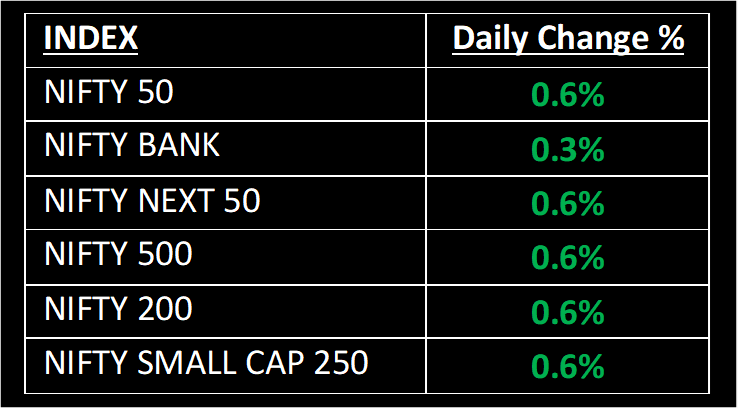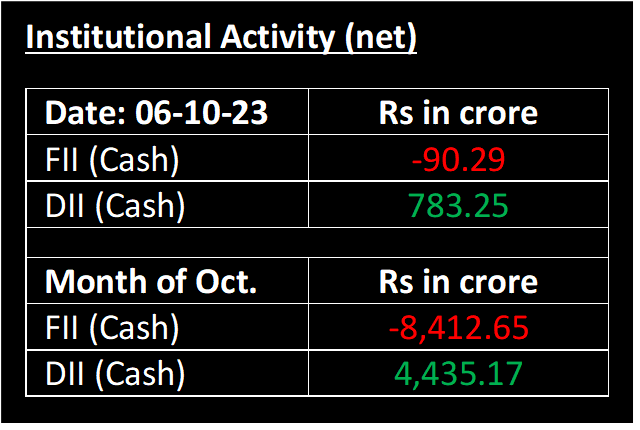 Stocks in Spotlight
▪  Indigo: Stock jumped over 2% after the company announced a fuel charge on domestic and international routes, effective October 6, to offset rising aviation turbine fuel (ATF) prices.
▪  KPI Green Energy Ltd:  Stock gained over 1.5% after the company received new orders for executing solar power projects.
▪ Som Distilleries Ltd:  Stock slumped over 3% after the board of the alcoholic beverage maker approved a floor price of Rs 350/share for a QIP.
Global News
▪  The euro was heading for a record twelfth week of declines against the dollar, unless US jobs data later in the day pushes the currently all-dominant greenback lower.
▪  Asia-Pacific stocks were mixed as investors look ahead to US jobs data that could set the tone for the Federal Reserve's next move for interest rates. The index was last trading 2.1% higher.
▪  Oil prices were stable on Friday but were on course for a week-on-week loss, as demand fears driven by macroeconomic headwinds were compounded by another partial lifting of Russia's fuel export ban on Friday.
---
This document has been issued by Liquide Solutions Private Limited for information purposes only and should not be construed as
i) an offer or recommendation to buy or sell securities, commodities, currencies or other investments referred to herein; or
ii) an offer to sell or a solicitation or an offer for the purchase of any of the baskets of Liquide Solutions; or
iii) investment research or investment advice. It does not have regard to specific investment objectives, financial situation and the particular needs of any specific person who may receive this document. Investors should seek personal and independent advice regarding the appropriateness of investing in any of the funds, securities, other investment, or investment strategies that may have been discussed or referred to herein and should understand that the views regarding future prospects may or may not be realized. In no event shall Liquide Life Private Limited and / or its affiliates or any of their directors, trustees, officers and employees be liable for any direct, indirect, special, incidental or consequential damages arising out of the use of information/opinion herein.
With Liquide, you can explore stocks, trade securely in your own broker account, and receive expert-recommended trade setups. Stay updated with real-time tracking, market commentary, and AI-powered insights from LiMo, our intelligent bot. Whether you're a seasoned investor or a newbie, Liquide provides the tools you need to discover your next big investment opportunity. Download the app now from Google Play Store and Apple App Store to revolutionize your investment journey. Don't miss out on the chance to level up your investing game with Liquide.