POST-MARKET SUMMARY 01 September 2023
Post-market report and news around trending stocks.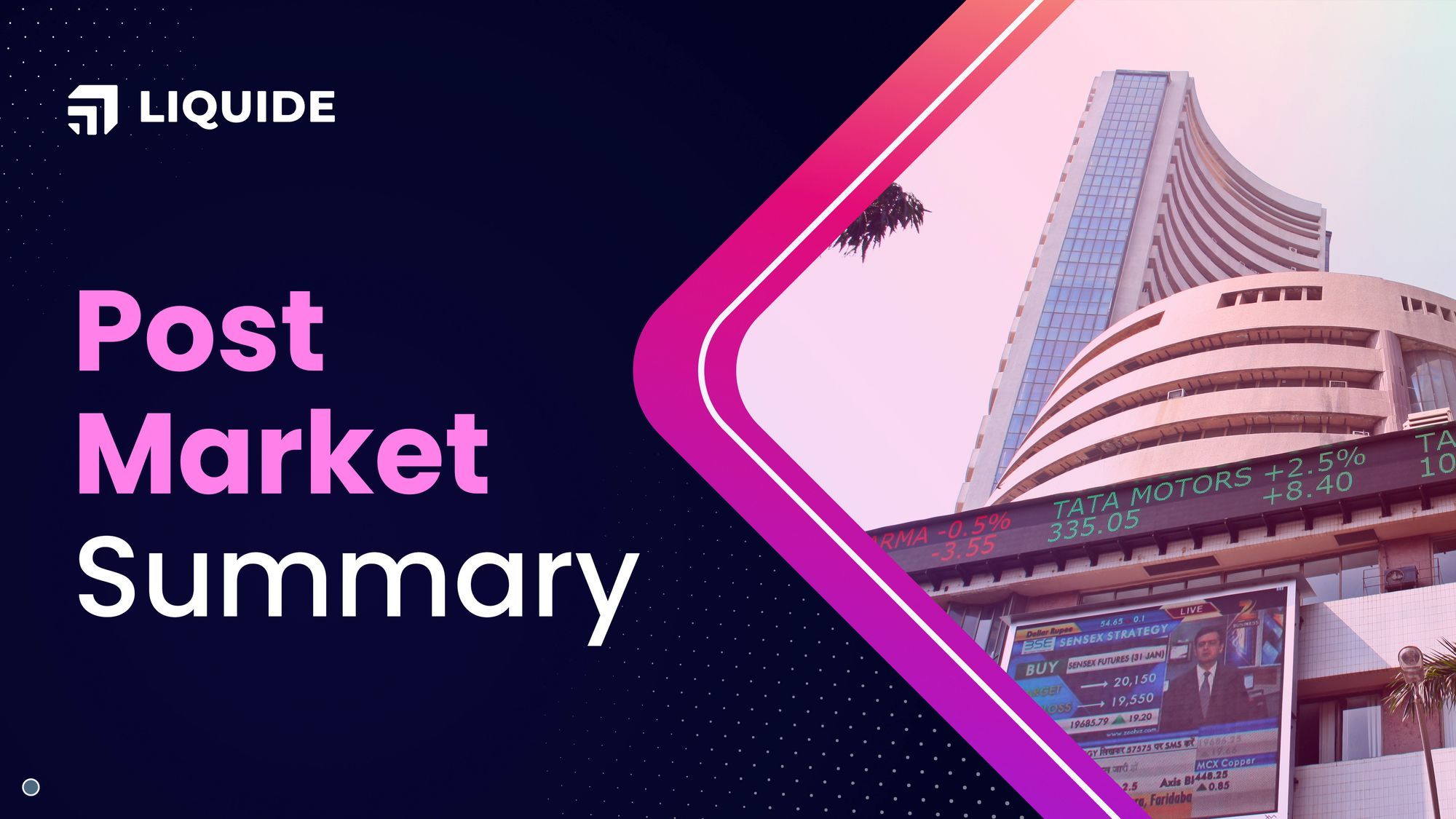 Solid GDP growth and robust manufacturing PMI figures fueled a rebound in the benchmarks, erasing previous session losses and delivering substantial gains as the September series commenced. The Nifty concluded the day at around 19,450, boosted by positive crossovers in both daily and hourly momentum indicators, accompanied by a bullish divergence, signaling a favorable short-term outlook.
NIFTY: The index opened flat at 19,258 and made a high of 19,458 before closing at 19,435. Nifty has formed a strong bullish candlestick pattern, which resembles a Bullish Engulfing kind of pattern on the daily timeframe, indicating positive sentiment. Its immediate resistance level is now placed at 19,600 while immediate support is at 19,200.
BANK NIFTY:  The index opened flat at 43,996 and closed at 44,436. Bank Nifty has formed a bullish candlestick pattern with long upper and lower shadows, which resembles the High Wave kind of candlestick pattern on the weekly chart. Its immediate resistance level is now placed at 44,800 while support is at 43,900.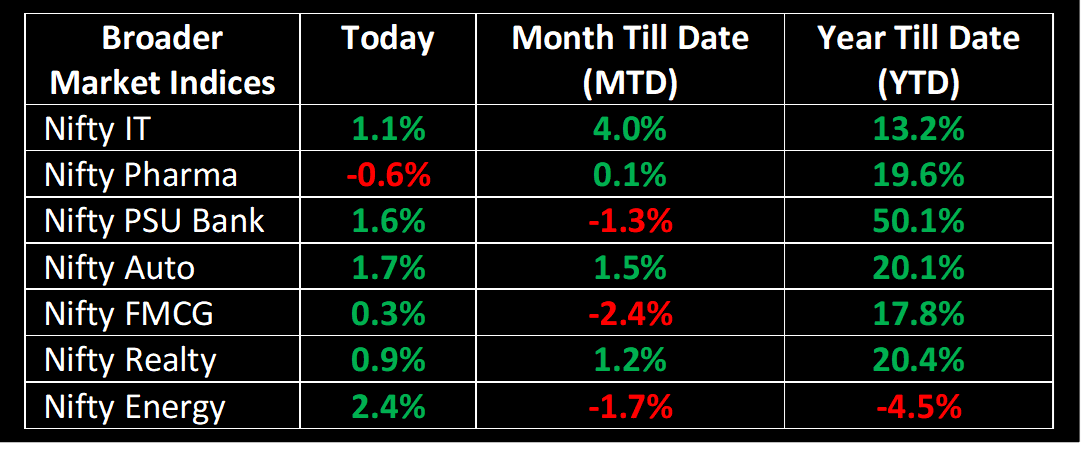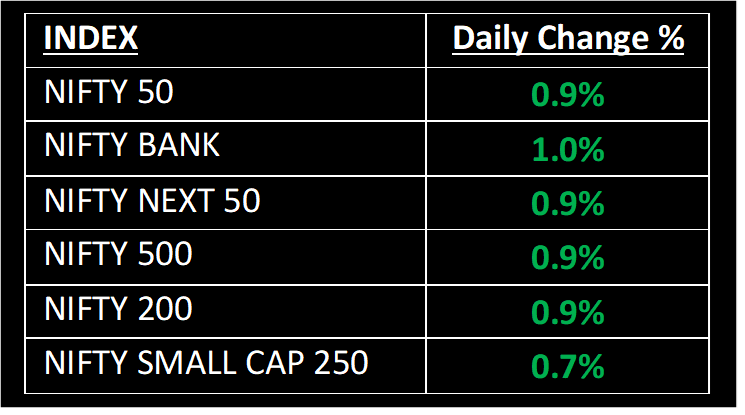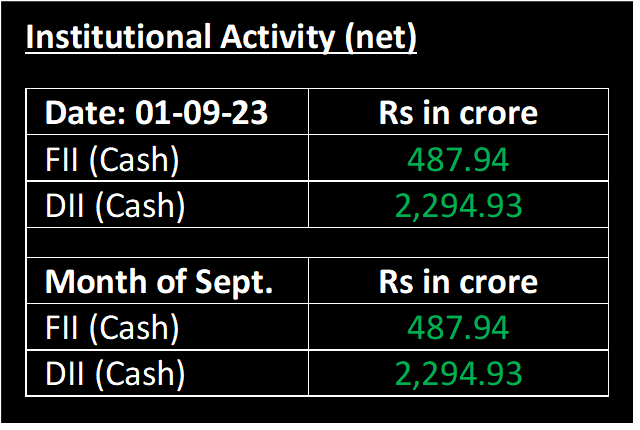 Stocks in Spotlight
▪ BSE Ltd:  Stock surged 6% after the company announced an increased buyback offer price of Rs 1,080, a significant 32% rise over the Rs 816 announced earlier.
▪ ONGC:  Stock traded over 4% higher after Fitch Ratings affirmed a BBB rating (stable outlook) to the PSU.
▪ Navneet Education:  Stock surged 4% after the company decided to make a slew of changes aimed at rationalizing the group structure and achieving better synergies.
Global News
▪  The dollar was on course to snap a six-week winning streak against other major currencies on Friday, as it headed into a pivotal monthly US jobs report that is likely to shape the path for Federal Reserve policy over the near term.
▪  Oil prices were set to snap a two-week losing streak as they rose for a fourth consecutive session on Friday due to tightening supplies and expectations that the OPEC+ group of oil producers would extend output cuts to the end of the year.
---
This document has been issued by Liquide Solutions Private Limited for information purposes only and should not be construed as
i) an offer or recommendation to buy or sell securities, commodities, currencies or other investments referred to herein; or
ii) an offer to sell or a solicitation or an offer for the purchase of any of the baskets of Liquide Solutions; or
iii) investment research or investment advice. It does not have regard to specific investment objectives, financial situation and the particular needs of any specific person who may receive this document. Investors should seek personal and independent advice regarding the appropriateness of investing in any of the funds, securities, other investment, or investment strategies that may have been discussed or referred to herein and should understand that the views regarding future prospects may or may not be realized. In no event shall Liquide Life Private Limited and / or its affiliates or any of their directors, trustees, officers and employees be liable for any direct, indirect, special, incidental or consequential damages arising out of the use of information/opinion herein.
With Liquide, you can explore stocks, trade securely in your own broker account, and receive expert-recommended trade setups. Stay updated with real-time tracking, market commentary, and AI-powered insights from LiMo, our intelligent bot. Whether you're a seasoned investor or a newbie, Liquide provides the tools you need to discover your next big investment opportunity. Download the app now from Google Play Store and Apple App Store to revolutionize your investment journey. Don't miss out on the chance to level up your investing game with Liquide.