HDFC Bank Q2 Results: A Comprehensive Analysis & Future Outlook
Should you invest in HDFC Bank following its mixed financial performance in the September quarter? Analysis of Q2 results and future projections.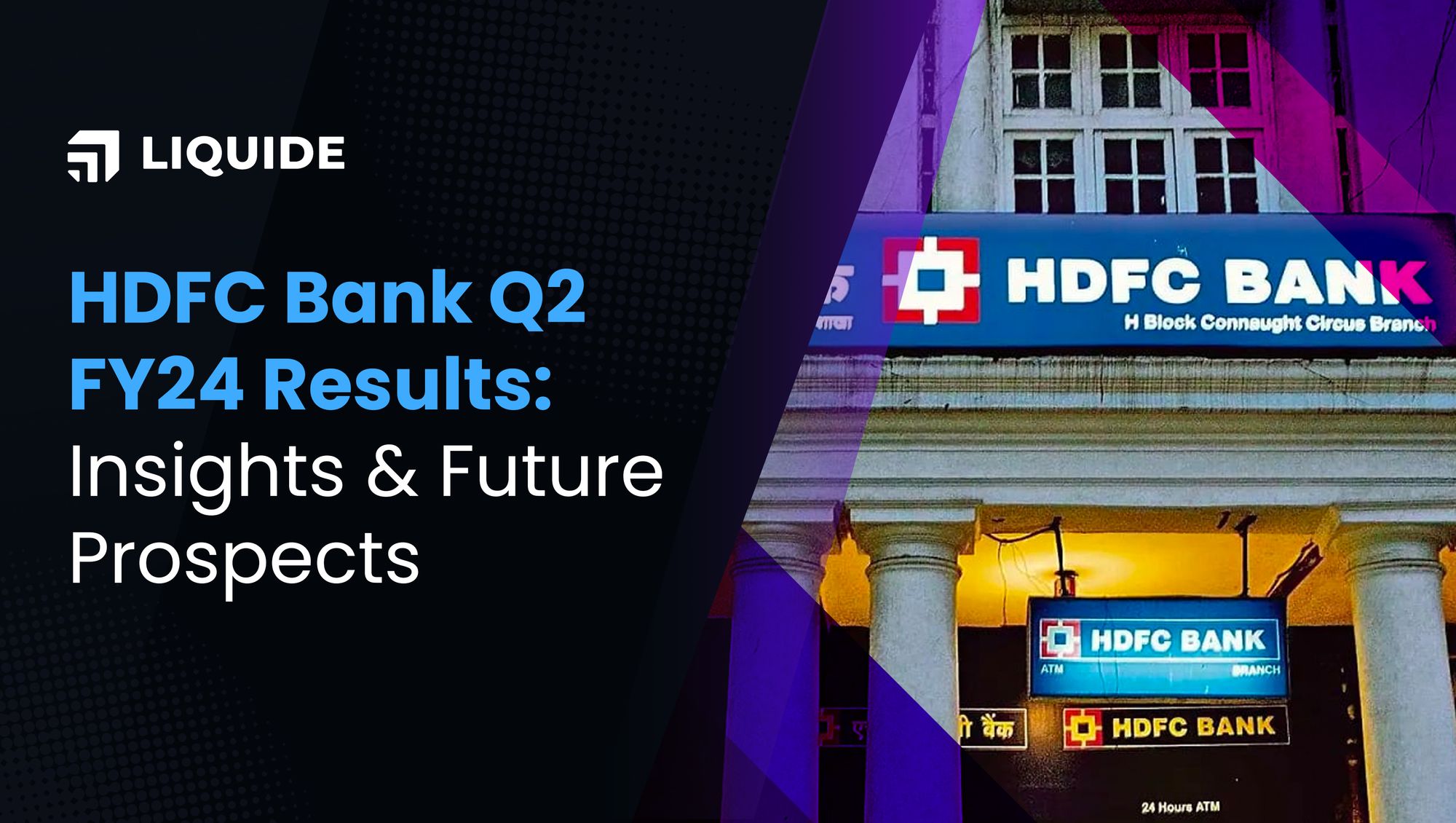 HDFC Bank recently released its Q2 results for the fiscal year 2023-24, marking the first quarterly report since its merger with parent company Housing Development Finance Corp (HDFC). The merger has resulted in a substantial shift in asset composition, with retail assets now accounting for 55% compared to 47% a year ago. This shift positions the bank for further growth and diversification.
Post-Merger Financial Insights
Following the merger, HDFC Bank's consolidated revenue exhibited robust growth, reaching Rs 1,07,566 crore in Q2FY24. Similarly, the net interest income (NII) also surged to Rs 27,385 crore.
In the September quarter, the bank posted an impressive consolidated net profit of Rs 17,312 crore. However, contrary to the circulating 50% profit growth figure, the actual growth in consolidated net profit is considerably less. This is because the reference figure from the previous year doesn't account for HDFC Ltd's profit for that period. Hence, claiming a 50% earnings growth is misleading since it only compares the profits of the now combined entity with those of the standalone bank from the earlier year.
While the net profit surpassed estimates, the net interest margins (NIMs) were a letdown. The bank recorded a significant drop in NIM, standing at 3.4%, down from 4.1% year-on-year. The management clarified in their post-earnings call that the change in NIM resulted from HDFC's previous accounting based on IndAS, and the figures have been adjusted to comply with Indian GAAP, consistent with HDFC Bank's accounting practices.
A notable highlight of the Q2 results was the robust deposit growth of 29.8%. The bank attracted deposits amounting to Rs 1.1 lakh crore, with retail deposits making up 85% of the total. This shift towards retail is expected to enhance margins in the future.
Stable Asset Quality
Gross non-performing assets (NPA) remained at a reassuring 1.34% of gross advances as of September 30, 2023, showcasing the bank's commitment to maintaining healthy asset quality. This was a slight improvement from the proforma merged basis as of June 30, 2023, which stood at 1.41%. Net NPAs stood at 0.35% of net advances as of September 30, 2023, indicating prudent management of assets.
Moreover, the bank boasts an impressive specific provision coverage ratio (PCR) of 73%. It has also set aside a contingency reserve for HDFC loans, raising this reserve to 0.7% of loans for the combined entity.
Market Reaction & Future Projections
A day after the results announcement, shares of HDFC Bank closed 0.8% higher on the National Stock Exchange (NSE) at Rs 1,541.20.
As HDFC Bank continues to evolve post-merger, numerous brokerage firms have shared their insights on the stock's future. Here's a glimpse of what leading brokerages predict:

These projections suggest a promising outlook for HDFC Bank's stock in the upcoming quarters.
It's noteworthy that since 2013, the stock of HDFC Bank has never shown negative annual returns. Summing up, the Q2 results of HDFC Bank demonstrate robust financial health and signal a bright future in the Indian banking sector. With a solid foundation, a strategic merger, and a clear vision for growth, the bank is well-positioned to continue its success story.
Unsure whether to buy, hold, or sell HDFC Bank? Ask LiMo, India's first-ever AI copilot for stock investing that provides both a judgment and the reasoning behind it. For an in-depth grasp of the financial markets and potential investment avenues, delve deeper with Liquide. Boasting advanced tools like LiMo and thorough market insights, Liquide equips you with the knowledge to make informed investment decisions.
Download the Liquide app now from the Google Play Store or Apple App Store and embark on a journey of informed and successful investing. Don't miss out on the tools that can shape your financial future.