HAL Shareholders Approve Stock Split in 60th AGM
Hindustan Aeronautics Ltd (HAL) gains momentum as shareholders greenlight stock split. Dive into market reactions and HAL's promising future.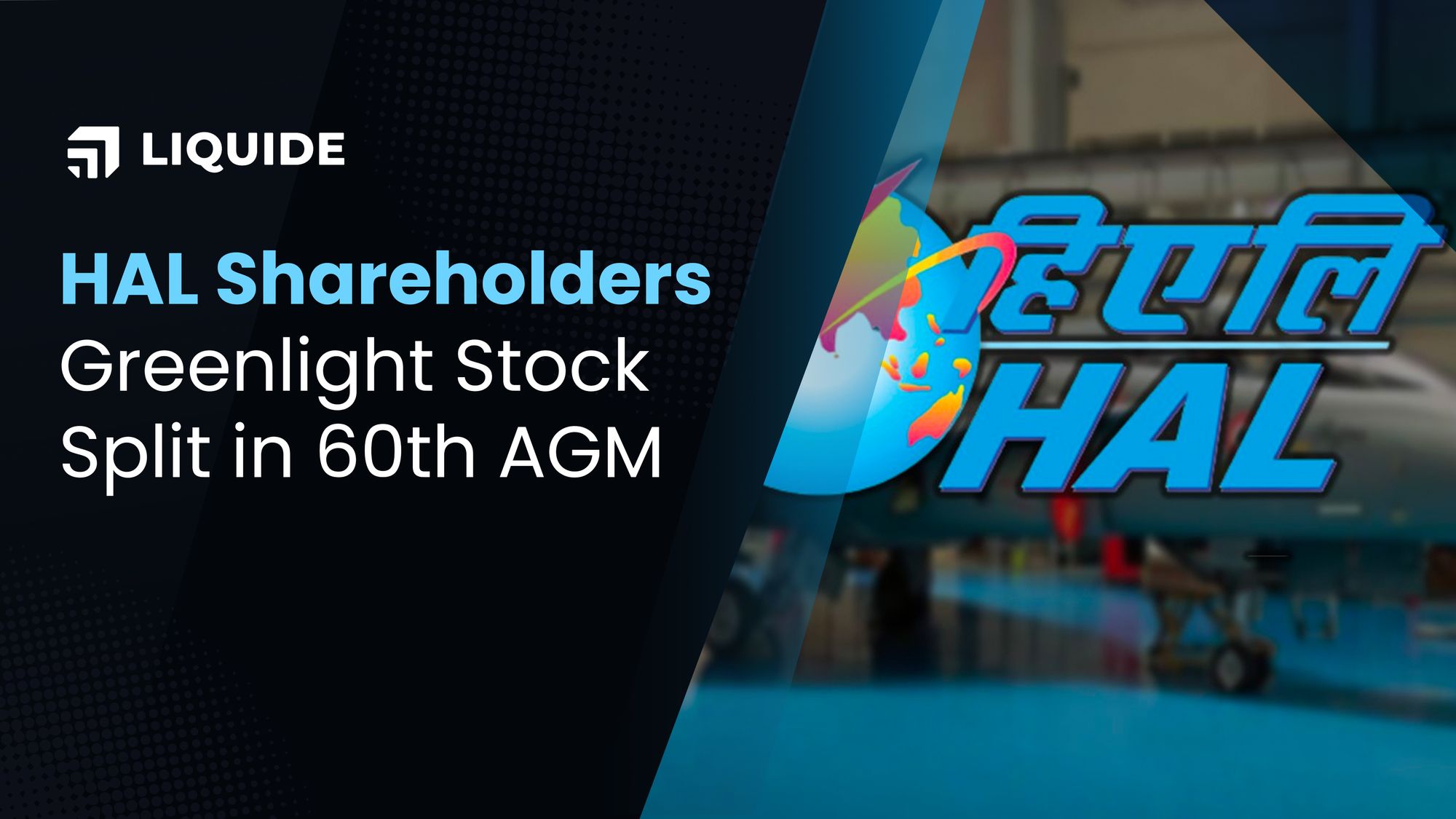 Introduction
In a significant development for Hindustan Aeronautics Limited (HAL), shareholders have given their nod for the sub-division of equity shares in the company during its 60th Annual General Meeting (AGM), held on August 31, 2023. This pivotal decision has boosted the value of HAL's shares, as investors anticipate the forthcoming stock split.
The Stock Split Announcement
HAL has set the Record Date for the stock split on Friday, September 29, 2023. This critical date will determine which shareholders will be eligible for the division of their existing one fully paid-up equity share, each with a face value of Rs 10, into two fully paid-up equity shares of Rs 5 each.
Market Response and Stock Performance
On September 4, 2023, Hindustan Aeronautics (HAL) shares gained 0.62%, closing at Rs 3,966.25 on the National Stock Exchange (NSE).

It's worth highlighting that over the past 3 months, HAL's shares have demonstrated remarkable performance, rallying by an impressive 21%. This substantial increase indicates robust investor interest and a high degree of optimism regarding HAL's growth trajectory, making it a prominent player in the market's radar.

HAL's Strategic Partnership with General Electric (GE) Aerospace
In a parallel development, the US Congress recently granted approval for the long-awaited General Electric (GE) Aerospace's collaboration with HAL. This partnership aims to produce fighter jet engines for the Indian Air Force (IAF). The agreement, signed during Prime Minister Narendra Modi's visit to the United States in June, includes technology transfer and jet engine manufacturing in India.

HAL's Chief CB Ananthakrishnan has described the fighter jet engine technology agreement with the US as a game changer. He envisions that it will not only propel India forward in the aerospace sector but also serve as the cornerstone for future homegrown engines to power military aircraft. The agreement has garnered attention from analysts who foresee it as a catalyst for technology transfer and growth in the Indian defense aviation industry, potentially opening doors to further collaborations and advancements.
Conclusion
HAL's shareholder approval of the stock split signals a promising outlook for the company. This strategic move aims to enhance shareholder value and aligns with HAL's mission to advance in the aerospace sector. Additionally, the collaboration with General Electric Aerospace presents HAL with an exciting opportunity to contribute to India's defense capabilities and bolster its position as a key player in the global aviation industry.
Elevate your investment journey with Liquide, your trusted trading companion. Explore a range of features, from expert-recommended trade setups to LiMo, your AI-powered research assistant. Don't miss out; download the Liquide app today on Google Play Store and Apple Appstore to stay ahead in the investment game!